Does your development director want to quit?



Fundraising jobs can be hard to fill. Staff in this area often turn over at a high rate, and chief executives frequently express frustration at a lack of growth in fundraising.
The chaos in development staffing is highlighted by a recent study by Compasspoint. Key findings from the study:
Half the development directors surveyed said they expect to leave their current jobs in two years or less.

One in four CEOs reported that their previous development director was fired.

More than half of the executives surveyed said their most recent development director search did not produce enough candidates with the right mix of skills and experience.
Read more...
Governance Minute: Board Orientation: An Ongoing Process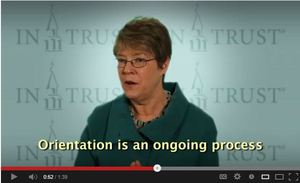 Watch other "Governance Minute" videos at www.youtube.com/intrustmagazine.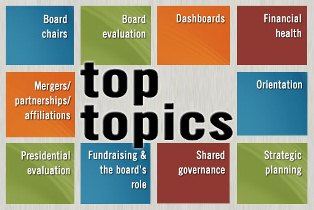 The "Top Topics" section on In Trust's website gathers resources -- magazine articles, blog posts, webinars, and more -- by some of the topics that are most important to our members.

Choose a topic to explore...


"Like" In Trust on Facebook

Are you on Facebook? Click here to visit our page.

And once you're there, be sure to click the "like" button to get periodic updates from In Trust on your wall. Hover over the "Like" button on the page and make sure that "Get Notifications" and "Show in News Feed" are checked. That way In Trust's posts will be sure to appear on your wall.


Visit the In Trust Blog homepage...

President
Catholic Theological Union (CTU), the largest Roman Catholic graduate school of theology and ministry in the United States, is seeking a new president to succeed the Rev. Donald Senior, C.P., who is retiring from the office at the end of the academic year, June 30, 2013, after 23 years of exemplary leadership and service.
Candidates for the presidency must be a member of a religious order, a Roman Catholic priest in good standing, and hold a terminal degree in theology or a related discipline. The position prospectus is available at: www.ctu.edu.
Interested candidates should submit supporting materials (curriculum vitae with references, statement of interest, and a letter from their religious superior stating that the candidate is a member in good standing and has permission to apply) by February 15, 2013.
Please email materials to pressearch@ctu.edu, or send via postal mail to The Presidential Search Committee, Catholic Theological Union, 5401 S. Cornell Ave., Chicago, IL 60615. Questions can also be directed to: 773.371.5420.
---

President
The Board of Governors of Providence University College and Theological Seminary seeks an energetic, experienced, and accomplished leader who has gained distinction in academia and organizational management to be the next University College and Seminary President.

A
full Opportunity Profile
is available on the Providence website.
Please direct all inquiries, nominations, and applications in confidence to: Libby Hanna, Chair of the Providence Presidential Search Committee, c/o Marla Williamson, Providence University College and Theological Seminary, 10 College Cres., Otterburne, MB, R0A 1G0, or by email to
presidential.search@prov.ca
.
Electronic submission of materials is strongly encouraged.
The search will remain open until the position is filled, with the appointment to the presidency expected to take effect June 2013. Providence is committed to employment equity and all qualified candidates are encouraged to submit an application. For more information about Providence, please visit its website.