Use the new In Trust in your upcoming board meeting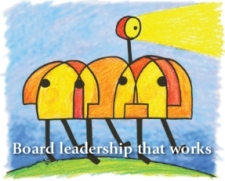 One of the most important articles in this issue of In Trust is "Board Leadership that Works," by Barbara G. Wheeler, which outlines what effective boards do during times of presidential transition.
If your school is facing a leadership transition in the next few years, consider using this article as fodder for a boardroom or committee discussion on whether your board is following the wise practices that Wheeler outlines.
Here are some questions for your board to consider.


Making a repayment plan a condition for student loans
Skyrocketing student debt has been in the news lately. Here's yet another story about it, but with a twist:
"Starting next fall, students who want the college to certify their eligibility for student loans must complete personal budget worksheets, outlining a 'realistic picture of their financial situation' both before and after graduation, and a student loan repayment plan estimating how their monthly payments fit into those budgets."
That's what Inside Higher Ed is reporting about Tidewater Community College in Virginia.

In Trust has covered this topic in the past -- see here, here, here, here, and here. And the Auburn Center has a terrific resource for students to want to avoid getting themselves trapped into a lifetime of crippling loan repayments.
Read more...
Board Evaluation
IN TRUST can help you assess your board's performance.
Highlight strengths

Identify weaknesses

Tackle issues

Establish benchmarks
Read more about Board Evaluation.
Contact IN TRUST at
302-654-7770 or akardash@intrust.org.