ATS Biennial theme: "The future has arrived"
The Association of Theological Schools is holding its 47th Biennial Meeting on June 23-25 in Montreal. The biennial meeting is the gathering of all ATS member institutions. In Trust will host a reception for its members and friends on Thursday, June 24, at 5 p.m.
Read more...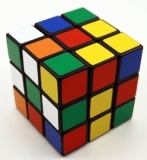 Scott Page, an economist at University of Michigan, tries to drop diversity's baggage at the curb with a more practical approach to the topic. Perhaps you already know about his book The Difference: How the Power of Diversity Creates Better Groups, Firms, Schools, and Societies. In it, he uses mathematics to explain why diverse working groups produce better results than homogeneous groups.
Read more...
Organizational change means personal change
Organizational change requires people to examine themselves and to consider how individual patterns and actions may be contributing to an institution's problems. To engage in organizational learning requires an individual act of humility and self-awareness, and a commitment to personal change and transformation. This can be embarrassing for some, and ego-threatening for others.
Read more...
More news and comment for leaders in theological education
Paid Announcement
Principal
Huron University College
Huron University College is conducting an extensive international search for a Principal, to take office in the summer of 2011.
Established in 1863 as the founding college of The University of Western Ontario, Huron is a co-educational institution granting liberal arts and theology degrees. Located in London, Ontario, on a scenic 47-acre campus, the 135 full- and part-time faculty and 1300 students of Huron enjoy small classes, intensive student/faculty interaction, high quality programs, comprehensive student services and excellent sense of community.
The Principal is responsible for the strategic direction and entire academic and administrative operation, providing leadership in the College and working co-operatively to advance the mission and spirit of the College and to raise its profile locally, provincially, nationally and internationally.
Correspondence should include a CV and letter of introduction directed in confidence to:
Laverne Smith & Associates Inc.
1 Yonge Street
Suite 1801
Toronto, Ontario
M5E 1W7
huron@lavernesmith.com
More information is available here.