For Halloween: The headless endeavor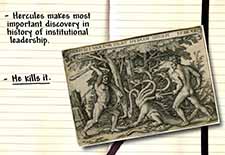 For a couple years, the student garden club at my daughter's elementary has been an amazing success. Nearly 80 students from grades 1 to 5 spent time after school last year to design, create, and maintain a stellar garden with flowers and vegetables. The local newspaper and television station came out several times to record the kids in action. Parents volunteered and businesses donated supplies and money. There was even a club song! And all of this was due to the efforts of one woman.

Read more...


Cream doesn't always rise to the top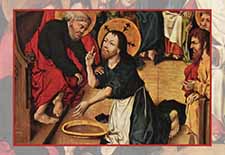 You can't pursue any sort of career for long before you realize that advancement and promotions are not always handed to the most effective or competent people. Whether I am talking with engineers at GM or Ford (there's a glut of these folks in my neck of the woods), with professors and school administrators, or with old colleagues in publishing, everyone has a story or two about incompetence they've witnessed in the upper echelons of their fields.

Read more...


Some critics don't want religious schools accredited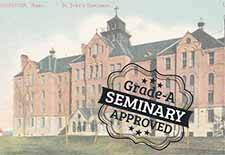 Within the world of higher education, a few voices have recently been arguing that religious institutions should not be accredited. A recent example is an opinion piece published in June in the Chronicle of Higher Education.

In "The Great Accreditation Farce," author Peter Conn says that "by awarding accreditation to religious colleges, the process confers legitimacy on institutions that systematically undermine the most fundamental purposes of higher education." That purpose, he asserts, is "skeptical and unfettered inquiry," which he believes is impossible at institutions where faith in God is a central tenet.

Read more...


Join the conversation...

Executive Director
The Louisville Institute seeks as its next Executive Director a creative and energetic leader who is eager to advance the vitality of faith communities and theological education in North America.

The Executive Director of the Institute should be a person of passion, vision, and intellectual curiosity, with experience and expertise in theological education, a love of the church, and the capacity to engage others in collaborative ventures.

Founded in 1990, the Louisville Institute is a Lilly Endowment-funded program based at Louisville Presbyterian Theological Seminary. The Institute has long been a leader in the study of religion in North America. Our mission to foster and nurture vibrant, faithful Christian communities for the sake of the world remains in the forefront of our work. The Executive Director shall hold a Ph.D. or Th.D. and be enthusiastically committed to the life of the Christian church.

For more information, please visit www.louisville-institute.org.
Do you have questions about how to build, use, and manage effective online learning?

If so, please join Roxanne Russell, Candler School of Theology's Online Instructional Designer, as she leads us through critical components of online learning.
---
Contact us
Does your school need help?
In Trust Resource Consultants are trained and ready to help you identify your challenges and connect you with resources.