The first goal I set after becoming president of Louisville Seminary was to visit with every current board member and every faculty member, all of our staff, and as many current students as are available, as well as many past members of the board, alums, pastors, other church leaders, and friends of our school, within the first year of my presidency.
I am eight weeks into the project, and we are well on our way.
We might call this "elementary education for the new president." I want to tell you a little about what I'm learning. But to do that, I need to frame this learning by telling you what I'm unlearning.
Read more...
Plug-and-play theological education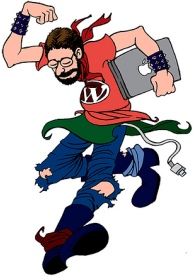 Edupunks are part of the up-and-coming generation of students. They think outside the educational boxes that institutions provide for them, finding sources of knowledge and authentic experience wherever they may.
While edupunks might still matriculate at an institution of higher learning, they are on the lookout for what they really want and need, wherever they can find it.
Read more...
Gaining power by not having all the answers
There are two kinds of power, writes Warren Bennis. There's "positional power," which is the kind of power that organizations confer on their leaders. And there's "personal power," which he defines as "influence based on voice."
Read more...
More news and comment for leaders in theological education
Board Evaluation
---
Assess your board's performance.
Highlight strengths

Identify weaknesses

Tackle issues

Establish benchmarks
IN TRUST can help.
Read more about Board Evaluation.
Contact IN TRUST at
302-654-7770 or akardash@intrust.org.