Thirty-eight years ago, some issues were the same
From the Boca Raton News, July 6, 1971:
Divinity schools, like almost everything else during the past two decades, have been in a period of expansion. Now, like almost everything else, they are in a serious financial bind.
The University of Chicago Divinity School [will] have 150 fewer students next [year] than it had two years ago, when the enrollment was 430.
Harvard's Divinity School is planning to cut back on its scholarships and put the money into long-range loans.
At the Union Theological Seminary in New York, tuition has leaped from $800 to $1,800 in five years.
And the Episcopal Church is exploring ways of eliminating six of its 12 seminaries, through mergers if possible.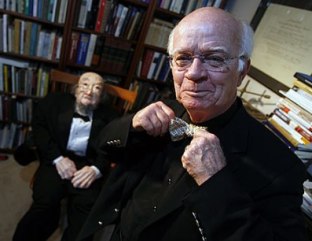 "All private institutions of higher learning are in trouble, and all religious institutions are in trouble," says Martin Marty [pictured here in a 2007 photo], associate dean of the University of Chicago's Divinity School gloomily. "In the seminaries, both these facts are working against us. We have both feet on banana peels."
Read more...
Back in the New Year 2009 issue of In Trust, we took on this topic head-on with an article by Rebekah Burch Basinger called "Nipping Trouble in the Bud: When Board Members Behave Badly." (People affiliated with In Trust's member schools can read the article after logging in.)
Read more...
Read more...
Shared governance is a slippery concept in all of higher education, and it's the source of much misunderstanding, according to an article title "Exactly What Is 'Shared Governance'?" in a recent Chronicle of Higher Education.
Read more...
The board's role in accreditation
Most anyone associated with higher education knows minimally that accreditation is an external validation of internal effectiveness. But the extent to which a board should be concerned about this process is variable and at times controversial.
Read more...
More news and comment for leaders in theological education
Forum on Alliances & Mergers
Exploring the idea of partnership with another school?
Learn what all leaders in governance must understand about
Beginning the process

Necessary steps and other keys to success
Possible pitfalls
Options in partnerships
The essential role for boards
Forum will be held on December 2, 2009 at Gordon-Conwell Theological Seminary's campus in North Carolina.
To register, call us at 302-654-7770 or e-mail InTrustForum@intrust.org by October 30.
Is your institution a member of In Trust for this year?
In Trust's members enjoy
discounts on all our products and services

additional magazine subscriptions

access to the members-only section of our Web site

a free Governance Helpline
Email membership@intrust.org for more information.
Good Governance 50% Scholarships
Each scholarship covers half the cost of any of our assessment packages, which include the guidance of a Governance Mentor and the use of an assessment instrument.
Email mentorservices@intrust.org for more information.