Two strategies for improving your board's fiduciary behavior
Once upon a time, minding your board's fiduciary P's and Q's consisted of dotting organizational I's and crossing legal T's and little more. But no longer. Or so say the members of an august panel of governance veterans featured in the March/April 2013 issue of Trusteeship magazine. As they tell it, fiduciary stewardship stretches well beyond the board's attention to the bottom line.
Read more...
You're probably making this mistake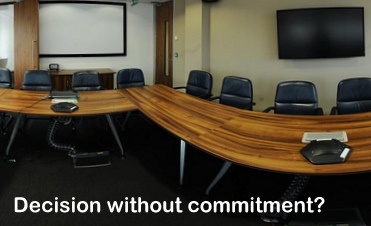 Have you heard (or even uttered) these statements during meetings?
It would be great if…

Someone should…

Do we all agree to…?

Can you try to…?

The chair would like...
Repeat after me: No more weasel words.
Read more...
"Like" In Trust on Facebook

Are you on Facebook? Click here to visit our page.

And once you're there, be sure to click the "like" button to get periodic updates from In Trust on your wall. Hover over the "Like" button on the page and make sure that "Get Notifications" and "Show in News Feed" are checked. That way In Trust's posts will be sure to appear on your wall.


Visit the In Trust Blog homepage...
On-Demand Webinar
This 60-minute recorded webinar is a collaborative presentation by In Trust and ATS. The discussion covers:
Allocating scarce resources.

Meeting new market opportunities.

Planning based on strategic assessments, not wishful thinking.