Our most-requested reprints of 2013

During the last year, In Trust has received many requests to reprint two articles by Barbara Wheeler -- "Sobering Figures Point to Overall Enrollment Decline" (co-written with Wheeler's colleague Anthony Ruger) and "Pathways to Seminary: Where the Best Students Come From."

Both are based on research conducted by Auburn Seminary using the latest data from the Association of Theological Schools. If you haven't pored over these articles and discussed them with your board and senior staff, you're missing out.

Click on the links above to read the articles. And if you are interested in hearing more, purchase the "Pathways to Seminary" webinar led by Wheeler and Ruger, with a response by Daniel Aleshire, and show it at your next board meeting. For more information on the webinar, click here.

Highlights from the New Year 2014 issue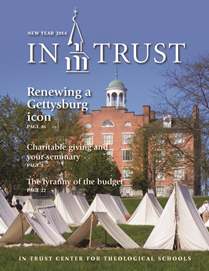 The latest issue of In Trust includes several features that you won't want to miss. Read and share!
"Charitable Giving and Your Seminary" is part 2 in a planned four-part series on the latest trends in theological education. You can also go back and read part 1, "More Schools, Fewer Students."
"Latino Bible Education Is Exploding" is a report on the growth of Hispanic Bible schools in North America. The leaders of Latino churches are eager for more education -- what's being done to help them?
"How Does Collaboration Happen? A Conversation with Father Donald Senior" is an interview with the recently retired president of the Catholic Theological Union. Father Senior's a Bible scholar, a 23-year president of a large theological school, and a recognized leader in ecumenical and interfaith relations. How has he done it?
Innovative management ideas at Internet giants

Could your school take management lessons from online giants Zappos and Amazon.com? It goes without saying that a seminary is different from a for-profit Internet company, but it seems as if some of their innovations are compatible with the tradition of shared governance in higher education.
Read more...

"Like" In Trust on Facebook
Are you on Facebook? Click here to visit our page.



And once you're there, be sure to click the "like" button.




Visit the In Trust Blog homepage...
In Trust Webinar
Collaboration and inclusive decision making sound good, but can shared governance get in the way? Or can it be an asset in times of rapid change? How does it work when a quick decision is needed?

Join Rebekah Basinger and Paul Dovre as they discuss getting shared governance right.

Register now...