A Christmas prayer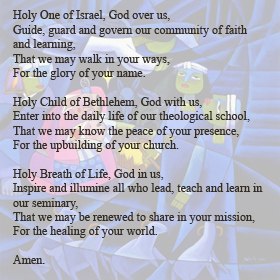 Questions for lawyers on boards, and the rest of us as well

Board work, although wonderfully rewarding, is also remarkably risky and especially so for "directors with specialized knowledge and expertise, such as lawyers, who are held to a higher standard of care."
Read more...


Member schools elect new In Trust board members
In Trust member schools have just elected four members of the In Trust board of directors. Almost 70 percent of member schools voted, electing one new member of the board and re-electing three continuing members.

R

ebekah Burch Basinger
Chair of the Board of Directors, MOPS International (Mothers of Preschoolers)

Member of the Board, U.S. Foundation of the Theological College of Zimbabwe

H

oward J. Claussen
Retired Director of Mergers and Acquisitions, Corporate Plans Department, DuPont Company, Wilmington, Delaware

Member of the Board of Regents, Concordia Theological Seminary, Fort Wayne, Indiana
Carol E. Lytch
President, Lancaster Theological Seminary

Former Assistant Executive Director, Association of Theological Schools

Brian C. Stiller
Global Ambassador, World Evangelical Alliance

President Emeritus, Tyndale University College & Seminary, Toronto, Ontario
Read more...


"Like" In Trust on Facebook

Are you on Facebook? Click here to visit our page. And once you're there, be sure to click the "like" button.
Have you responded to the board member survey yet?
If you are on the board of a school that is a member, candidate, or associate of the Association of Theological Schools (ATS), you were mailed a survey from Auburn Seminary's Center for the Study of Theological Education.

If you didn't receive your survey, or if you just haven't responded yet, please complete the survey online here.

Or, to request a paper copy, please phone Sharon Miller at 212-662-4315.

Thank you for your participation in this important study!
---
In Trust Webinar
Strategic planning essentials
How can you develop competencies to meet new market opportunities?

How do you plan based on strategic assessments and insights and not just wishful thinking?

On February 22, In Trust will tackle these questions and more during a webinar on "Three Strategic Planning Essentials for People with No Time to Waste."

Please register today at www.intrust.org/webinars.