The board's responsibility for evaluating the president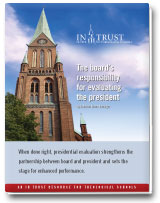 When done right, presidential evaluation strengthens the partnership between board and president and sets the stage for enhanced performance.
By giving attention to the five principles detailed in this new guide, boards can approach presidential evaluation with confidence and competence, and presidents can approach it with serenity.
Read the guide.


Guide to developing your board handbook
Written by Governance Mentor Tracy Schier, this guide describes the nine sections essential to your own custom board handbook.
Read the guide.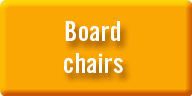 View articles, blog posts, and other resources on the topic of board chairs in seminaries.
Read more about other popular topics in theological school governance here.

"Like" In Trust on Facebook

Are you on Facebook? Click here to visit our page.

Once you're there, be sure to click the "like" button.


Visit the In Trust Blog homepage...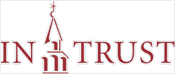 Webinar
Sept. 10 at 1:00 PM EDT
(60 min.)

Join In Trust as we explore the roles and responsibilities of boards in theological education.
►
What do new board members need to know and when?
►
How can board members identify and understand their role as a board member?
Register now...
---
Governance Mentoring
Are you seeking board or presidential evaluation?