In Trust "Governance Minute" video:
Essentials of Good Board Governance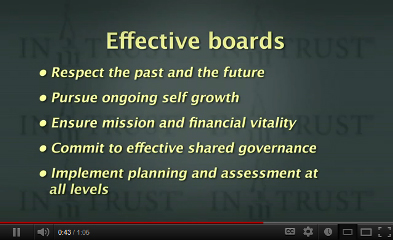 Watch other "Governance Minute" videos at www.youtube.com/intrustmagazine.


Online teaching, part 1: What do teachers and administrators say?
A recent study by Inside Higher Ed offers some striking findings about faculty and administrator attitudes toward online education.

Not surprisingly, more administrators than teachers are enthusiastic about online education.

But even those who teach online and are comfortable with it have some reservations about educational outcomes.
Read more...


"Like" In Trust on Facebook

Are you on Facebook? Click here to visit our page.

And once you're there, be sure to click the "like" button to get periodic updates from In Trust on your wall.


Visit the In Trust Blog homepage...
In Trust webinar
September 12, 2012

Board Orientation: Not just for new board members
Finding your way? You're not alone.

Join us for this hour-long webinar about the roles and responsibilities of boards in theological education.
Sign up today at www.intrust.org/webinars.