Three reasons not to invite former board members back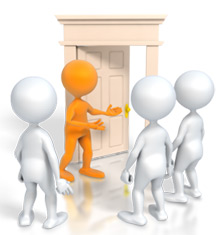 One year off and then on again is the assumed rhythm of board life. The by-laws of almost all nonprofit organizations allow valued members to come back to the board after a 12-month respite.

No surprise then if board members describe the familiar cycle as standard, or even, best practice for filling the board roster.

But what if we discover that boardroom recycling has negative consequences for nonprofit organizations?

What if following conventional wisdom doesn't produce the anticipated results?

Read more at Rebekah Burch Basinger's blog...

Are you on Facebook? Click here to visit our page.

And once you're there, be sure to click the "like" button to get periodic updates from In Trust on your wall.
Webinar
Fundraising: What's the board's role?
Join us tomorrow, May 1 at 1:00 p.m. (EDT). Our fundraising experts will cover:
specific expectations for board members;

structures that empower board members; and

strategies for overcoming board members' fears of fundraising.
Register today at www.intrust.org/webinars.