Accrediting changes reflect stricter accountability
Accrediting bodies have traditionally monitored compliance (Does your school meet certain standards?) and, more recently, improvement (Is your school getting better at what it does?).
Today, a third role is emerging -- accountability. That means determining how well a school does what it says it does -- whether the school actually fulfills its promise -- and providing meaningful information to the public about institutional performance.
Read more...
Crushing student debt may be another financial bubble
Student debt is another of those economic bubbles that challenges theological education.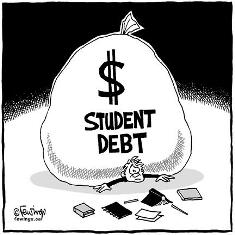 In a recent issue of Faith and Leadership, Lutheran bishop Rick Foss describes his moment of conversion on this subject. When Foss headed the Eastern North Dakota synod of the Evangelical Lutheran Church in America, he learned that the average student loan debt of his new pastors was $30,000.
Not surprisingly, North Dakota clergy salaries are low, and most pastors are hesitant to ask for raises. As a result, many young pastors feel resentment about their calling. They feel trapped. They seek new positions in bigger cities or leave ministry altogether.
Read more...
I have months of unread magazines on my coffee table, and my e-mail inbox is full of messages from organizations I really believe in. It's just that I don't have time to read everything they send.
Sound familiar? So how often does your school send out its communications to donors and friends?
Over at Contributions, an online magazine, consultant Jeff McLinden has been contemplating how often is too often. And he says we've all been asking the wrong question.
Read more...
More news and comment for leaders in theological education
Board Evaluation
---
Assess your board's performance.
Highlight strengths

Identify weaknesses

Tackle issues

Establish benchmarks
IN TRUST can help.
Read more about Board Evaluation.
Contact IN TRUST at
302-654-7770 or akardash@intrust.org.

Challenge assumptions
Rethink systems
IMPROVE performance