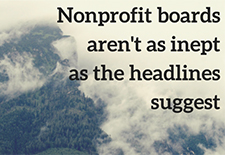 The online nonprofit press is abuzz over the 2015 Survey on Board of Directors of Nonprofit Organizations, with headlines suggesting nothing but bad news.

The survey results simply don't support the sorry soundbite summaries.

Read more...

Have you read the Spring issue of In Trust?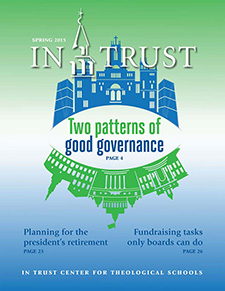 In Trust's Spring 2015 issue recently landed in subscribers' mailboxes. Some highlights:
"Two patterns of good governance." Part 2 of our excerpt from the latest report on seminary governance from researcher Barbara Wheeler.
"Transformation takes time." A look at the changes in leadership and mission at Baylor University over the last two and a half decades.
"Toward a Fuller future." Fuller Theological Seminary's former board chair recounts his school's presidential transition.

Read more...

From the In Trust archives:
A typology of partnerships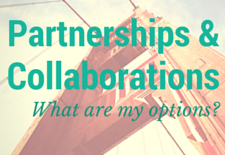 A president called our Resource Consultants this week with a question:
If my school wants to explore a partnership or collaboration with another school, what are the options?
In an In Trust article that appeared a few years ago, Robert Cooley mapped out several possibilities for partnerships. His list suggests just how creative such alternatives can be.
Read more...