Warmest Holiday Greetings!
Auroville International USA is trying to become more effective in sharing the wonderful work Auroville is doing and encouraging a sense of community in the US.

Welcome to our first attempt as we publish our newsletter online as eVolve.

---
Evolve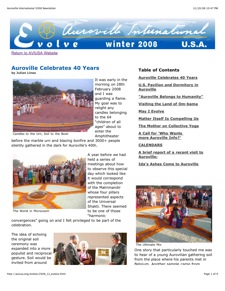 Click on the image of Evolve on your left to see the complete text with photos online.

Please forward the link to other friends interested in Auroville or let us know about them.

If you know of someone without access to the internet who would like to know more about Auroville and the work of AVIUSA give us their snail mail address.
---
Pavilion of Tibetan Culture

His Holiness the Dalai Lama is coming to Auroville in January. Many of us are making donations to help complete the Pavilion and make it beautiful for the dedication ceremony. Here is a photo of painters from the Norbulinka Monastery painting the Pavilion in preparation. By clicking on the image on the left you can make a credit card donation on our secure website.
---
Anandi's Live Food Restaurant

This past summer Anandi toured the US visiting many friends and studied at the "Tree of Life" in Arizona. Many pledged to help her build a restaurant and train people in Auroville to eat in a healthy way. You can give with a check to our address below or online:
---
We also have some beautiful 2009 Wall and Desk Calendars. Order yours now and stay connected with Auroville during all of 2009. See the instructions at the bottom of Evolve.

We wish you the very best in the New Year!

The AVIUSA Board