Hi Kathy,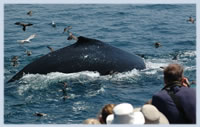 Join the National Marine Life Center and the
Jr. Tech Program
of Cape Cod on the first whale watch of the season!
Capt. John Boats
in Plymouth will take us out to the beautiful
Stellwagen Banks National Marine Sanctuary
to look for these majestic animals. Will we see Humpback Whales? Minke Whales? Dolphins? Seals? Sea Birds? The anticipation is part of the fun. Naturalists aboard will help us identify and learn about the wildlife we see.

Special Rate for the National Marine Life Center!
$25/members, $35/non-members

Reserve your ticket by April 19
Call 508-743-9888, e-mail nmlc@nmlc.org,

The whale watch is also part of a
Jr. Tech Program
workshop on Marine Animal Behavior
. Students aboard the vessel will be learning to identify and describe whale behavior. For those who are interested in participating along with the students, we'll have extra worksheets!

Hope to see you April 23rd!
What to Wear and Bring on the Whale Watch:

Dress very warmly in layers, including a waterproof layer. Don't forget to bring your camera and binoculars! Food is available on board.
Click here
for additional information on what to bring and what to wear.
What to Expect: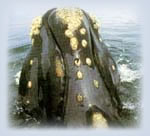 You never know what you might see out on the water! Humpback Whales, Right Whales, and Minke Whales can be seen this time of the year. Several species of dolphins may also be spotted. We might see seals such as the Atlantic Harbor Seal pictured above. We'll definitely see lots of birds. We'll see some great views of Plymouth Harbor on our cruise out to Stellwagen Banks. The trip out generally takes 50-75 minutes, and the naturalist as well as NMLC staff will be aboard to talk about marine animals and show specimens. For more information about what to expect,
click here
.
Note: All photos as well as information about what to wear and what to bring comes from the Capt. John Boats website.