Dear Kathy,

Summertime is here and there's a lot of activity at the National Marine Life Center! Stop by and visit!
Local Business has a BALL for NMLC!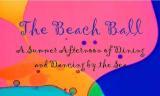 When local restauranteurs Rita and Rob Pacheco throw a party, it's a ball! Long-time supporters of the National Marine Life Center, the Pachecos wanted a fun and festive way to help. Doing what they do best, they decided to throw a party! With a nod to the name of their establishment, the Beachmoor Inn and Restaurant, they decided to call the event the Beach Ball.
Scheduled for Sunday, July 25 at 4 pm, the Beach Ball features the Beachmoor's fabulous cuisine, dancing on the beach, a silent auction, and a world-famous sunset - all for a great cause!
Tickets are still available, but going fast! Click here for details and to make your reservation.

Summer Programs Entertain and Educate!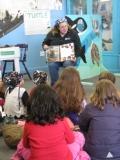 The National Marine Life Center's drop-in education programs are a popular summer activity. Kids can make seal window stickers and scratch turtles, listen to stories about whales and dolphins, and learn what it's like to rehabilitate a marine animal. Join us! Different theme every week. $3/members or $5/non-members, except where noted. Click here for details and weekly themes.
~ Fins and Flippers Club, Tuesdays & Thursdays, 10 am: story time and arts and crafts. Our most popular program!
~ Marine Animal Medical Mystery, Wednesdays, 10 am: investigate a fictional case of a sick or injured marine animal.~ NMLC Update, Mondays & Fridays, 10 am: learn about patients on-site and our new marine animal hospital. FREE!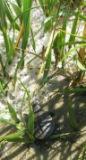 Back to the Wild! Eight diamondback terrapin hatchlings returned to their salt marsh home on June 14th. The turtles, listed as "threatened" on the Massachusetts endangered species list, spent the winter at NMLC because they hatched too late in the season last fall to survive the cold weather. Now several times larger than when they arrived, the young turtles are better able to survive in the wild. Be well, little ones!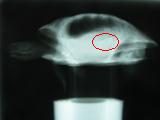 Turtles will eat ANYTHING! "Catch 22," the red-bellied cooter we admitted recently with an unusual fungal infection, had another medical surprise. When conducting routine x-rays as part of his entrance exam, we found that Catch had swallowed a staple. Dr. Williams was concerned as the staple could have caused serious injury while passing through the small turtle's digestive tract. Taking the cautious approach, Dr. Williams prescribed tube feeding Catch a "lettuce shake". Made up of ground lettuce and laced with cod liver oil, we hoped the mixture would help Catch pass the staple. It worked! After only a day, we found the staple on the bottom of the tank and quickly removed it so the turtle wouldn't eat it again. Now, all we need to do is treat the shell fungus!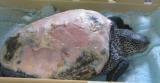 Pigment for Patty. This week when peeling back blistered skin from Patty-the-terrapin's damaged carapace, Dr. Williams found newly pigmented skin! We are pleased to see Patty finally beginning to heal. Turtles are amazing, and Patty is one of the most incredible!