Fletcher's Making Tracks!
Fletcher the loggerhead sea turtle, who spent the win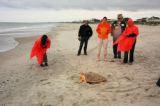 ter at the National Marine Life Center recovering from being
cold-stunned, was released off Atlantic Beach, North Carolina! Tagged with a satellite tag to monitor his progress, Fletcher is busily exploring the coastal estuaries of North Carolina.
Click Here to track Fletcher on-line.
Click here to adopt Fletcher.


Discovery Center Opens for the Summer

The National Marine Life Center's Marine Animal Discovery Center is an educational experience about helping sea life on Cape Cod.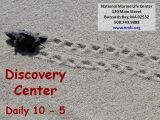 With exhibits, arts and crafts projects, and programs about marine animals, strandings, and ocean conservation, the Discovery Center is fun for the whole family! The adjacent Gift Shop features eco-friendly, fair trade, and locally-made gifts and souvenirs - the perfect place to find a momento of your visit. The Discovery Center is open daily through Labor Day, 10 am to 5 pm.

Cold-Stunned Terrapin Arrives at NMLC

"Patty" is an adult female diamond-backed terrapin who was discovered on St. Patrick's Day suffering from cold-stu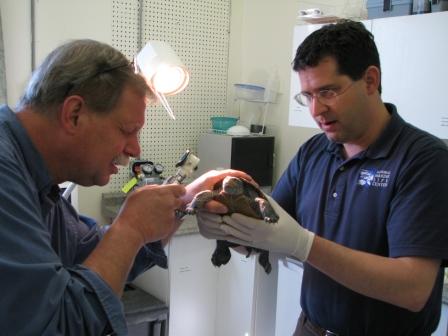 nning. Like sea turtles, terrapins are reptiles and cold-blooded, meaning that their internal body temperature depends on the environment in which they live. During the winter, terrapins normally bury themselves and go into "brumation" - a dormant state similar to hibernation in mammals. When Patty emerged from brumation, the weather was still too cold and she became cold-stunned.

Patty was initially treated by Don Lewis, the Turtle Guy and NMLC's Chief Operating Officer, and Sue Nourse. Click here to read the story of Patty's stranding. She was brought to NMLC for continuing medical care. Click here to read about Patty's admission to NMLC.


You can visit Patty in the Marine Animal Discovery Center any day between 10 am and 5 pm.

$100K Challenge Reaches 24%

It may be summertime, but for marine animals near Cape Cod the dangerous fall stranding season lies just around the corner.

A collapsed roof forced demolition of NMLC's old warehouse hospital, creating a gap in treatment capacity for critically endangered, cold-stunned sea turtles that will soon show up on our beaches.

NMLC's dedicated volunteers know the challenge. They have nursed th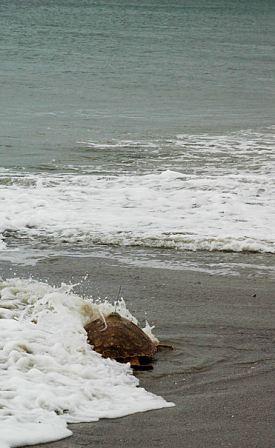 e most seriously ill marine animals back to health. They have bailed water from the leaky roof, hauled sea water into tanks, fed hungry critters and cleaned up after them, too. And they have witnessed the ultimate joy of restoring life to the ocean as a rehabbed turtle like Fletcher slips back into the sea.
Our volunteers want the NMLC marine animal hospital to open in time for the fall stranding season and two of them are backing that hope with a $100,000 challenge grant. These volunteers pledge to match any new donation of $500 or more between today and August 10 up to $50,000 for a grand total of $100,000. That's precisely the sum we need to open our new hospital doors on October 30 with a functional sea turtle rehabilitation suite just in time to receive incoming patients.

As of this morning, the challenge was up to 24%. You can help meet the challenge and open our doors for sea turtles this fall! Click here to make a donation.
In This Issue
Fletcher's Making Tracks

Discovery Center Opens for the Summer

Cold-Stunned Terrapin Arrives at NMLC
$100K Challenge Reaches 24%

Upcoming Events
New Website
Upcoming Events
June 17 - Marine Life After Hours, 5-6 pm, National Marine Life Center. Member's Only Event. Share a casual hour of "nibbles and sips" with staff and friends, meet the patients, explore the future of the oceans and check out the progress of your new marine animal hospital as it rises on the north bank of Cape Cod Canal. Click Here for more information and additional dates.
June 21 - Quahog Day! 2 pm, Quahog Republic, Bourne. Sponsored by the Cape Cod Chamber of Commerce, this day of family fun will kick off with the "Quahog Prognostication" - an announcement from the Secretary General of Quahog Republic as he receives word from the "official quahog" on how many weeks of Cape Cod beach weather lie ahead. Click Here for information and to register.


July 6-17 - Teacher Workshop on "Inquiry- Based Science: Investigating Water & Energy Concepts in the State Frameworks." Dive into currents to better understand water and energy – in the classroom and in the field. Click Here for information and to register.
August 7 - Mermaid Ball, 6-11 pm at the Massachusetts Maritime Aca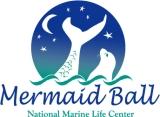 demy. Join mermaids and other sea creatures in dining and dancing the night away - all for a good cause! Click here for tickets. To volunteer or donate, contact Julie at 508-743-9888 x303 or jseligmann@nmlc.org.
September 17 - Douglas J. Fletcher Memorial Golf Tournament, 8 am shotgun start, Brookside Club,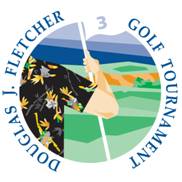 Bourne. Sponsored by Convention Data Services, the tournament features lunch, raffles, and great prizes! Click Here for more information.
New Website!
NMLC has a new website! Featuring blogs, video, photos, and new content weekly, we hope our new format will keep you informed, educated, and entertained. Visit www.nmlc.org and let us know what you think!