Welcome to the first edition of "E-Splash," the National Marine Life Center's electronic newsletter. We'll use "E-Splash" for occasional brief news items and announcements. We hope you enjoy these updates! (If you would like to be removed from this e-mail list, please follow unsubscription instructions below.) We'll continue to provide longer updates through our printed "NewsSplash" newsletter.
New Sea Turtle Patients
This time of year, endangered sea turtles strand throughout the Cape. Most are in a state of severe hypothermia known as "cold stunning." Without human intervention, the animals will not survive. Two of these sick and injured sea turtles are currently patients at the National Marine Life Center.
"Fletcher" is a juvenile loggerhead sea turtle who stranded Nov-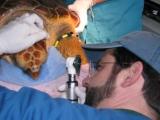 ember 29 at Fisher Beach in Truro. He was rescued by volunteers from the MassAudubon Wellfleet Bay Wildlife Sanctuary and taken to the New England Aquarium for initial care. Fletcher arrived at NMLC on December 4. Weighing in at 23.5 kg (about 52 pounds), Fletcher is active and alert with no visible injuries. He is swimming and eating well, and has just finished a course of antibiotics to address an infection.
"Captain Ca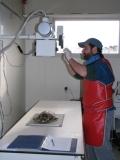 veman" is a juvenile Kemp's ridley sea turtle who stranded November 23 at First Encounter Beach in Eastham. He was rescued by volunteers from MassAudubon at Wellfleet, spent several weeks in intensive care at the New England Aquarium, and arrived at NMLC on December 9. Caveman suffers from numerous serious conditions including septicemia, pneumonia, anorexia, and air in his body cavity. He also has a possible entanglement wound across his front left shoulder. Caveman remains in critical condition and is being treated with antibiotics, fluids, and tube feeding. Until his condition improves, we are taking regular x-rays, monitoring blood glucose values daily, and housing him in our veterinary intensive care incubator overnight.
You can help Fletcher and Caveman by making a year-end donation to the National Marine Life Center.
Hospital Construction Update
Our Life Support System building is complete! W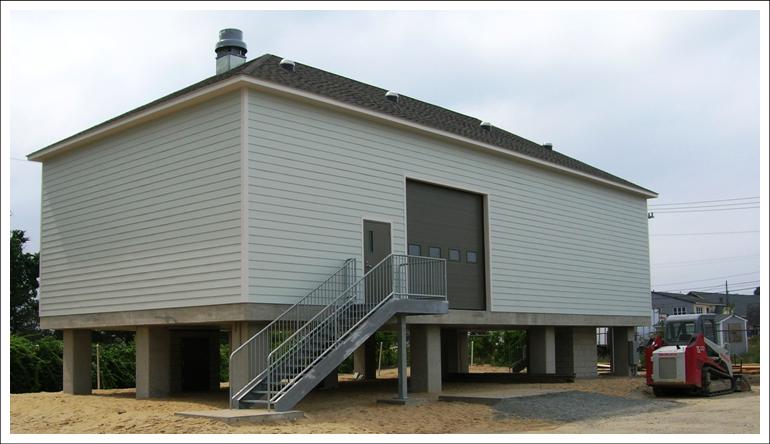 e can now pump in life-sustaining sea water from the Cape Cod Canal to our rehabilitation tanks. The next step is building the hospital.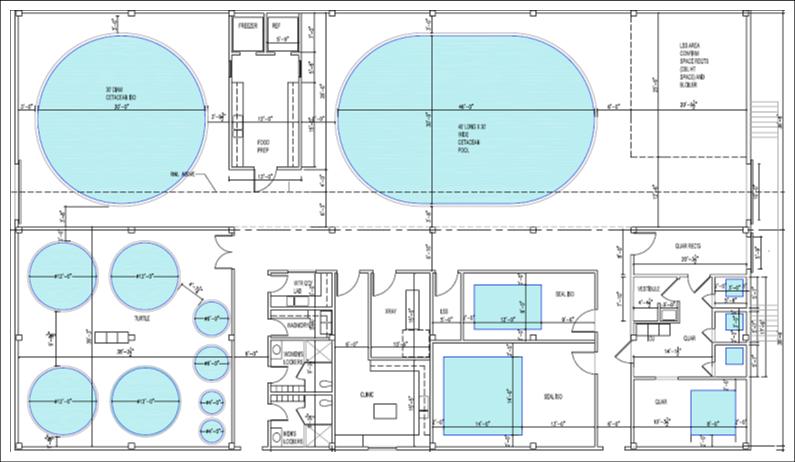 Plans for the new hospital are nearly finalized. We have completed environmental remediation and site preparation. We expect to begin foundation work in January.
You can help us complete the hospital by making a donation to the National Marine Life Center. We offer unique naming opportunities as well - contact Kathy at (508) 743-9888 x301 or kzagzebski@nmlc.org for details!
In This Issue
End of Year Gift Ideas:
Need an end of year tax deduction? Your donation to the National Marine Life Center is tax deductible and helps save marine animals, promote studies of wildlife health, and teach youth about ocean conservation. You may donate online using a credit card. You may also donate gifts of stocks or securities. For more information, contact Julie at (508) 743-9888 x303 or jseligmann@nmlc.org.
Shopping Online? Start from www.GoodSearch.com, and select National Marine Life Center as your cause. With only two extra clicks and no sign-up required, participating vendors will donate 1 to 12% of the retail price to NMLC! It's a free way to help save marine animals and promote science education by buying products (including airline tickets) that you already purchase online!
Buying a New Fuel-Efficient Car? Donate your old gas guzzler to the National Marine Life Center! We have partnered with "Donate For Charity" to process vehicle donations. For more information or to donate, visit www.donateforcharity.com.
"Got Math?"
Math is a daily necessity in marine animal rehabilitation. NML
C veterinary and animal care staff routinely calculate pool volumes, diet requirements, medicine doses, and many other parameters. In cooperation with the Cape Cod Technology Council's Jr. Tech Program, NMLC developed a workshop for kids to practice math skills using real problems and examples from marine animal cases. This and other educational programs are available for your classroom or group. For more information or to schedule a program, contact Joanne at jnicholson@nmlc.org or (508) 743-9888 x302.