Welcome to the second edition of E-Splash, the National Marine LIfe Center's electronic newsletter that presents brief news items and announcements. We hope you enjoy these updates! If you would like to be removed from this e-mail list, please follow unsubscription instructions below. We'll continue to provide longer updates through our printed "NewsSplash" newsletter.
Good News from Lavender!
Lavender is a juvenile Kemp's Ridley sea turtle who stranded, cold-stunned in November 2006. After initial treatment at the New England Aquarium, Lavender was transferred to NMLC January 16, 2007. As Lavender progressed through rehabilitation, she improved and began eating well and swimming actively. Periodic x-ray exams, however,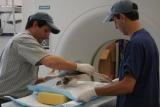 documented a recurring pneumonia that would not heal despite antibiotic therapy. In order to understand the source of the infection, NMLC veterinarians performed a tracheal wash procedure and learned the pneumonia was bacterial in origin. Computerized tomography ("CT") scans performed at Woods Hole Oceanographic Institution's Computerized Scanning and Imaging Facility and at Tufts University School of Veterinary Medicine helped further characterize the pneumonia lesions and monitor treatment results. Finally, after twenty months of treatment, Lavender was deemed healthy and cleared for release. She was fitted with a satellite tag and released July 30, 2008. We received ten weeks of data indicating Lavender was swimming and foraging normally in the wild. Then, on October 13, we stopped receiving signals.
Satellite tags may stop transmitting for a variety of reasons. We reassured ours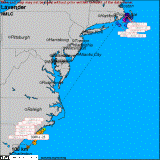 elves that perhaps the saltwater switch was covered by a piece of seaweed, or the tag fell off, or the batteries stopped working, or Lavender simply wasn't surfacing at the time of day the tag was programmed to transmit. Nevertheless, we had hoped for a longer transmittal time. Then, just after the holidays, we received the best gift ever - a satellite signal from Lavender! She travelled over 1,000 miles and is now swimming and foraging off the coast of South Carolina. This is exactly where she should be this time of year, and we are thrilled she appears to be thriving.
You can read Lavender's story and follow her journey by clicking here. You can adopt Lavender and help future sea turtle patients return to their ocean home by clicking here. Many thanks to our partners at seaturtle.org who make it possible for us to share Lavender's journey with you. And, on behalf of Lavender, thank you for your support!
A Day in the Life of Captain Caveman
Tuesday is Medical Rounds and Procedures day.
8:30 am

Veterinarian Dr. Roger Williams arrives, removes Caveman from the Incubator, checks him over, and places him in a pool to swim. Dr. Williams then reviews the medical record, feed log, and husbandry notes.

9:30 am

Animal Care Coordinator Brian Moore and Volunteer Trish grind up fish and add a small amount of water to make a liquid gruel. They add ground calcium, vitamin B, and "SeaTabs" for extra nutrition.

9:45 am

Brian and Trish tube feed Caveman. After tubing, they hold him vertically for five minutes to reduce the chance of his regurgitating the formula, then place Caveman back in his pool.

10:00 am

Dr. Williams gathers staff, volunteers, and visiting veterinarians including Dr. Charlie Innis from the New England Aquarium, for medical rounds. The group is excited that Joanne enticed Caveman to bite at a piece of squid yesterday - the most interest he has shown so far. Dr. Williams and Dr. Innis conduct a thorough physical examination of Caveman; they draw blood for diagnostic tests including blood glucose, take a temperature and heartrate, and review previous x-ray, CT, and blood results.

11:00 am

Dr. Williams prescribes a new round of treatment including increasing tube-feedings to twice daily, increased antibiotics, and a change in antifungal medication.

3:00 pm

Brian and Volunteer Juan pull Caveman, administer antibiotics and fluids, and tube feed. When complete, they put Caveman back into his pool.

3:30 pm

Brian and Juan test water quality, increase the heat slightly on Caveman's tank, scoop and scrub down down his pool, and thoroughly clean the entire clinic and quarantine area.

5:30 pm

Because Caveman's blood glucose levels are low, he is pulled from his pool for the night. Brian cleans Caveman's wounds, applies a topical antibiotic cream to the injuries, spreads a hydrating gel over his shell, and applies an artificial tear formula to Caveman's eyes. Laying in a plastic crate on a padding of clean towels, Caveman is placed into the Incubator to rest.
Post Script: Joanne came in early this morning to work on enticing Caveman to eat, and found him dead. We are saddened that this brave little turtle lost his struggle to survive. We are comforted in knowing we gave him the best care possible while he was at NMLC. Dr. Williams, Brian, and Joanne are conducting the necropsy, and we will share results in a future update.
Bottle Caps Keep Water Clean
Keeping our patients' clean is critical to their rehabilitation. Biological filtration is an important component of the life support system ("LSS") on each tank. A biological filter works by having "good" bacteria consume "bad" or polluting bacteria. The "good" bacteria needs surfaces on which to grow. Commercial products exist to provide these surface areas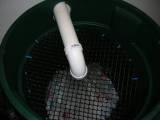 , however they can be expensive. In an effort to minimize costs and recycle a normally discarded product while keeping the water clean, NMLC is using the plastic caps from soda bottles. Several hundred caps are enclosed in a mesh basket and placed in each bacterial filter. So far, this low-tech method is working great!
Many thanks to Read's Academy in Middleboro, especially Mrs. Nunes' class, who collected hundreds of bottlecaps! These bottlecaps are helping to clean and filter NMLC's hospital pools.
In This Issue
Good News from Lavender!
A Day in the Life of Caveman
Bottle Caps Keep Water Clean

Upcoming Events
Save the Date for Mermaid Ball


Upcoming Events
February 17, 18, 19 - Fins & Flippers Club at the Hyannis Public Library! Join us for stories, games, and crafts about sea turtles, seals, and dolphins. A different animal is featured each day - attend one, two, or all three! Space is limited; sign up at the Library's Children's Desk or call 508-775-2280. This program is presented free of charge, thanks to a grant from the Barnstable County 4H After School Mini-Grant Program.
March 4 - Massachusetts Environmental Education Society Conference, Worcester, MA. Joanne and Kathy will present NMLC and Jr. Tech's "Got Math" program. All formal and informal educators welcome to attend! Contact MEES for registration fees and information.
March 26-29 - Northeast Region Stranding Network Conference, Salem, MA. Marine mammal and sea turtle experts will gather to share information on strandings, disease, rescue, and rehabilitation. Stay tuned for more information.
April 22-24 - Turtle TLC/Seal SOS Workshop for the Cape Cod Tech Council's Jr. Tech Program. Learn about marine animals, strandings, and rehabilitation. Find out how you can conserve our ocean resources. Through simulations, games, discussions, and hands-on activities students will learn what it is like to work in a marine animal hospital. Register online or call Phyllis at 774-994-2097.
April 23 - NMLC Annual Meeting, 5-7 pm, the Beachmoor Inn and Restaurant, Buzzards Bay. Hear the latest news about our new hospital, our patients, and our science and education programs. All members welcome. Space is limited; RSVP required. Contact Julie at 508-743-9888 x303 or jseligmann@nmlc.org.
SAVE THE DATE - MERMAID BALL 2009!
The National Marine Life Center's 3rd annual Mermaid Ball will be held Friday, August 7, 6-11 pm at the Massachusetts Maritime Academy. To volunteer or donate, contact Julie at 508-743-9888 x303 or jseligmann@nmlc.org.