Happy Presidents' Day, Kathy!
Come visit the National Marine Life Center this week during February Vacation. Our Marine Animal Discovery Center at 120 Main Street, Buzzards Bay is open daily 10 am to 5 pm, and we have activities for everyone!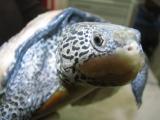 Feb 15-19, 11 am daily: Meet a member of our animal care staff and learn about the wildlife patients we currently have in-house. Visit "Patty" the diamondback terrapin and view our sixteen turtle hatchlings. Ask questions about our new marine animal hospital. Free, donations welcome.
Feb 15-19, 2 pm daily: Children ages 3-10 and kids of all ages will enjoy this marine animal themed story and craft project! Come back each day for a new story and craft! $3 per child per program (or only $1 if you're a member!) For more information, contact Joanne at 508 743-9888 x302. Children must be supervised, please.

Mon., Feb. 15 - Sea Turtles
Tues., Feb. 16 - Seals
Wed., Feb 17 - Whales & Dolphins
Thurs., Feb 18 - Sharks
Fri., Feb 19 - Pirate & Mermaid Party (Costumes welcome!)
Turtle TLC & Seals S.O.S.
CAPE COD JUNIOR TECH WORKSHOP

Price: $99.00
Register online at www.juniortech.org

Feb 17-19, 9 am - 12 noon: This Workshop presents an in-depth look at how sea turtles, seals and dolphins become stranded. Students investigate how humans have impacted stranding, tour the new NMLC hospital, and learn about satellite tagging and tracking of the released animals. Through simulations, games, discussions, and hands-on activities, students learn what it is like to work in a marine animal hospital and meet the professionals who work in this field such as educators, veterinarians, animal aides and scientists. (Please note that there is no exposure to live animals.)

STEM Skills: Biology, Math, & Earth Science
Grades: 5, 6, 7

Looking for more? Our Discovery Center will open again during April Vacation Week, April 17-25. Check our website for daily activities.