Thanks for Giving
On this Thanksgiving, we would like to take a moment to recognize you, our donors. You who have given financially, you who have given goods and services, you who have given time. We are so grateful for all that you do to support our mission. Thank you for being part of the National Marine Life Center community.
With gratitude,
Kathy, Brian, Joanne, Rogers, and Bridget

Animal Updates
We were pleased to welcome eight diamond-backed terrapin hat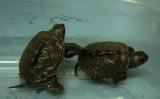 chlings just last week. The tiny turtles hatched too late in the season to survive the winter. The young turtles are listed as "threatened" in Massachusetts so it is important to help as many as possible return to the wild. NMLC will care for these hatchlings through the winter, and release them next summer. For photos of their admit examination, click here.
The eight Northern red-bellied cooter hatchlings who arrived last month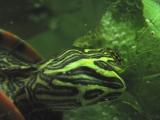 as part of a headstart program run by the Massachusetts Natural Heritage and Endangered Species Program are growing rapidly. Each is at least 25% larger than when he or she arrived! It must be all that yummy romaine lettuce! For a fun video of the red-bellied cooters at feeding time, click here.
"Patty", the adult female diamond-backed terrapin suffering from cold-stu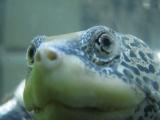 nning, continues to move and eat well. Her shell infection, however, remains serious and she may also have some fluid in her body cavity. We took her off antibiotics but continue to treat her shell with betadine soaks and topical ointment. Dr. Williams monitors her bloodwork regularly and is considering additional diagnostic procedures. You can learn more about Patty and our other patients in Dr. Williams' Rounds Notes.
6 Easy Ways to Help NMLC This Holiday Season
As the holidays approach, there are many easy ways you can help the National Marine Life Center raise money to save marine animals, advance science, and inspire conservation through education. Here are a few ideas!
1. If you belong to Facebook, vote for the National Marine Life Center to win the Chase Community Giving campaign. It's easy, and it's free! Your vote - and those of your Face
book Friends - could help us win up to $1 million - enough to add much-needed dolphin pools to our new marine animal hospital! While you're on-line, become a fan of the National Marine Life Center. Receive news and updates, view photos and videos, and join the conversation.
2. If you live within driving distance of Plymouth, Massachusetts join us for "Shop and Share" at Colony Place Mall. Donate $5 to the National Marine Life Center to receive a "Shop and Share" bracelet, then enjoy exclusive shopping hours and special discounts on December 6th and 13th. To learn more, click here.
3. GoodShop for marine animals! GoodShop.com is an on-line shopping portal in which merchants donate a percentage of your
purchase to the National Marine Life Center (or other non-profit of your choice) - all at no cost to you! With just a few extra clicks and no sign-up required, you can help save marine animals simply by doing what you already do! The GoodShop "mall" includes over 1,300 stores so there is something for everyone. You can even purchase your holiday flight tickets there! A new toolbar makes it super easy to use GoodShop for all your holiday purchases - download it today!
4. Donate your vehicle! No more cash for your clunker? You can still put it to good use by donating it to the National Marine Life Center. You get a tax writeoff and the proceeds from your vehicle help save marine animals! Click here for more information.
5. Volunteer! Volunteers are the heart of NMLC, helping in all areas of our work. We currently need volunteers to help care for the diamond-backed terrapin hatchlings, the red-bellied cooter hatchlings, and Patty. We also urgently need volunteers to help with data entry, fundraising, filing, and various facilities projects. If you have a few hours a month to spare, please contact Joanne Nicholson at 508-743-9888 x302 or fill out our on-line application.
6. Make a year-end donation. We need your financial support to complete our marine animal hospital, care for animals in need, advance science, and educate youth. You make it possible to restore life to the ocean. Any amount will help. Click here to donate on-line. And, thank you.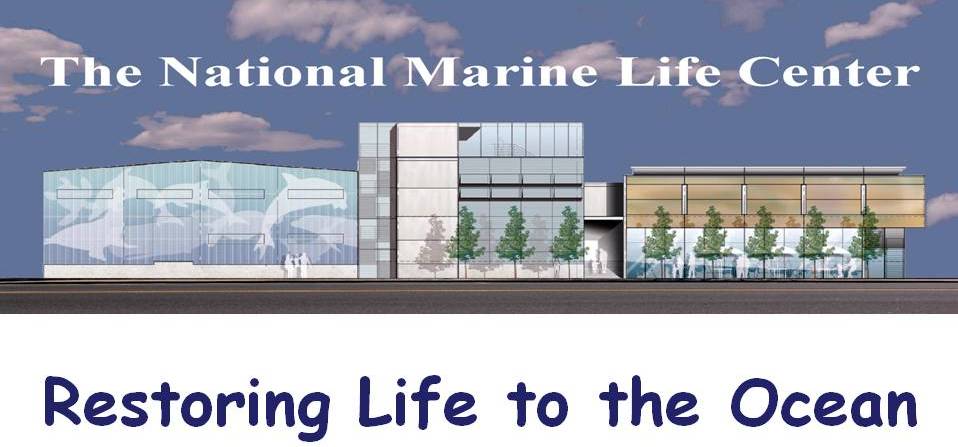 In This Issue
Thanks for Giving!

Animal Updates

6 Easy Ways to Help NMLC....
Upcoming Events
Save the Date for Mermaid Ball!
Hospital Update
Upcoming Events
November 27, 28, 29 - HARVEST SPLASH 10 am - 5 pm daily, 120 Main Street, Buzzards Bay, MA. Join us for holiday shopping with a purpose! Get a head start on your holiday shopping with marine-related items from the NMLC Gift Store. Your gift shop purchases support our marine animal rehabilitation, science, and education programs. Bring your children and explore the Discovery Center. Free admission, Free refreshments, Free arts and crafts.
December 12 - HOLIDAY SPLASH 10 am - 2 pm. Join us for a Holiday Open House! Explore the Discovery Center, make a marine animal ornament, enjoy arts and crafts, games and refreshments. Tour our new marine animal hospital. $5/person suggested donation, members FREE. Your donations help us complete our new marine animal hospital.
Save the Date!
Our 2010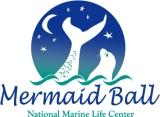 MERMAID BALL is scheduled for Friday, July 30,
6 - 11 pm at the Massachusetts Maritime Academy. Featuring an Admiral's Reception, dining, dancing to live music, and the Cape's best marine-themed auction, the National Marine Life Center's Mermaid Ball is THE event of the season! Best of all, event proceeds benefit NMLC's marine animal rehabilitation, science, and education programs. Click here to see photos from our 2009 event.
Hospital Update
The Extech Facade is complete! This beautiful translucent wall allows natural light into our new marine animal hospital while still providing a weather-tight finish.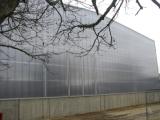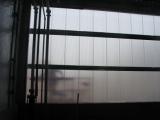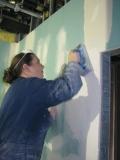 We continue to work on the details of the hospital interior, connecting utilities, painting walls, and sealing concrete floors.

We've made great progress and we are very close to opening. You can help NMLC open our doors to stranded marine animals.
Click here to donate.