Six Easy Things YOU Can Do to Save the Planet!
1. Pick up trash! Marine debris is responsible for thousand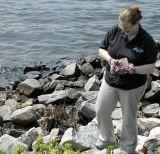 s of animal deaths every year through entanglement and/or ingestion. YOU can make the planet safer for animals and people by picking up trash and disposing of it properly!
2. Bring your own bags when shopping! Plastic bags create a tremendous litter problem. They blow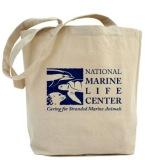 across roadways, get stuck in trees, and most dangerously blow into the ocean where
they may be mistaken as food. To a leatherback turtle, a plastic bag looks like a yummy jellyfish but if eaten can cause severe illness or death. Save the turtles and use your own bags! You can purchase an NMLC bag at our online giftshop by clicking here.

3. Reduce, Reuse, Recycle! Reduce the amount of trash in landfills and elsewhere by purchasing goods with as little packaging as possible, reuse plastic cartons and other containers before throwing them away, and recycle everything you can. Most communities now have recycling programs, and these programs will continue to improve as demand for them increases.
4. Walk, Bicycle, and Carpool! Reduce the need fo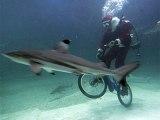 r damaging - and expensive - fossil fuels by walking or biking whenever possible. As an added bonus, you'll get some healthy exercise! For longer distances, consider carpooling. You'll enjoy the company, use less gas, and save money as well! (Please note we don't recommend underwater bicycling! Image by Reuters.com.)

5. Save Sea Turtles! Support nonprofit organizations such as the National Marine Life Center, whose mission is to rehabilitate and release stranded sea turtles, seals, dolphins, porpoises, and small whales, and to advance scientific knowledge and ed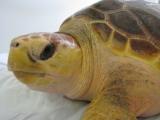 ucation in marine wildlife health and conservation.
6. Spread the Word! Share your love of animals and the environment. If you belong to a club, civic group, or other community organization that would like an education program about marine animals, please contact NMLC's speakers bureau at nmlc@nmlc.org.
Fletcher Gets Ready for Release!
After 146 days of rehabilitation, including eight blood tests, a series of x-rays, two CT scans, antibiotics, and pounds and pounds of fish, Loggerhead sea turtle patient "Fletcher" was deemed healthy and ready for relea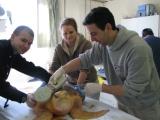 se! In preparation for release, Dr. Roger Williams and Animal Care Coordinator Brian Moore tagged Fletcher with metal flipper tags and a "PIT tag" or microchip similar to that which is placed in dogs and cats. Pictured left is Brian scanning to make sure the microchip is working as volunteers Michael and Trish h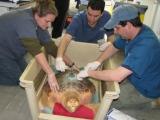 old Fletcher steady. These tags will make it possible to identify Fletcher if he beaches again. Additionally, Fletcher received a satellite tag (pictured right) so we can monitor him remotely.
As the water is not yet warm enough for a Massachusetts release, Dr. Williams and Brian decided to drive Fletcher south and arrange a boat release out to the Gulf Stream. Fletcher was transported to Virginia Beach on April 8th and is being cared for by our rehabilitation colleagues at the Virginia Aquarium & Marine Science Center until a boat is available. Although weather prevented offshore trips last week, Fletcher doesn't seem to mind. He is reportedly enjoying a new tank mate and all the shrimp and herring he can eat!
Once Fletcher is released, we will post his satellite track on-line so you can follow his progress. To donate towards the cost of satellite service, please click here. And, stay tuned!....
Interns Assess Safety, Develop Education Tools
The National Marine Life Center was pleased to welcome several interns over the past semester. Each provided invaluable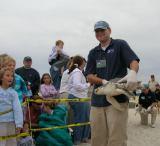 service to NMLC, and we appreciate their participation!
Juan Bacigalupi, a senior at the Massachusetts Maritime Academy, conducted a safety audit, wrote a comprehensive safety plan, and updated animal care protocols for our headstart animals.
Jackie Niles, a senior at the University of Rhode Island, developed new displays for the Discovery Center, updated our educatio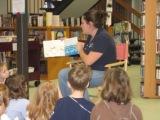 nal games, and assisted with numerous education programs.
If you are interested in volunteering or interning at the National Marine Life Center, contact Joanne Nicholson at 508-743-9888 x302 or jnicholson@nmlc.org.
In This Issue
Six Easy Things YOU Can Do to Save the Planet
Fletcher Gets Ready for Release
Interns Assess Safety, Develop Education Tools

Upcoming Events
Save the Date for Mermaid Ball


Upcoming Events
April 23 - NMLC Annual Meeting, 5-7 pm, the Beachmoor Inn and Restaurant, Buzzards Bay. Hear the latest news about our new hospital, our patients, and our science and education programs. Keynote Speaker: Don Lewis, "The Turtle Guy." All members and guests welcome. Space still available; RSVP requested. Call 508-743-9888 or e-mail nmlc@nmlc.org.
May 2 - Massachusetts Marine Educators WHOI Conference, 8:30 am - 4 pm, Redfield Auditorium, Woods Hole. Learn about Ocean Literacy and visit NMLC's display. Registration fee applies. Visit the MME website for information and to register.
May 3 - March of Dimes March for Babies, 9 am, Buzzards Bay Bridge Park (right next to NMLC). Walk or donate to help babies in need. Visit NMLC's table to learn about young marine animals in need. Visit the March of Dimes website for information.
May 23 - NMLC's Marine Animal Discovery Center OPENS for the summer! With more on-site education programs and a greater selection of eco-friendly gifts, a visit to the Discovery Center is fun for the whole family! Open 10-5 daily, Memorial Day through Labor Day weekends. For directions, click here.
May 24 - The 4th Annual Buzzards Bay Road Race. Run along the canal and then down Main Street (right by NMLC's new hospital construction!). The race ends at Massachusetts Maritime Academy. Proceeds benefit the Buzzards Bay Village Association. Visit the BBVA website for more information and registration forms.
SAVE THE DATE - MERMAID BALL 2009!
The National Marine Life Center's 3rd annual Mermaid Ball will be held Friday, August 7, 6-11 pm at the Massachusetts Maritime Academy. To volunteer or donate, contact Julie at 508-743-9888 x303 or jseligmann@nmlc.org.