Hi Kathy,

This Sunday, 37 of the most celebrated artists of Cape Cod are joining together at Art for the Seas, an elegant champagne reception and silent auction of original coastal art to benefit the National Marine Life Center.
Event Details:
Date: Sunday, September 26, 2010
Time: 4 - 7 pm
Place: Briarwood Conference Center, 586 Shore Road, Monument Beach, MA
Click Here for directions.
Cost:
$35/ticket (includes complimentary champagne and hors d'oeuvres)
Tickets available at the door.
Cocktail attire suggested.
Featured artists include: Jack Ahlin, Selma Alden, Duncan Brown, Susan Carey, Ken Carson, Eileen Casey, Louann Corrado, Arnold Desmarais, Kathy Edmonston, Gail Folger, Audrey Forge, Alfred Glover, Herbert Holden, Jr., Caitlin Hurd, Kristina Joyce, Kathryn Kleekamp, Gunjan Laborde, Priscilla Levesque, Michael Magyar, Claire Marcus, Robert Manz, Robert Mesrop, Richard Muccini, Rosalie Nadeau, Sandy O'Connor, Barry Olofsson, Ed Parkes, Robert K. Roark, Candice Ronesi, Odin Smith, Ted Theodores, Elizabeth "Weedy" Tylesbury, Russel Vujus, Lance Walker, Kate Walls, and Karen North Wells.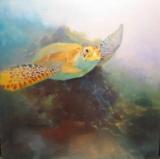 Painter Arnold Desmarais created the show's signature piece, "Toni the Turtle." Opening bids start at $800.
Event proceeds will be put towards the National Marine Life Center's marine animal hospital. For more information about the show and the artists, visit
www.nmlc.org
.
Hope to see you there!