Happy Spring, Kathy!
Flowers are blooming, days are getting longer and warmer, could it be that Spring has arrived? The National Marine Life Center is planning a lot of activities to welcome the spring, and we hope you'll join us.
THANK YOU VOLUNTEERS!
It's National Volunteer Week and we wanted to take a moment to thank our fabulous volunteers!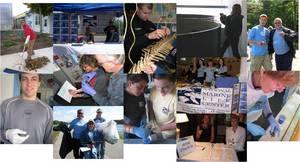 They clean tanks, scrub equipment, feed animals, weigh and measure turtles, record data, test water quality, build, paint, garden, file, copy, prepare crafts, teach, fundraise, write press releases, organize events, teach, and much much more.

In 2010, 34 program volunteers contributed over 1,506 hours! 18 board and event volunteers contributed hundreds of hours more.

Thank you for your hard work and dedication to NMLC's mission!

Our next volunteer orientation is scheduled for Wednesday, June 8, at 5:30 pm. RSVP to Adele at araphael@nmlc.org or 508-743-9888 x303. Click here for a Volunteer Application Form.
SPRING SPLASH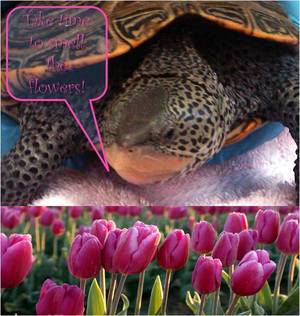 Join us this Saturday, April 16 from 10 am to 2 pm for a spring-time open house!
Explore NMLC's Marine Animal Discovery Center, make a marine animal spring basket, enjoy arts and crafts and games and refreshments, tour our new marine animal hospital. Visit Teanna the diamondback terrapin, Catch-22 the red-bellied cooter, and the eight red-bellied cooter hatchlings in "headstart".
$5/person suggested donation, members FREE. Join as a member when you arrive and get in free! Donations and memberships help us take care of endangered animals, advance science, and educate youth.
All ages welcome. For more information, call 508-743-9888.
Looking for something to do over April Vacation Week? Our Marine Animal Discovery Center will be open 10 am to 5 pm daily, April 16-23!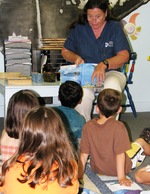 Fins and Flippers Club, Monday – Friday, 10 am. Marine animal-themed story time and arts and crafts! Different theme daily. All ages welcome, and most suitable for children ages 3-10.
Members: $3/child; Non-Members: $5/child
Daily Themes:
Monday, 4/18 = sea turtles
Tuesday, 4/19 = seals
Wednesday, 4/20 = dolphins
Thursday, 4/21 = sharks
Friday, 4/22 = whales

Patient Update, Monday 4/18 – Friday 4/22, 2 pm. Meet a member of our animal care staff and learn about marine animal rehabilitation and the wildlife patients we currently have in-house. Ask questions about our new marine animal hospital. Free.

SPONSORS NEEDED FOR 5K
Are you looking for an opportunity to showcase your business while helping a good cause? Consider becoming a sponsor of the National Marine Life Center's Feet, Fins, and Flippers 5K. This fun run/walk along the Cape Cod Canal and through Buzzards Bay will help us raise money for animal care and our new hospital.

As a sponsor,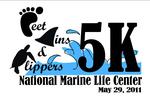 you will be eligible for a variety of benefits, including a linked listing on our website. And that's not all. If we receive your commitment before April 30, we'll include your business name on our race t-shirt.

Click here to learn more, or e-mail Kathy at kzagzebski@nmlc.org.
IN THIS ISSUE:

ANIMAL UPDATE:The red-bellied cooter hatchlings in our headstart program are scheduled for release shortly after Memorial Day. The release will be open to the public and is being coordinated by the Massachusetts Division of Fisheries and Wildlife. Once we have details, we'll post them on our Facebook page.

We're also getting ready to release Teanna. She's at a healthy weight, eating a natural diet, and being transitioned to brackish, cool water. Timing will probably be the second week of May. Stay tuned to our Facebook page for details.

HOSPITAL UPDATE:
We recently turned on the water! After years of planning, design, and construction we can now pump clean, life-sustaining salt water from the Cape Cod Canal directly to our marine animal hospital. Read more from animal care coordinator Kate.
SAVE THE DATES:~ May 7: Teacher Education Seminar - Marine Animals & Habitats of Cape Cod & the South Coast Region. Click here to register.

~ May 29: Feet, Fins, & Flippers 5K - a fun, family-oriented Run/Walk along the Cape Cod Canal and through Buzzards Bay. Click here to register.

~ June 11: Songs for the Sea family concert in Buzzards Bay Park.

~ July 11-15: From STEM to Stern high school teacher workshop. Click here for more information and to register.

~ July 11-22: Science Sleuths teacher workshop. Click here for more information and to register.

Visit www.NMLC.org for additional event information!