Installation of "Extech" Wall Begins!
This week, workers began installing the translucent facade of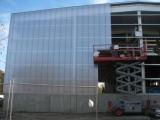 NMLC's new marine animal hospital. Made from a product called "Extech", the durable polycarbonate plastic will allow natural daylighting throughout the hospital. Natural daylight is important in helping reduce stress and promote healing in our recovering marine animal patients. The natural daylight will also help us save on electricity!
Once the wall is installed, we will add a mural of marine animals. Made from heavy duty vinyl decals, the mural will feature the various species of marine animals we will care for in our new hospital.

Thanks and kudos to our architects, cosestudi, from Rochester, Massachusetts. Because of their vision and creativity, our very functional marine animal hospital will also be a place of beauty.
To open our doors to stranded animals this fall, we need your help! Please consider a donation today.
Animal Update
"Patty" is an adult female diamond-backed terrapin who was discovered on St. Patrick's Day suffering from cold-stu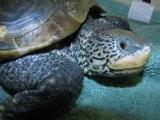 nning. She was brought to NMLC for medical care. Click here to read the story of Patty's stranding. Click here to re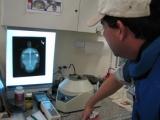 ad about Patty's admission to NMLC.
Patty's eyes have healed and she is able to see again. She can now use her legs and moves around well but can't swim yet. Patty developed a shell infection which Dr. Williams is monitoring through x-rays and a CT scan. He prescribed antibiotics, and Patty's shell is beginning to heal. Patty will remain with us over the winter, and we hope to release her next year.
Six Northern red-bellied cooter hatchlings just arrived at NMLC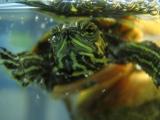 as part of a headstart program run by the Massachusetts Natural Heritage and Endangered Species Program. Because the summer was cooler and wetter than usual, turtles nested later and the hatchlings were born later in the season. The tiny turtles weighed less than 10 grams upon arrival - about the weight of 10 paper clips! Most still had their egg tooth (used to break free from the egg) and yolk sac (used for nourishment for their first few days) visible. Now after two weeks, the young hatchlings are beginning to grow and eat on their own. The cooters will be raised at NMLC for the next nine months, then rereleased back into the wild.
Slay Your Energy Vampires!
October is energy conservation month. Here's an easy thing you can do to save energy AND money this Halloween.... Slay your energy vampires!
The term "energy vampires" (aka "energy phantoms") refers to the hidden drain of energy from various unused sources around your home or office. Examples include cell phone chargers, televisions, computers - anything that remains on "standby power" when turned off. These items continue to suck power even when you're not using them!
Slay your energy vampires by plugging electronics into power strips, then turning the whole power strip off when the electronics are not in use. Look for the "energy star" label on appliances and computers. Unplug adaptors and chargers once you've finished using them. In the office, turn off copiers, computers, monitors, and printers at the end of the day. This helpful "vampire hunt" worksheet from the Alliance to Save Energy is a fun activity for children and adults alike!
With very little effort, you can be green and save green. Happy Halloween!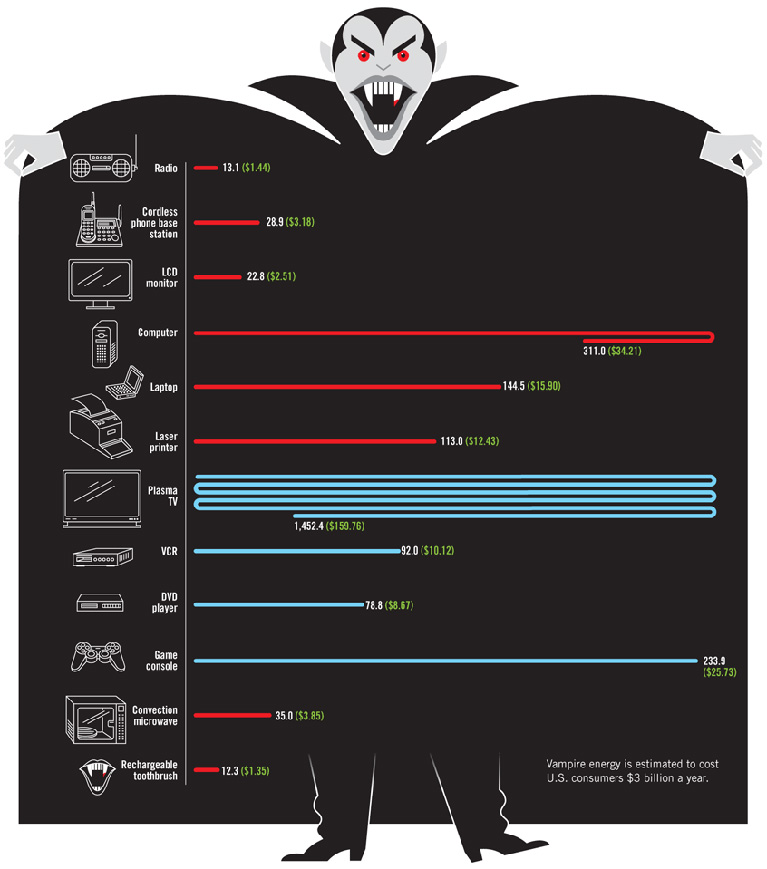 Illustration from the U.S. Department of Energy

In This Issue
Installation of "Extech" Wall Begins!

Animal Update

Slay your Energy Vampires!

Upcoming Events
Volunteers Needed

Additional Ways to Help
Upcoming Events
October 31 - SPOOKY SPLASH!
10 am - 2 pm at NMLC. Join us for a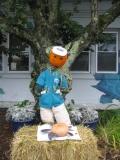 Halloween Open House! Make a seal or sea turtle trick-or-treat bag. Enjoy arts and crafts, games and refreshments. Tour our new Marine Animal Hospital. Suggested donation $5/person non-members, Members FREE. Donations help us open our doors.

November 27, 28, 29 - Marine Animal Discovery Center OPEN! 10 am - 5 pm daily, 120 Main Street, Buzzards Bay, MA. Join us for holiday shopping with a purpose! Get a head start on your holiday shopping with marine-related items from the NMLC Gift Store. Your gift shop purchases support our marine animal rehabilitation, science, and education programs. Bring your children and explore the Discovery Center. Featuring arts and crafts, games and refreshments. Free, donations welcome to help us build.

December 12 - HOLIDAY SPLASH
Join us for a Holiday Open House! Explore the Discovery Center, make a marine animal ornament, enjoy arts and crafts, games and refreshments. $5/person suggested donation, members FREE. Donations help us care for stranded animals.

Volunteers Needed

Volunteers are the heart of NMLC, helping in all areas of our work. We currently need volunteers to help care for Patty and the cooter hatchlings. We also need volunteers to help with data entry, fundraising, filing, and various facilities projects. If you have a few hours a month to spare, please contact Joanne Nicholson at 508-743-9888 x302 or fill out our on-line application.

Additional Ways to Help

Kid Power!

Many thanks to our younger supporters for these ideas.
~ Hold a bottle and can drive, then donate the proceeds to NMLC like this group of Girl Scouts did.
~ Make craft items and sell them to benefit NMLC, like this group of Kids Who Care.
~ Have a lemonade stand or a car wash for NMLC, like these groups of kids.
Any other ideas? Send them to us and we'll share them in future newsletters.

Raise money for

National Marine Life Center (NMLC), Buzzards Bay, MA

just by searching the web and shopping online!