December 10, 2010
Dear Kathy,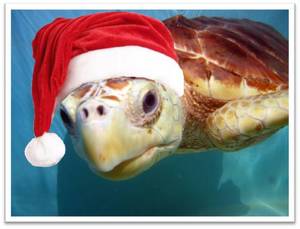 Please join us this weekend to celebrate the holidays!
Member's VIP Breakfast
Saturday, December 11
11 am - 12 pm
120 Main Street, Buzzards Bay
Join us for breakfast pastries, coffee and tea, a tour, and a preview of our new educational DVD for children, "Sea Turtles of the Northeast". FREE for members and guests.
RSVP to
nmlc@nmlc.org
or 508-743-9888 x303.
Holiday Splash Open House
Saturday, December 11
12 - 3 pm
120 Main Street, Buzzards Bay
Join us as we ring in the holiday season with day of family fun at the NMLC. There will be a variety of children's activities, including face painting, arts and crafts, baked goods, and pictures with Santa. It's fun and games for the whole family!
Free Admission (donations accepted and appreciated).
Holiday Shopping for a Good Cause!
Saturday, December 11 & Sunday, December 12
10 am - 5 pm
120 Main Street, Buzzards Bay
Give your loved ones something special this holiday - a gift that gives back and helps animals! NMLC's Marine Animal Discovery Center and Gift Shop is open this weekend for your holiday shopping and browsing pleasure. Featuring marine animal toys, books, t-shirts, jewelry, and artwork, gift shop proceeds go to help NMLC save marine animals, advance science, and inspire conservation through education. Free admission, free kids crafts, free refreshments.