Dear Kathy,

With the beginning of summer, there's lots going on at the National Marine Life Center. Join us!
Come visit the National Marine Life Center's Marine Animal Discovery Center at 120 Main Street, Buzzards Bay. We're open daily from 10 am to 5 pm. Visit "Patty" the diamondback terrapin and learn about the unique bone disease that affected her shell. Browse our newly remodeled exhibits. Shop for eco-friendly and educational gifts, books, and toys. There's something for everyone!
Our scheduled on-site education programs begin July 5th with Fins and Flippers Club. Click here for more information.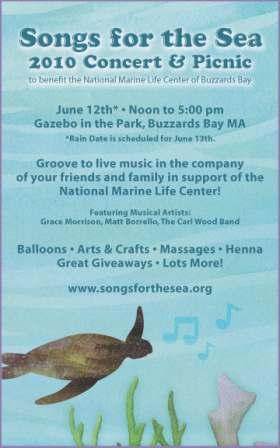 On June 12 groove to live music in the company of your friends and family and support the National Marine Life Center. Join us for a concert and (bring your own) picnic at Songs for the Sea!
Sponsored by local artist Grace Morrison, the concert also features Matt Borrello, The Carl Wood Band, and others. There'll be arts and crafts, massages, henna tattoos, great giveaways, and lots more!
Saturday, June 12*, noon to 5 pm
Gazebo in the Park, Buzzards Bay
*Rain Date is scheduled for June 13

Please help us spread the word! Click here for a flyer you can download and post. Click here for the event group on Facebook, "Like", then share with your friends.
We are looking for gift certificates and other items for our Giveaways. To donate, please contact Kathy at 508-743-9888 x301 or kzagzebski@nmlc.org. Additionally, Grace is holding recycling drives to raise money for event expenses. If you have cans to drop off in the Wareham area, please contact Grace via the event Facebook Page. If you are closer to Buzzards Bay, you may drop off redeemable cans and bottles at the National Marine Life Center, 120 Main Street.
Thank you to Grace Morrison, event coordinator Christian Fernandez, and all the participating artists and vendors for caring about marine animals and for your hard work in organizing this event. ROCK ON!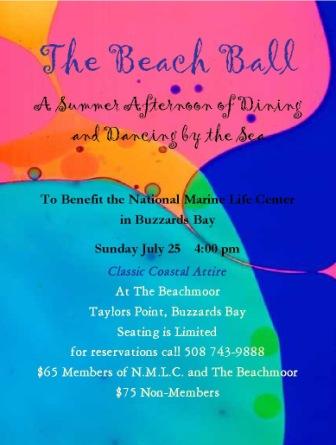 Join us July 25th for the Beach Ball, a summer afternoon of dining and dancing by the sea to benefit the National Marine Life Center! Sponsored by the Beachmoor Inn and Restaurant, the event features the Beachmoor's fabulous cuisine, outdoor dancing to your favorite beach music, a silent auction, and a world-famous sunset - all for a great cause!
Sunday, July 25, 4:00 pm
The Beachmoor, Taylor's Point, Buzzards Bay
For directions, click here.
Classic Coastal Attire suggested.

$65 Members (NMLC & Beachmoor)
$75 Non-Members
Seating is limited. For reservations, call 508-743-9888, e-mail nmlc@nmlc.org, or purchase tickets on-line at www.nmlc.org.
A word about the Mermaid Ball.... We've postponed our Mermaid Ball until next year, in order to concentrate our limited staff resources on getting our marine animal hospital up and running this year. Look for the Mermaid Ball to return in summer 2011!