Dear Kathy,

Happy December!
Thanks to YOU, NMLC moved up to 70th (from 165th) in the Pepsi Refresh Grant competition in just 2 1/2 days!!! Let's keep up the momentum so we can reach the top 2 and win. Here's how to help.
Please VOTE once per day every day in December. Vote at www.refresheverything.com/nationalmarinelifecenter or by texting 104765 to PEPSI (73774). Standard text messaging rates apply.
Spread the word. E-mail your friends, family, neighbors, co-workers, etc. and ask them to vote also. Post flyers on community bulletin boards in your area. Share on Facebook, Twitter, LinkedIn, and other social media venues.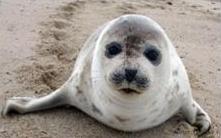 What could a $250,000 Pepsi Refresh grant do to help marine animals? It could build several seal and sea turtle rehabilitation pools in the National Marine Life Center's new marine animal hospital. This would allow us to help more sick and stranded animals. But to win, we need your help. Please vote today.
On behalf of the animals, thank you!

NOAA Visits to Inspect Hospital
As we get closer to opening our new marine animal hospital, one important step is getting approval of our facilities from NOAA. This week, experts from NOAA's Office of Protected Resources, Marine Mammal Health and Stranding Response Program visited NMLC to review our progress. They reaffirmed the need for our facility because there isn't enough rehabilitation space in the entire Northeast Region to house the number of stranded animals, especially seals and dolphins. They also provided great feedback and suggestions. Thank you, NOAA!

Children's Challenge - We Made It!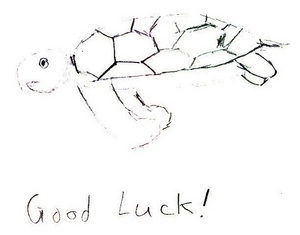 Thanks to YOU, we reached our $10,000 goal for the Children's Challenge campaign! Better yet, all donations were matched dollor-for-dollar which meant we raised $20,000! We want to especially thank Noelle and Bill who stopped by the office Tuesday evening to deliver their gift just in the nick of time. And a very special shoutout goes out to twelve-year-old Marisa who raised money on Halloween to help us meet the challenge. Way to go!
In This Issue

Upcoming Events
~ Discovery Center OPEN for Holiday Shopping.
Dec. 4-5 & 11-12
10 am - 5 pm.
This season, buy your loved ones a gift that gives back. Featuring marine-themed, eco-friendly, and fair trade toys, books, jewelry, artwork, and more!
~ Member's Breakfast.
Dec. 11, 11 am - 12 pm.
Join us for breakfast pastries, coffee, a tour, and a preview of our new educational DVD for children, "Sea Turtles of the Northeast." RSVP to 508-743-9888 x303 or nmlc@nmlc.org.
~ Holiday Splash.
Dec. 11, 12-3 pm
Join us for face painting, educational activities, crafts, snacks, beverages, bake sale items, and an opportunity to take a picture with Santa Claus. Free, donations welcome.
Visit www.NMLC.org for additional event information!

We need YOU to help build our hospital, care for animals, advance science, and teach children. Please, donate today.