November, 2010
Dear Kathy,
Thank you for your continued support of the National Marine Life Center. Perhaps you rejoiced with us when we rehabilitated and released our first patient – a loggerhead sea turtle named "Eco." Perhaps you tracked Kemp's ridley turtle "Lavender's" journey with us as we used a satellite tag to monitor her after release. Perhaps you followed the progress of "Shitake," a juvenile male harp seal and our first marine mammal patient. Like us, you may have celebrated health improvements, held your breath when their condition worsened, and cheered when these animals were released back to the wild.
As you know, the National Marine Life Center is building a hospital so we can help more animals. Despite the challenge of undergoing a construction project in today's economy, we have continued to make progress and are nearing the day we can open our doors to stranded sea turtles, seals, and – in the next phase – dolphins.
But did you know abo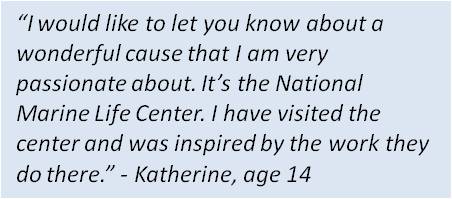 ut the National Marine Life Center's efforts to help and educate children? In a time when science education is being cut from school budgets, even as national experts call for more hands-on learning opportunities, the National Marine Life Center is providing quality, standards-based programming in language arts, math and marine science.
We are providing service learning opportunities for students in middle school, high school, and college. We are teaching teachers in summer science workshops and national educator meetings. Through our education initiatives, we are inspiring ocean and wildlife conservation. Since we started our environmental education in 2005, we've reached more than 20,000 children and adults in almost 800 program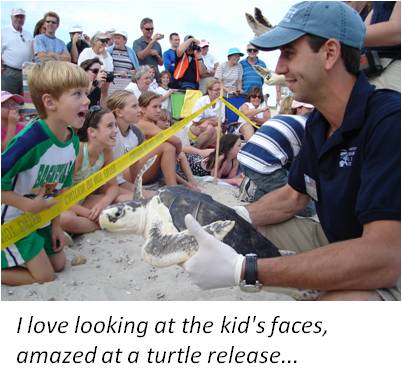 s.
It humbles me to meet youngsters like Ben, age 10, who made marine animal greeting cards to sell at a craft fair so he could donate the money to the National Marine Life Center. Kids like Alison, Jordan, Taylor, Aaron, Natalie, Gabe, and Emily who held craft sales, bake sales, and lemonade stands to raise money for our new marine animal hospital. Or kids like Isabella, Molly and Sierra, who donated their birthday money to the National Marine Life Center three years in a row.
Through their individual, grassroots efforts, these amazing kids have raised hundreds of dollars – sometimes in quarters, nickels, and dimes – to help the National Marine Life Center build our hospital and save ocean animals. These children have inspired me to give. And they've inspired another donor as well.
We just received a $10,000 Children's Challenge pledge from an anonymous donor who wants to honor these children's contributions. The donor will match every donation – dollar for dollar – towards finishing the hospital and in support of the education programs and all other programs offered by the National Marine Life Center. So, your gift today will become worth twice as much!

So, would you please consider renewing your membership today to help us reach this challenge? It would be wonderful if you could send us your gift of $25, $50, $100 or more if you can spare by November 30th, so we can honor your name on our web site along with these kids who care. Please join me in answering the Children's Challenge. Thank you!
Sincerely,