7 Social Media Tips For Nonprofits (+ We Try Them Out!)
Social media is part science, part strategy, part gong show - a whimsical act of random efforts that somehow come together. Mostly, its about sharing content in new and fun ways.

So what works on social media these days?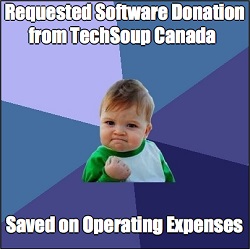 Memes, the Internet's version of a pun, are a great way to boost engagement - like this one to your left!

How about some fill in the _______?

And did you know our brains respond better to lists with an odd number of items? Like "7 tips" or "11 ways to love your cat" - yes we are testing this right now...is it working yet?

These are just some of the great social media tips that Tierney picked up at a recent donate and learn event.
> See all 7 Social Media tips for nonprofits

Best of the Blog & Web

Hot Topics Online
Online discussions on platforms such as Facebook and LinkedIn. You don't need to be a member of these platforms to read the discussion, but you do if you would like to participate!

Events & Webinars
Upcoming events & webinars from TechSoup Canada and other nonprofit tech capacity builders. All are free or for a small donation unless otherwise noted.
JUN

25

Social Media for Nonprofits: An all day event dedicated to social media for social good
All day, Vancouver, BC
Cost: $145 - $225 (depending on budget)


JUN

26

Net Squared Peterborough:

$129 million dollar secret


Peterborough, ON
3:00 - 4:30 pm


Jun

27

Artez Interactive Webinar:

Charity Challenge: Raising Funds Through Adventure Challenges


1:00 pm EDT, Online



Jun

27

Care2 Webinar:

How Do You Measure Up? Current Shifts and Tips in Online


2:00 pm EDT, Online


JuL

02

GiftWorks Webinar:

Major Gifts: If You Don't Ask, You'll Never Know

!
2:00 pm EDT, Online


JUL

02