In This Issue
Principal Center Collaborative Becomes the first Big Picture School in San Francisco
CJC at the International Community Court Conference
Four New Collaborative Court Programs
Voices From the Court: An Interview with a Drug Court Graduate
---
Principal Center Collaborative Becomes the first Big Picture School in San Francisco By Margot Gibney, Director of Youth & Families Collaborative Courts
The Principal Center Collaborative (PCC), the school of the Juvenile Treatment Court, has been selected to be the first San Francisco Big Picture School. The Big Picture Learning design is a dynamic learning approach that is based on three principles: that learning be based on the interests and goals of each student; that a student's curriculum must be relevant to people and places that exist in the real world; and that a student's abilities must be measured by the quality of her or his work.
Each student develops an individual learning plan, attends a twice weekly internship that supports the plan and requires the student to present an audio-visual presentation at completion.
The Big Picture Learning design is being implemented in more than 70 schools across 18 states and has partnering schools in Australia, The Netherlands, and Israel. The Big Picture design is applicable and beneficial for all students, both at-risk, over-age, and/or under-credited as well as gifted and talented youth. In a recent speech on education, President Obama singled out the Met Center, a Big Picture School in Providence, R.I., as an example of an innovative and effective school model.
Jim Fithian, the principal of San Francisco Court schools and the PCC comments: "The Big Picture model is the best I've seen in the 19 years I've been with court and county schools. I see an amazing transformation amongst our students from complete disengagement with school to engagement and excitement. Students who previously never thought about college are now looking at college as an option."
For more information, visit http://www.bigpicture.org.
---
CJC at the International Community Court Conference in Dallas By Tomiquia Moss, Community Justice Center Coordinator (pictured below)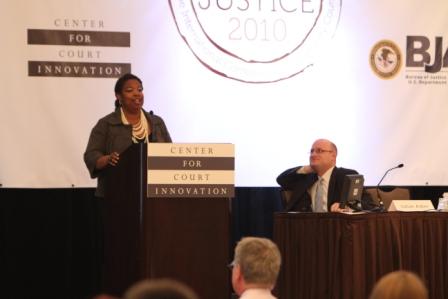 The first International Community Court Conference, hosted by the Center for Court Innovation, took place in Dallas Texas October 19-20. With more than 200 participants in attendance, community court professionals were bursting with creative ideas about new approaches to criminal justice reform. This conference provided an opportunity to share ideas, challenges, and successes experienced by community courts worldwide. From resource allocation to community engagement, the community court movement is transforming how justice leaders approach criminal justice reform. More than six countries including Chile, Mexico, Australia, England and Canada were among the international programs represented at the conference.
The San Francisco Community Justice Center (CJC) was acknowledged at the conference as one of the only programs in the U.S. and abroad that addresses both misdemeanor and felony cases. Research confirms that community justice principles are most effective for high risk and high need offenders.
The CJC is approaching its second year and has heard more than 4,100 cases and the CJC Service Center has served more than 1,200 participants in treatment and community services. Next year, the CJC will focus on efforts to incorporate more community engagement and the creation of an aftercare program for CJC graduates.
---
Four New Collaborative Court Programs
The San Francisco Superior Court is excited to announce four new Collaborative Courts, bringing the total number of these problem-solving courts to thirteen.
Juvenile Wellness Court (JWC) addresses the specialized treatment and service needs of juvenile justice-involved youth who suffer from mental health disorders. By expanding access to community resources, the JWC aims to decrease recidivism and increase participation in school or vocational training. The Wellness Court team includes representatives from the San Francisco Superior Court, Public Defender, District Attorney, Community Behavioral Health Services, Juvenile Probation, and Seneca Center who will provide mental health treatment services.
Juvenile Collaborative Reentry Team (JCRT) provides coordinated and comprehensive reentry case planning and aftercare services for youth returning to the community from out-of-home placement. The team is comprised of the Court, the Juvenile Probation Department, the Public Defender's Office, and the Center on Juvenile and Criminal Justice (CJCJ). One hundred youth are projected to be served in the first year.
Parole Reentry Court (PRC) is a court-based supervision program for parole violators with a history of mental illness and/or substance abuse. The PRC represents a new collaboration between the Superior Court, the California Department of Corrections and Rehabilitation and the DPH. The program will serve 100 clients at any given time. The anticipated start date is December 2010.
Probation Alternatives Court (PAC) is a program for non-serious, nonviolent felony offenders facing a state prison sentence. The PAC program is part of an overhaul in San Francisco to reduce recidivism through the use of early validated risk/needs assessments, evidence-based sentencing, evidence-based treatment, and close judicial and community monitoring. All participants will be linked to wrap-around services. The anticipated start date is December 2010.
---
Voices from the Court: An Interview with a Drug Court Graduate By Robert Williams Sr., CJC Eligibility Worker
I asked Greg at what point he believed his life developed a destructive pattern. He began by sharing that his circle of friends in high school all experimented with drugs out of curiosity. It became routine. Crack and cocaine became his drugs of choice.
By the time he was 20, his family had exhausted all patience with him and left him on his own. The lack of support sent Greg in and out of jail and on and off probation from 2000-2009. In 2009, while in jail for another arrest to supply his habit, his cellmate informed him about Drug Court and that it was possible to get reduced time.
After two weeks of outpatient treatment, Greg returned to active usage. He realized that he couldn't stay clean on his own, and for the first time he admitted he had a drug problem. At his next Court appearance, he asked the Judge for help. He was referred to inpatient at Walden House. Greg remained confident that after he completed his program, he would be able to remain clean on his own. One day before graduation, he relapsed and returned to active use. He again enrolled in outpatient treatment and again it didn't work.
At another court appearance, the Judge told him he was going to be remanded and he sprinted for the door. Greg was quickly apprehended and taken to Redwood Center Treatment Facility where "his miracle" began. He attended Redwood for 90 days and continued treatment at Salvation Army Harbor Light Program. Greg gives credit to the Drug Court staff who believed in him "good, bad or indifferent."
Greg now works at a detox treatment facility helping others as Drug Court has helped him. His dream is to work in the field, and he will be enrolling in school to make this dream a reality. He thanks Drug Court because "It gave him his life back."
---