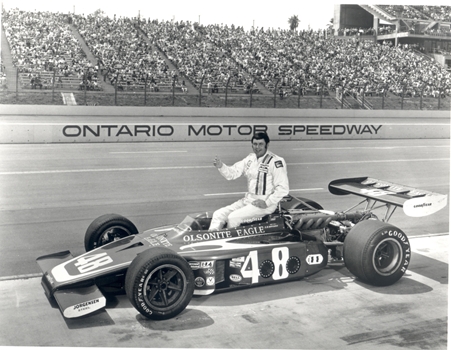 (Riverside, CA) Family, friends and fans will gather at the Riverside International Automotive Museum to pay tribute to the life of Jerry Grant, Saturday, October 13, 2012 at 11:00 am. The event is open to the public.
Grant, who passed away August 12, 2012, was known to race fans as the first IndyCar driver to clock a 200 mph lap--at Ontario Motor Speedway September 3, 1972. To friends and family he was a husband of 56 years to Sandy, a father to Yvon and Tammy, a grandfather of five. Friends, family and legendary racing drivers are expected to be on hand to eulogize and honor the man who answered the phone "Merry Christmas" every day of the year.
Hearing him talking about what went through his mind on that first 200 mph run indicated no fear of harm or death, only fear that he wouldn't go fast enough. Listening to him talk about racing it becomes clear there was no such thing as "Fast Enough" in Jerry's mind. He raced against, and for, some of the greatest names in the business; Bobby Unser, Dan Gurney, Bob Bondurant, Carroll Shelby and more. He drove the great cars of the era, Ferrari, Corvette, Lotus, Eagles, Cobras and Ford GTs.
When Grant finally hung up his helmet, he brought that same winning dedication to a job as VP of Motorsports for Champion Spark Plugs. At Champion, he over saw that brand's ascension to legendary status. The Champion Spark Plug brand continues to enjoy the spoils of Jerry's efforts. Later, Jerry's efforts were instrumental in the Prolong Lubricants brand development.
The gathering begins informally at 11:00a.m. with lunch being served at noon. A slide show and several speakers will address attendees followed by a cocktail reception.
The grant family kindly asks that in lieu of flowers, donations be made to FLMusa.org.
The Riverside International Automotive Museum (RIAM) in Riverside, CA features over 100 cars, thousands of artifacts and a research library. Its mission is to preserve SoCal's rich racing history through exhibits and community involvement. The Museum is open Monday through Saturday 10:00 am to 4:00 pm.
Link to my website