Clicking on these headlines will take you directly to each article.
---
NEW CHAIR of the UU GLOBAL AIDS COALITION

Greetings ALL,

My name is Carla Feldhamer and I am presently the chair of the UU Global AIDS Coalition. Ann Pickar has stepped down as chair after an extremely important and productive tenure. She started and nurtured the Coalition and her shoes are impossible to fill.

I have been involved in HIV/AIDS work for 20 years....first as a nurse for Hospice of Southern Illinois. Since 2003 our fellowship in Carbondale, Illinois has had an active partnership with Ranchhod Hospice and Orphan Care in Kabwe, Zambia which I have visited 5 times. I became involved in the Global AIDS Coalition Steering Committee since 2006.

Immediate plans for UUGAC are: update the web site; fill several positions on the steering committee including secretary, co-chair, and members at large; continue the quarterly newsletter; respond to interest from groups wanting to be involved in local and global HIV/AIDS work; encourage more groups to become Red Ribbon Congregations and most of all to inspire with the words of our mission statement. I look forward to hearing from many of you with your stories and ideas.

Carla Feldhamer hospice88@aol.com
---
UUGAC:MAKING CONNECTIONS
ZAMBIAN AIDS ORGANIZATION SEEKING PARTNERSHIP
KAPIRI COTROL OF PANDEMIC (COP)
Kapiri-COP is located in Central Province, Kapiri mposhi, peri-urban District, 30 minutes from Kabwe Town. Kapiri mposhi is one of the towns classified as Corridor towns. It's sparsely populated with about 390,000 people
Kapiri-COP's mission is to mobilize people know their sero-status and support those who are infected and affected with HIV/AIDS and STIs. HIV prevalence rate is at 17.4%, this is according to the 2008 Demographic Health Survey (DHS).Kapiri-COP is an HIV/AIDS and STIs Community Based Project (CBP) which has adopted a multi-sectral approach to the fight against HIV/AIDS and STIs. The project operates in the range of 25 kilometers radius from the town center.
It has created four (4) departments, namely: Education and Campaign, Orphans and Vulnerable Children (OVCs), Sports and Health and End of life care.
Campaign and education has activities like, door-to-door, interactive workshops, message boards, roadside shows, social events, song writing competition and debates.
OVCs: From my experience as a Teacher at one time with the Ministry of Education (MOE) for eight (8) years, I know and understand challenges with which OVCs go through. Kapiri mposhi has more than 5000 school going OVCs, excluding those at home in communities. Our focus is food and clothes provision, schools fees and counseling
Sports and Health: most of our youth after school activities are not pleasing, they patronize drinking places and involve themselves in illicit and sexual activities. With the initiative of different sporting activities like football, netball, volleyball and pool, this group of people is subject to be controlled and preserved
End of life care: Our project has this aspect, to train care givers who will mobile people living with HIV (PLWHAs)form support groups, sentise them about prevention of Mother to Child Transmission(PMTCT) ,establish income generating activities(IGAs),promote sustainable livelihood, provide food stuff and farming inputs.
Of all the departments, only Sport and Health is taking shape.15 youth football teams have been mobilized 16 kilometers from the town center, at place called Kalweo, a single community. Even then there is no sporting equipment and tools.
Because of the fore going, we are appealing and seeking partnership with a UU Church in the USA to support us carry out and execute the mandate put on our shoulder.
Contact: Nyirenda Reuben, Project Director and HIV specialist, Kapiri-COP, Kapiri mposhi, Zambia.
Mobile: +260979546568, +260969158353.
Email: mbuyunyirenda@gmail.com
---
Volunteers give Zambians Much Needed Items
by Adam Testa, the southern | Posted: Friday, October 9, 2009 12:00 am |



Carla Feldhamer of Carbondale checks a list items while talking with fellow volunteer Allida Plumer with Hospice while the two were packing boxes Thursday at Feldhamer's house. The group was packing boxes of donated items that will be shipped to the African nation of Zambia as part of a HIV/AIDS Collection.
CARBONDALE - Boxes, books, medications and other supplies lined the floors of Carla Feldhamer's Carbondale home Thursday, as she and about ten others worked to prepare the items for shipment to Zambia, Africa.
These supplies will be shipped to the Ranchhod Hospice and Orphan Care Program in Kabwe, Zambia, later this year as part of a partnership between the African facility, Carbondale Unitarian Fellowship and Hospice of Southern Illinois that began in 2003 aimed at helping the area deal with a pandemic of AIDS.
"Along with the HIV/AIDS, you have massive poverty," said Allida Plumer of Hospice of Southern Illinois and one of the local co-chairs of the partnership, along with Feldhamer. "The average Zambian lives on one dollar a day and they go without. This allows us to get supplies to treat the people; otherwise, they'd do without."
Volunteers will load boxes onto pallets, which will then be collected by Kansas City, Mo.-based Children International, an outside agency also working in Zambia. Children International has offered the Southern Illinois organizations free shipping space in one of its containers, Feldhamer said.
"We just had to take advantage of this opportunity," she said.
Hospices in Africa operate much differently than in the United States, Plumer said. While they provide care for people in the final days here, they operate as the primary health care source in some foreign countries and even become involved in the educational process, offering pre-school classes.
Once students leave pre-school, they have to pay for uniforms, shoes and supplies to attend regular schools. This costs an average of $55, and Plumer said the local effort provides sponsorship to about 150 students and will have 51 additional students looking for sponsorship when school begins in January.
Judy Aydet, one of the volunteers, packed boxes of beads and other craft materials specifically targeted at the Busy Bees, a group of AIDS widows and other women who produce and sell crafts to raise money to help support their families.
"They just work so hard and do everything they can for their family," she said. "We send practical things, but we also send them things so they can beautiful things to sell."
adam.testa@thesouthern.com / 618-351-5031
A special Thank You to CHILDREN'S INTERNATIONAL for providing shipment of supplies to Zambia for Communities Without Borders and The Carbondale Unitarian Fellowship
---
The Nightgowns and Knickers program was created by Debbie Czarnopys-White. As a volunteer for Hospice of Southern Illinois, she was introduced to their partnership with Ranchod Hospice of Kabwe, Zambia. Becoming involved in awareness programs and fund-raising, Debbie then joined the Carbondale Unitarian Fellowship, which is also partnered with Ranchod Hospice. With her first visit to Zambia, Debbie saw a need for hospital clothing, especially for the women, and also underwear or knickers for both the men and women. Mary Chidgey, the founder of Ranchod Hospice, is from Ireland and shared that the United Kingdom term used is knickers.
Using Simplicity pattern #4048, style C, nightgowns were made first by the women of the Carbondale Unitarian Fellowship. Making sizes small and medium, cotton material is used for the African environment. Adding a pocket in front allows the women to carry their personal possessions safely. The project continues to expand with articles in newspapers and public speaking opportunities. Women of the Carbondale Fellowship, Washington County, Illinois, Debbie's home county, have contributed as well as others throughout Illinois. Debbie recently spoke at a national meeting of the Country Women's Council, USA in Des Moines, Iowa. This organization is comprised of several women's volunteer groups throughout the United States. A display was set up and attendees eager to participate gathered information. So, the program itself is continuing to expand but also, perhaps more importantly, the awareness of the HIV/AIDS pandemic is spreading as well as our role in how we can help.
---
New Report Making Waves in the Global Health Community
Eric Harris, Grassroots Communications Coordinator
October 30, 2009

A new report is out by a coalition of international health groups and advocacy organizations working across a spectrum of global health issues. The report, The Future of Global Health: Ingredients for a Bold and Effective U.S. Initiative, details how major accomplishments in global health over the last decade demonstrate that adequately resourced programs, focused on achieving specific results, can improve health outcomes for millions and support economic progress. It also highlights that distinct public health challenges are closely interconnected and that a comprehensive and integrated strategy is needed to ensure that ambitious health goals are met.

In addition to the report, a media teleconference (audio) was held yesterday morning with global experts and economists, including a presentation by Professor Jeffrey Sachs, special advisor to UN Secretary General on the Millennium Development Goals and director of the Earth Institute of Columbia University. Professor Sachs talked about the cost benefits to Americans associated with scaling up the U.S. response to the major health challenges that cause preventable deaths in the developing world. He was joined by Dr. Peter Mugyenyi, director, Uganda's Joint Clinical Research Center, who explained the key elements of a comprehensive U.S. strategy to confront the leading causes of needless death in sub Saharan Africa. Rolake Odetoyinbo Nwagwu, director of the Positive Action for Treatment Access (Nigeria), highlighted the significance of simultaneous support for HIV and related health priorities, in particular reproductive and maternal, newborn and child health. Finally, the Honorable Representative Jim McDermott (D-WA), chair of the Congressional HIV Caucus, talked about the commitment within the U.S. Congress to expand and deepen U.S. leadership on global health.

The successful teleconference preceded Strategies for Global Health: Urgent Challenges, Comprehensive Solutions , a Capital Hill congressional briefing in cooperation with the Congressional Global Health Caucus and Congressman Henry Waxman (D-CA), Congressman Jim McDermott (D-WA), Congresswoman Barbara Lee (D-CA), Congresswoman Jan Schakowsky (D-IL), Congresswoman Betty McCollum (D-MN), and Congresswoman Diane Watson (D-CA). The briefing presented the report which marked the first effort in actually defining expectations for President Obama's planned Global Health Initiative (GHI) and illustrated the policy and funding needs for a U.S. government response that will help lead the world to universal access to comprehensive healthcare in developing countries. Along with the members of Congress stated above, speakers also included Dr. Matthew C. Spitzer, president of Doctors Without Borders/MSF-USA, Ann Starrs, president of Family Care International, Serra Sippel, president of the Center for Health and Gender Equity, Dr. Patrick Almazor, Physician with Zanmi Lasante/Partners In Health, Haiti, and Olive Edwards, president of the Jamaican Network of Seropositives.
OBAMA ADMINISTRATION LIFTS HIV TRAVEL BAN
November 2, WASHINGTON, D.C. - The Obama Administration today removed HIV-related travel restrictions to the United States, overturning a policy that had been in place since 1987.
HIV infection has been on the Immigration and Nationality Act's list of "communicable diseases of public health significance," meaning that HIV-positive foreign nationals could not enter the U.S. legally unless granted a waiver for a short-term visa by the Department of Homeland Security (DHS). The policy also denied citizenship to anyone living with HIV who applies for a green card. The rule lifting the ban - issued by the Department of Health and Human Services (HHS) and Centers for Disease Control (CDC) in the Federal Register - is effective as of Jan. 4, 2010.
"We are grateful to the Obama Administration for removing this unnecessary and unjust travel ban," said Jeffrey L. Sturchio, president and CEO of the Council. "The United States is sending a clear signal to the world that it does not support stigma and discrimination towards people living with HIV."
The policy to reverse restrictions on travel by HIV-positive foreign nationals was a part of the Lantos/Hyde Leadership Against AIDS, TB and Malaria Act of 2008 (HR 5501), which was enacted into law July 2008 by President Bush. However, the process to change regulations did not begin until the start of the new administration. The Global Health Council and a number of its member organizations recommended to then-President-elect Obama's transition team that the ban be rescinded.
The new regulation eliminates any travel and immigration restrictions that are tied to a person's HIV status. HHS put the wheels of change in motion in late June by publishing the proposed rule to the Federal Register, triggering a 45-day public comment period. The final rule was issued today.
The final rule is available at http://edocket.access.gpo.gov/2009/E9-26337.htm
Vince Blaser, Global Health Council
1.202.833.5900 ext. 3201 or vblaser@globalhealth.org
The Global Health Council is the world's largest membership alliance dedicated to saving lives by improving health throughout the world. The Council serves and represents public health organizations and professionals working in more than 140 countries. www.globalhealth.org
First Parish Waltham Unitarian Universalist
First Parish Waltham UU has been involved with HIV/AIDS for several years. Our outreach in this area has had both a local as well as international component. Our church has supported a girl's school in Kenya (Acacia) that originated in 2005 with 18 AIDS orphans and now has 151 "at risk" girls studying and thriving there. One of our members, Joyce Mohr, has been a driving force behind this effort, going to Kenya, networking within the diverse edu cation system there, organizing successful fundraisers and concerts. The church and the wider community has been very supportive of this effort, which has been remarkably successful. The school is on its way to becoming self-sufficient, has a diverse funding base, the girls are healthy and moving to secondary education.

Our local involvement has been through Boston area HIV/AIDS supporting organizations, such as the Boston Living Center (BLC) and the Aids Action Committee. We have hosted a BLC event - a movie night at the church that was a fundraiser for their marathon team. Several of our members are long-time walkers in the annual Boston Aids Walk, with the church membership providing a supportive and encouraging community, both financially and emotionally. Our church supports several "in town" social action organizations which promote HIV awareness and provide some services to HIV-affected population.

Our plans for the upcoming years is to increase our involvement with the local organizations and to partner with them for more effective service. We would like to "harness" the many HIV/AIDS related activities and outreach that our members do on an individual basis, to multiply their effectiveness and make a more cohesive effort from our congregation. Since our membership is so diverse, we are discussing setting up an outreach program that would encourage our members to partner with community organizations.

We plan to deepen and broaden our HIV/AIDS related outreach effort and achieve the Red Ribbon congregation honor as part of that process.

Regards,
Dimitry Zarkh
---
AIDS-Free World Welcomes the New UN Women's Agency; Will the Secretary-General be up to the job of making it work?
September 15, 2009 ( New York )
Yesterday the UN's 192 member states unanimously passed a resolution establishing a new UN agency for women, giving Secretary-General Ban Ki-Moon authority to immediately appoint an Under Secretary-General to lead it. This is a truly memorable moment.
AIDS-Free World's Co-Director Stephen Lewis said, "We see this not as an end but a beginning - the UN's first attempt to form a serious gender entity, and the Secretary-General's opportunity to make a monumental change both in the way the UN operates, and in the lives of women everywhere."
The new agency was first advanced in 2006, when a high-level panel for UN reform appointed by Kofi Annan recommended a complete overhaul of the UN's fragmented, under-funded women's programs.
In the last year, governments from North and South, the Secretary-General, and senior staff of those fragmented women's programs have all publicly proclaimed that the UN's response to women's rights and development has been starkly inadequate, and have come out in support of the new agency.
"Women have watched with a mix of optimism and dread as momentum built, while entrenched interests inside the UN, as well as countries that do not believe in women's rights have tried to sabotage the process," said Paula Donovan , Co-Director of AIDS-Free World. "Now the Secretary-General has been given clear direction, and an historic opportunity. We're impatient for action, and will follow every step of the process as it unfolds. There will be no meek acquiescence to any further foot-dragging."
Mr. Ban has clear choices to make between failure and success: the women's agency must not merely be a consolidation of the tiny, under-funded elements that already exist. To be seen as credible by women who've been ignored for over half a century, he must allow women to build a wholly new agency. It cannot be confined to the "catalytic" roles of the past: it must be able to act-to build partnerships with governments; to engage in public policy; to design, finance and run long-needed programs; and to support the work of women's NGOs and community-based women's groups in every country. Beginning with its new leader, it must have a full and stellar complement of expert staff with operational capacity at country level. It must be funded at the level of comparable agencies, with $1 billion dollars to start so that it can work effectively from the moment its doors open, and with projected rapid growth each year. It must include the expertise, vision and experience of women's groups in its governance and programs.
Secretary-General Ban Ki-Moon can demonstrate his willingness to start afresh today, even before the appointment of the agency's leader, by announcing that he is reserving a seat for the head of the women's agency on the Committee of Co-sponsoring Organizations (CCO) that comprise the UN's joint response to HIV/AIDS: UNAIDS.
Thirteen years after UNAIDS was established, and even with the subsequent horrendous toll of the pandemic on women and global recognition of the feminization of AIDS (women make up 61% of people living with AIDS in sub-Saharan Africa, and the percentage increases to 75% among young women between 15-24), there is no organization representing women on the committee that steers UNAIDS' work. UNIFEM lacked the status to sit at the table, and was represented instead by UNDP.
What better example is there of the UN's dismissal of women? UNICEF, the High Commission for Refugees, the World Health Organization, the World Food Program, the United Nations Development Programme, the Population Fund, the UN Office on Drugs and Crime, the International Labour Organization, the Educational, Scientific and Cultural Organization and the World Bank are all co-sponsors of UNAIDS, and they have been able to craft the UN's joint response to the worst pandemic of our time without anyone devoted specifically to looking out for the interests of women.
No wonder that response has been a lamentable failure.
The Secretary-General's chance to lead the UN out of the bygone era of male supremacy begins today. Every day's delay in the construction of a strong new agency is a day that tens of thousands of women will die in childbirth, fall victim to rape , become infected by HIV, assume the care of orphaned grandchildren, and do double the work of men for a fraction of the pay.
After 63 years of delays, women cannot afford one more day without an agency that speaks for them and collaborates with them. "The Secretary General has given the impression that intermittent speeches, pro forma endorsement and occasional attention are all that are needed by the women of the world. This pattern must end," said Stephen Lewis.
The UN resolution passed yesterday places responsibility squarely on Mr. Ban's shoulders. He stands in the dock of world opinion: Will he or will he not embrace gender equality?
For further information, please contact: Christina Magill, Executive Assistant to Stephen Lewis
TEL: +1-416-657-4458 christinamagill@ aids-freeworld. org
BACK TO HEADLINES
---
Thembanathi: Hope With Us

All of us have seen images or heard reports about the devastating HIV epidemic in sub-Saharan Africa and its effects on children. In its recent report on the Global HIV Epidemic, UNAIDS estimates that there are approximately 11.4 million children who have lost one or both parents due to AIDS in sub-Saharan Africa. South Africa, with an estimated 18.8% adult prevalence, has the largest number of HIV infections in the world. (UNAIDS 2007). In South Africa, and other countries with prevalence rates at this level, most people are directly or indirectly affected by the epidemic due to its impact on the overall economy, the educational system, the health sector, and so much more. Developing and supporting effective interventions to provide support to children affected by HIV/AIDS, and those who care for them, becomes increasingly important as the HIV epidemic matures.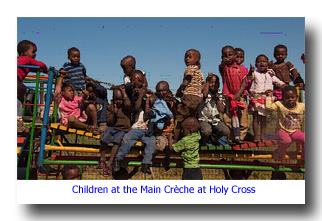 Thembanathi, a grassroots fundraising organization, was started in 2003 by Lindsey Reynolds, then 20 years old, and a colleague after a research trip they took together to South Africa. The aim of the organization is to support local community-based programs providing care and assistance to vulnerable children in HIV/AIDS-affected areas. Thembanathi also works to provide economic opportunities for South African women by supporting several local income generation projects in the province of KwaZulu-Natal, one of two provinces where the majority (55%) of the South Africans infected with AIDS reside (Dorrington et al., 2006). Thembanathi buys all products at fair market prices and sends 100% of the proceeds back to South Africa.
Currently, Thembanathi is working with Holy Cross Hospice, an organization in rural KwaZulu-Natal that supports families and children affected by HIV/AIDS. Holy Cross has a hospice and clinic for both young and adult AIDS patients and works to support approximately 2500 vulnerable children in the area through services such as food parcels, housing, support for schooling, home-based care, feeding centers, and day care centers. Since it began, Thembanathi has purchased between $10,000 and $15,000 worth of goods from the income generation projects each year and raised over $100,000 through sales and donations to help Holy Cross be able to provide these services for children.
In November 2004, Lindsey, who had gone on to graduate work in international public health, returned to her home UU congregation the Unitarian Universalist Church in Eugene Oregon (UUCE) and with her father, Dennis Reynolds, a seminary student at Meadville Lombard Theological school, co-presented a sermon entitled "The AIDS Pandemic: Witness and a Call to Respond." Since that time UUCE has been offering their support to Thembanathi. Each year beadwork sales have been held at the church, several members have become repeat donors, and beginning last year, the church choose to dedicate its December public service monthly plate offering to Thembanathi. Also, last year after hearing a first hand report about the continuing needs of the children when Sister Priscilla Dlamini, the director of Holy Cross, visited Eugene, a Global Aids Committee was established and, this summer, the Social Justice Council at UUCE endorsed Thembanathi as an on-going project of the church.

Lindsey is currently living in South Africa a few hours from Holy Cross and conducting research for a joint Ph.D. in public health and anthropology at Johns Hopkins University. Her dissertation examines the dynamics of care for orphans and vulnerable children living in families in rural KwaZulu-Natal and the effects of aid policies on the lives of these children. This past spring Dennis went to South Africa and visited Holy Cross. This experience, he says, has deepened his theological understanding of the connection we share with all the children on the planet. It is clear to all of us who have visited that, although the problems in the region seem insurmountable, Holy Cross is bringing support, comfort, and hope to the children and families in the region.
Thembanathi has pledged $25,000 a year to pay for staff at the main crèche, a music therapist, staff training, and food and all daily requirements for five satellite crèches and feeding centers. We are hoping to increase this level and be able to provide nursing services at the crèches and open additional sites. Also, we hope to maintain our annual support to the income generation projects. To meet our goals, Thembanathi continues to seek additional opportunities where we might share the Thembanathi story and urge others to "Hope with Us." We are particularly interested in making contact with individuals and UU congregations in the Pacific Northwest who would like to take action locally in ways that can make a difference globally.

For more information visit www.thembanathi.org
---
---
RED RIBBON CONGREGATION PROGRAM
CONGRATULATIONS TO Thomas Jeffereson Unitarian, Louisville, KY.
the 9th RED RIBBON CONGREGATION !
The following congregations have been recognized as Red Ribbon Congregations for their continuing leadership in addressing global AIDS issues. We encourage others to contact them direct for information and advice.
TO BECOME A RED RIBBON CONGREGATION: Go to the Red Ribbon Congregation page on our web site, www.uuglobalaids.org, or for more information contact Lyle Smith at llbs@aol.com or contact any of the congregation contacts listed above.
---
RED RIBBON CONGREGATION REPORTS
Michael Servetus UU Fellowship of Vancouver, WA.
The key fundraising event the the UUCV Red Ribbon Team gets involved with is an annual event in Vancouver, WA called LylesMyles. This event was actually started 16 years ago by Lyle Smith when he lived in Illinois and was transplanted to Vancouver, WA when he and his wife moved in 2003.
Since then the event has become the primary HIV/AIDS fundraiser in the city and has been put on every October. This year was especially well attended (well over 100 people) as in addition to the traditional walk/run there was another race dome simultaneously. this add-on event was called an Urban Adventure Course and was loosely based on CBS' Amazing Race. We had 16 teams registered with 2-4 people each.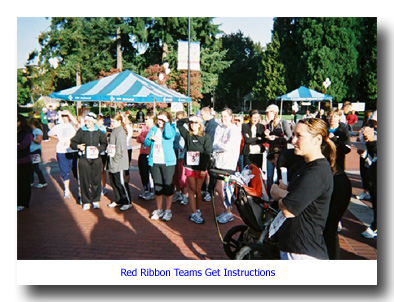 As you can see the day provided excellent weather and everyone had a great time. The event raised $4,000 which is split between Martha's Pantry that serves the HIV/AIDS affected population in the County we live in and Global Partners, an organization that works with HIV/AIDS affected folks in East Africa. Over 20 people from the UU Church of Vancouver were participants and volunteers at the event.

Each year the Red Ribbon team puts on a Soup Sunday in November that raises another $300(approx.) for the Local and global organizations we support. We also are connected to the Clark County HIV/AIDS Task Force, a fledgling organization that is attempting to fill in some gaps in service for HIV/AIDS affected population that have come with reduced funding in recent years. We did another Soup Sunday last spring to provide some initial funds for a "warm line" to serve the needs of our HIV/AIDS community members. We are involved in the planning for a World AIDS Day event on December First which is using the 9 1/2 minute there. Every nine and a half minutes a person is newly infected with HIV in the Unites States.

Lyle Smith
www.lylesmyles.com Vancouver's AIDS Walk - Oct 9, 2010
360-573-1549 home
360-573-1564 FAX
360-281-9757 cell

All Souls Unitarian Universalists of Kansas City

The Imani Project - Special Offering December 2009

In recognition of World AIDS Day, December 1, The Imani Project was nominated by All Souls' Red Ribbon Committee, and has been awarded by our Social Responsibility Board, recipient of December's Special Offering. The Imani Project is a vision of hope, faith and inspiration; a demonstration of what a small group of dedicated people across the world can accomplish to mobilize against HIV/AIDS. Imani is translated "faith" in Kiswahili. The project is a partnership between Americans and Africans based on cultural understanding and mutual respect.

The co-founders of the Imani Project are Marlene Anderson of Portland, Oregon and Francis Kahindi Mwaduna of Masheheni, Kenya. This project is a grassroots effort based on the concepts of community and connection. Marlene Anderson has traveled to Kenya for the past seven years. She has worked closely with African villagers to develop programs that are economically and environmentally sustainable. The goal of the Imani Project is to enable Africans to become educators, caregivers and advocates so that HIV/AIDS awareness and prevention information will continue to spread throughout the rural villages.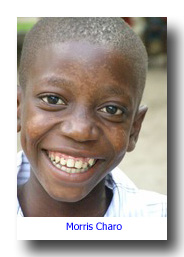 Contributions to December's special offering will sustain the sponsorship of Morris Charo, age 10, initiated by All Souls' Red Ribbon Committee in October. Morris is in Class 4 at Majahazini Primary, and has 6 sisters all living at home. His birthfather died of AIDS related illness in 2002. The mother has a small shamba (farm), but food is in very short supply. The Imani Project utilizes a community based subsidized placement program of HIV/AIDS orphans in families in their community, rather than placement in orphanages some distance away from their homes.
Terry Cushman, All Souls UU Kansas City
Chair, Red Ribbon Committee
tcushman@yahoo.com
---
Bursary Project News - Priscilla Laws
For the past 5 years members and friends of UUCV have been the primary supporters of a "bursary" project that enables girls, ages 11 through 20, in Mozambique's rural Province of Zambézia, to attend upper school grades. The Bursary Project was initiated and has been managed by Karen Butt who is supported by the United Church of Canada. Karen works with staff members in the Quelimane office of the Christian Council of Mozambique (CCM).
To be eligible for our UUCV bursary program, a girl must have been an active member of one of the many village educational AIDS prevention clubs, known as PEDRA. These clubs were established through the work of Karen Butt with funding from Church World Service (CWF). CCM also manages the PEDRA program. The success of our UUCV Bursary Program depends critically on the fact that each girl who is active in her PEDRA club has proven herself to be reliable and excited about the opportunity to stay in school.
UUCV representatives have conducted on-site Bursary Project reviews every two years in Fall 2005, 2007 and 2009. What follows is a description of a 6-day review trip conducted by Priscilla Laws and Terri Smiley from September 29th to October 5th. Since Mozambique is south of the equator, it is now spring there. Our Bursary girls only have a few more weeks before finishing their 2009 school year and going on summer break. The following is a description of our review trip.
Terri Smiley and I spent 5 days traveling along dirt roads in a two-seater pickup truck. Our journey began in Quelimane (pop. 200,000), the Province capital of Zambézia. From there we drove to rural villages where our Bursary girls are attending school or where there are PEDRA clubs (from which our new 2010 years Bursary girls will be selected). There were 5 of us on the trip including Terri, me, Karen, and Jack - our CCM driver. In addition, Bill Butt who is a communications specialist came along to collect video materials for use in our upcoming 2010 fundraising campaign.
Before visiting Mozambique we had to endure 2 days of travel from Carlisle to Quelimane by way of Johannesburg, South Africa. When we landed in Quelimane at 3 pm local time, Karen and Jack were waiting to take us to CCM headquarters. Just as we pulled into the CCM compound Terri commented that she hoped we would hear some singing on our trip. I smiled at Terri as a group of excited young girls poured onto the porch of their PEDRA clubhouse and began singing and dancing for us. After touring Bill's video and sound recording studio and meeting CCM personal, we went to Karen and Bill's house for dinner and a welcome night of sleep!
At 7 am the next morning we put our suitcases in the back of the truck alongside large yellow gasoline containers and sacks of rice and beans to be cooked for us in several of the villages we were slated to visit. Before leaving the city we stopped to pick up frozen chickens to fortify our meals. Next we headed to Molumbo where 62 of our Bolseiras are living in a "Lar" consisting of renovated army barracks.
We bounced along dirt roads for about 8 hours before reaching Molumbo. Our trip was broken up by brief stops in Mocuba (to buy lunch sandwiches), a regional school center in Namarroi (to confirm room reservations for a few days later), and the village of Regone (to drop off lunch food to be cooked for PEDRA girls, village officials and ourselves on our way back from Molumbo). We also stopped briefly in Maquiringa (for a quick visit to the village PEDRA club and school).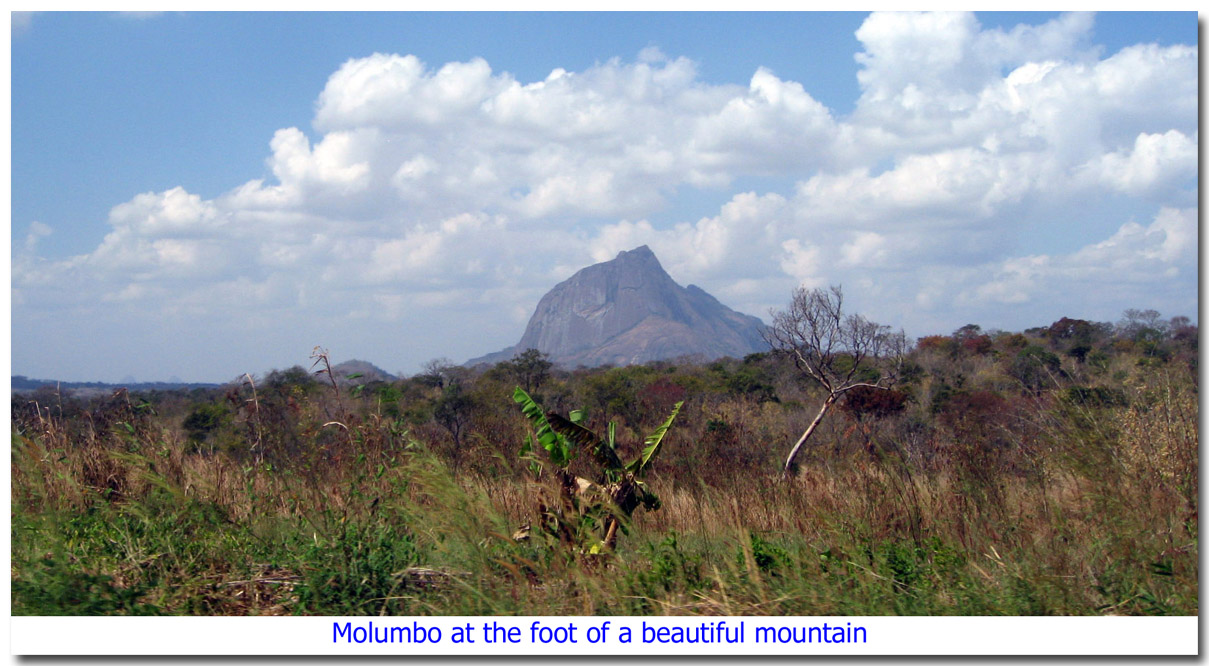 Our arrival in Molumbo was awesome. It is a beautiful community located at the base of a mountain and surrounded by red earth and lush vegetation. We were greeted by singing from a coeducational chorus organized by Pastor Mateja, who manages a medicinal garden program for CCM. About 20 minutes later we went to the nearby Molumbo Lar that is currently maintained by our UUCV Bursary funds so girls from smaller villages in the region can stay in school through 10th grade. Of course, we were greeted with song and dance by most of the 62 Bursary girls who reside there.
Later we returned to Pastor Mateja's house for a candlelight dinner. The meal was cooked for us on an open fire behind the house using food Karen brought. After sleeping at the Pastor's house, we headed back at the Molumbo Lar for the day. We met with the girls who gave us a tour the their bunkrooms, garden, and water well. Later in the morning a group of about 40 of their parents, who had walked or biked long distances from outlying villages, assembled for a meeting with us while several women prepared a lunch (sponsored by the UUCV Bursary project) for us, the girls, and their parents.
During the parents meeting we discussed improvements that are needed for the Lar such as the small holes in the corrugated roof, the crumbling veranda, and the silt block the flow of water from the well. Toward the end of the meeting many parents thanked us for our help and began singing.
At lunchtime the Bursary Girls (a.k.a. Bolseiras) brought heaping plates of rice and beans to parents and visitors before serving themselves. Then the girls entertained all of us with skits that were both incredibly educational and often quite funny. These skits dealt with social issues and the importance of personal behavior in success. For example, one skit dealt with the importance of not having relations with street vendors in exchange for wares. A daughter with no money who transgressed, come home with a pair of shoes. When grilled by her parents she lied about where her shoes came from. The acting was powerful and we enjoyed watching the fathers howl with laughter by the interchange between the errant daughter and her parents. Then there was sadness as the poor girl became instantly ill, was taken to the hospital for an HIV test, and died of AIDS.
Karen noted that 14 of our Bursary girls are slated to complete10th grade in Molumbo or Namarroi at the end of this month. Since the schools in these regional centers have no grades beyond 10th, we need to find more advanced schools for these girls. Before leaving Molumbo, Karen Butt asked Helena, a regional leader who helped establish the Molumbo Lar, to help us identify vocational and high schools with upper grades in the region.
Helena pointed out that for students who have completed 10th grade, finishing a teachers college or nursing school only requires one additional year of study. Another alternative is for girls to enroll in 11th grade in high schools in Milange or Quelimane. Both Terri and I were terribly impressed by the creativity with which Helena and Karen identified the options, their relative costs, and ways to prepare girls for the rigorous entrance examinations required for admission to vocational schools.
We spent a second night in Molumbo. In the morning we had the pleasure of visiting the family compound of our Molumbo "house mother", Beatrice. Her family presented us with a live chicken. Estelle one of the Molumbo PEDRA educators brought us to her family compound where we met my namesake, Priscilla, who was born two years ago just before Estelle's daughter Cecelia finished her second year of her 3 year teacher training program. Estelle presented us with a large container of home grown beans.
Next we headed to Namarroi with several stops along the way to visit a school where one of our former Bursary girls now teaches and have lunch with PEDRA girls in Regone and observe PEDRA activities in Mucisse. When we arrived in Namarroi we were greeted by all 34 of the Bolseiras who attend school there. The next morning these girls gave us a tour of their residence and presented a program of theater, songs and dancing. On our drive back to Quelimane later that morning we visited with a large PEDRA club in Mutiliua and were, once again, entertained.
Everywhere that we stopped, Bursary or PEDRA girls treated us to songs of greeting, joyous dancing and, finally, songs of farewell. Terri didn't have to "hope" we'd hear some music. The self-confidence and joy expressed by these young women were inspiring.
We arrived in Quelimane and spent the night at Karen and Bill's house. The next morning we went to an inspirational Sunday service at Macedonia - a rural Methodist church north of the City. The tiny mud, stick and thatch building was filled with song and spontaneous dancing. Later we had lunch back at Karen and Bill's house, did some planning for 2010 and treated our hosts to a dinner out overlooking one of the rivers that flows through the city and into the Indian Ocean
After our final night with Karen and Bill and before heading for the airport we spent the morning with CCM staff in Quelimane to start mapping out procedures for reporting on our experiences and planning the 2010 campaign here at UUCV. All in all Terri and I had 6 unforgettable jam packed days.
---
ADDITIONAL INFORMATION ABOUT THE UU GLOBAL AIDS COALITION
What is the UU Global AIDS Coalition and how did we come about?
What later became the UU Global AIDS Coalition was originally founded in 2002 as a Social Justice Action Group at First Unitarian in Portland, OR. in response to a powerful address given by Stephen Lewis, then UN Special Envoy for AIDS in Africa, at the Unitarian General Assembly that year. He faulted those of us in the West for sitting by while the devastation of the AIDS pandemic is causing millions of deaths every year. Many of these deaths could be prevented if medical care easily available in western countries was available elsewhere in the world.
We now have a national steering committee and have made contacts in around 160 congregations throughout the U.S., also in Canada, Mexico and Europe, and we are especially delighted to be in contact with UU's in Kenya and Uganda and to be working with them to support their work in caring for AIDS orphans. We are a grassroots, all volunteer organization.
Our vision is to support the work of UU congregations by sharing information and learning from each other. Our Red Ribbon Congregation program recognizes congregations that are making a substantial effort to address global AIDS issues and can serve as a model for other congregations. Congregations or individuals who are considering getting involved and wondering how to start are encouraged to contact any of the Red Ribbon Congregations listed later in this newsletter. While they are all heavily involved in their own programs, they have a variety of in depth experience in starting and sustaining projects to support communities impacted by HIV/AIDS and are happy to share what they have learned. And we hope other congregations who are already actively engaged will apply to become a Red Ribbon congregation- that would be wonderful!

Funding: We are a totally volunteer organization composed of individuals from UU congregations throughout the United States. Thanks to our new fiscal agent, Carbondale UU Fellowship, we can now accept donations, but individual congregations do their own fund-raising.

We work by partnering with others. We have worked hard to collaborate with other UUA agencies so that we include their perspective on global AIDS issues and reach the widest possible audience. We are especially proud that we are able to partner with the UUA Advocacy Office and the UU United Nations Office to engage UU's at all levels in speaking out on the issues and in participating in global AIDS events.

We work to engage UU's in political advocacy. We are especially excited by the growing role of the denomination in political advocacy on global AIDS issues, and use our network of local contacts to support the work of the UUA Advocacy Office.

We work to develop culturally respectful ways to share the journey with those impacted by poverty and HIV/AIDS.

We are always looking for leaders who are interested in working with youth. Please contact Carla Feldhammer at

hospice88@aol.com

if you are interested in getting involved in this important part of our work.
---
Some Leadership positions are currently vacant. Please contact anyone listed below to see how you may be able to share you time and talents with the UUGAC!
Vice Chair - Vacant

Secretary - Vacant

Communications. (Pending). Darcy Roake, Harvard Divinity School and Peter Smith, First Unitarian Society Newton MA

Red Ribbon Congregation Program: Lyle Smith, Michael Servetus UU fellowship, Vancouver, WA.

llbs@aol.com

Advocacy Coordinator: vacant

UU-UNO liaison/ Resource developer: Bruce Knotts/Holly Sarkissian, UU-United Nations Office. (ex-officio)

At large: Priscilla Laws, Unitarian Universalists of Cumberland Valley, PA

At large: Dennis Reynolds, Unitarian Universalist Church, Eugene, OR

At large: Al Jacobson and Rodney Lowe, First Parish, Lexington MA ( shared position)

Youth/Youth Advisor representatives - Vacant

Fiscal Agent: Carbondale, ILL UU Fellowship

Chair of 2010 GA Booth in Minneapolis - Vacant
---
CHECK OUT OUR WEB SITE: www.uuglobalaids.org
We encourage both individuals and congregations to join our coalition. This is not a membership organization and any individual can sign up to receive the newsletter. There is no charge. We are especially looking for people who will be the contact for their congregation. Besides letting us know that you are out there, we hope that congregational contacts will:
Distribute the newsletter and brochures and perhaps maintain a local sign up list

Share news of what is happening in your congregation and community
TO RECEIVE THE NEWSLETTER OR TO BECOME A CONGREGATIONAL CONTACT, e-mail UUGACNEWSLETTER@GMAIL.COM The newsletter comes out three times a year, usually in January, April and September. Contributions and suggestions very much welcome!