This is the first edition of the Law & Public Policy email newsletter that will be published at least once a semester. It will include the news about our students, faculty, and alumni as well as announce upcoming speakers and opportunities.


---
Graduates
Congratulations to our graduates last year. Amanda Schwartz and Erin Bridge completed master's degrees and four PhD students defended their dissertations:
Andia, Maria Gracia, 2011. "Disadvantaged groups, the use of courts and their impact: A case study of legal mobilization in Argentina."
Abbott, Sarah E., 2011. "Evaluating the impact of a jail diversion program on police officer's attitudes toward the mentally ill."
Perry, Alice Elizabeth, 2011. "The evolution of police organizations and leadership in the United States: Potential political and social implications."
Mariame Raqib, 2011. "Resistance by other Means: The Taliban, Foreign Occupation, and Afghan National Identity."
---
New LPP Website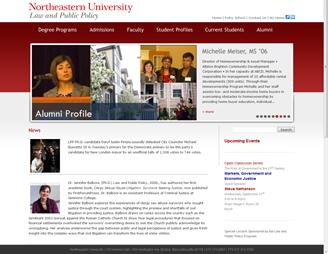 The new LPP web site has been launched—www.northeastern.edu/lpp. The news column is still on the home page, so please keep us updated on your newsworthy accomplishments—publications, research grants, etc. Like the old one, the site has everything you need to know about the program. Click the current students button for detail on guidelines for dissertation, focus area document, etc. We're still working on the student and alumni profiles.

If you would like to submit an item for the news, change your faculty profile or update your photo, please send information to Kathie (k.simmons@neu.edu). Thanks to John Sarvey for creating the new site and to Kathie Simmons for assisting John and maintaining the site on a day-to-day basis.

---
LPP Faculty Search
Our request to begin a search for an associate professor to replace Paul Harrington has been approved. We are leaving the focus area open, as discussed in our last faculty meeting. The search committee currently comprises Chris Bosso, Joan Fitzgerald, Jamie Fox and Jackie Isaacs. We are seeking a committee member from outside the college. If you would like to serve on this committee, please let me know (jo.fitzgerald@neu.edu).

---
Welcome Dan Urman
As an instructor of two core courses, Dan Urman has become a member of our core faculty. Dan has also been appointed director of the Executive Doctorate in Law and Policy program.

Dan has been teaching Law and Legal Reasoning and this fall he will co-teach Strategizing Public Policy with Stephanie Pollack. From now on, LPP will offer Strategizing Public Policy in both fall and spring semesters (demand has increased since it became a requirement for the master's in urban and regional policy program.) Dan has a JD from Harvard and a M.Phil. in politics and international relations from Oxford, where he was a Marshall Scholar.

---
Joint LPP and DLP Speaker Series
This year we will be sponsoring a lecture series with the executive doctorate in law and policy. For the most part, the lectures will be held once a month, on Fridays at noon. We'll let you know the fall schedule soon, but do mark your calendars for Friday, November 18th at 4:00pm.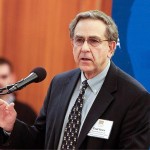 Paul Starr, Professor of Sociology and Public Affairs at Princeton University, will discuss his new book, Remedy and Reaction: The Peculiar American Struggle over Health Care Reform.

His book, The Social Transformation of American Medicine, won the Pulitzer Prize and the Bancroft Prize in American History. Dr. Arnold Relman, a former editor of the New England Journal of Medicine and author of A Second Opinion: Rescuing America's Health Care (2007), will comment. A book signing and reception will follow. Click to RSVP.

---
Undergraduate Minor Thriving
The success of the undergraduate minor continues. We now offer five courses. Intro to Law and Intro to LPS continue to fill every semester. In fact, we are offering two sections of Intro to Law this semester. Law and Literature is the newest to the lineup, so its enrollments aren't quite as high as the others.

Introduction to Law, Section 1: 42
Introduction to Law, Section 2: 49
Introduction to Law, Policy and Society: 39
Global Human Rights: A Social and Economic Perspective: 21
Law and Literature: 11
Our membership in the Consortium of Undergraduate Law and Justice Programs (CULJP) continues. Anne-Marie Hakstian represented us at its annual meeting at the University of California at Berkeley on Wednesday, May 31st. The meeting was hosted by the Center for the Study of Law and Society and the Legal Studies Program at the University of California at Berkeley. One session focused on the origins and development of diverse Law and Society undergraduate programs from a long-established program at Berkeley, a fast-developing program at Drake University, and a relatively new program at Drew University.

PhD candidate Liana Pennington is coordinating the undergraduate minor program and has organized several events for undergraduates including: trips to the Supreme Judicial Court, a panel on policymaking across different governmental branches with three outside speakers, and a movie event co-sponsored with Criminal Justice.

---
Enrollments Up
Our graduate courses are also doing well, partly due to students from other programs are enrolling in them. Students in the Nursing PhD program now take Research and Statistical Method LPSC7305. Since MURP and students in other programs are enrolling in Strategizing Public Policy LPSC7311, we will now offer it in both fall and spring semesters. Due to a misunderstanding, Strategizing Public Policy was not listed for the law school, which is why enrollments are low this semester. With Dan Urman on board to rework the JD-MS, we should see higher enrollments next year.

Fall
Introduction to Economic Analysis for Law, Policy and Planning: 19

Research and Statistical Methods: 16

Law and Legal Reasoning: 10

Strategizing Public Policy: 8

Cities, Sustainability, and Climate Change: 22
---
Interest in LPP Increasing
The number of potential students seeking information on our degree programs has increased dramatically since the name change to Law and Public Policy. We had about 25 requests in both July and August. The numbers will probably pick up even more during the fall months when students are searching for graduate programs.

---
Ph.D. Research Fellowships
Since launching the fund to support LPP PhD candidates in conducting their dissertation research, we have provided support for 5 students.

---
Buckles Travel Fund
Last year 6 students were supported to present papers or attend conferences.

---
Selected Accomplishments of LPP Students, Faculty and Alumni, 2011
Alumni
Steven L. Antonakes (PhD 1998) was selected to head the Bank Supervision Group of the new federal Consumer Financial Protection Bureau (CFPB). Steve has served as the Massachusetts commissioner of banks since 2003. He will supervise examinations of the country's largest banks and credit unions to ensure they are complying with federal consumer protection laws and regulations.

Jennifer Balboni (PhD 2006) published Clergy Sexual Abuse Litigation: Survivors Seeking Justice, now published with FirstForumPress. Jennifer is an Assistant Professor of Criminal Justice at Simmons College.

Todd Leach (PhD 2008) was named President of Granite State College in Concord, New Hampshire. Todd was previously senior associate dean and chief academic officer in the College of Professional Studies at Northeastern University.

Dawna Thomas (PhD 2001) was awarded tenure and promotion at Simmons College where she is an Associate Professor of Africana and Women's and Gender Studies.
Faculty
LPP Professor Steve Nathanson's book, Terrorism and the Ethics of War (Cambridge Univ. Press) received the Best Book in Social Philosophy Award for 2010 from the North American Society for Social Philosophy. There was a special session devoted to the book at the NASSP Conference in July.

LPP Director Joan Fitzgerald received a travel grant from the German Marshall Fund of the United States to conduct research on climate change strategies in European cities. She was a visiting scholar at the University of Amsterdam for the month of May as part of a Fulbright Senior Scholar award.

LPP Faculty Op-Eds in the New York Times:

Barry Bluestone | "How to Bring the Jobs Back: Freeze Public Wages" (September 6, 2011)

Joan Fitzgerald | "Can the U.S. Compete With China on Green Tech?" (January 18, 2011)

James Alan Fox | "States Rights Vs Gun Rights" (March 3, 2011)

Students
PhD Candidate Liana Pennington was recently awarded a National Science Foundation Dissertation Improvement Grant for her doctoral research. Liana is researching whether parents in juvenile delinquency court experience the legal process as fair and effective and how views of legitimacy and justice are developed within families.

PhD Candidate Molly Perdue was featured in a front-page Provincetown Banner article profiling how she and her family cared for her mother. Her dissertation is focused on family caregivers for someone with Alzheimer's disease. She was also cited in an article on care for the elderly in the Cape Cod Times. Molly is the director of family services at Alzheimer's Services of Cape Cod and the Islands.

PhD Candidate Fabio De Sa E Silva received the Juan Celaya grant from the International Institute of Sociology of Law for his dissertation research.
---
Upcoming Opportunities for Students, Alumni and Faculty
Informative Discussion about Research Funding Opportunities
Wednesday, September 21 | 3:00 to 4:30 pm | 162 Meserve Hall
Please join Jack McDevitt, associate dean for research in the College of Social Sciences and Humanities, for an informative discussion on how to identify research funding opportunities online. Along with a Barbara Bucchianeri Grants Officer Research Administration and Finance (RAF), They will share techniques with faculty and graduate students for navigating your way through the search process. The workshop will focus on using the Community of Science Web Portal and other searchable data bases.

Professional Development Workshop: Research Resources and Strategies
Friday, September 23 | 4:00 -5:30 pm | 215 Shillman Hall | RSVP
Roxanne Palmatier, Government Documents Coordinator, Northeastern University Libraries
This workshop introduces graduate students to public policy and social sciences resources available in the NU Libraries and offers insights into organizing your research projects.

Probability and Statistics Workshop: Overview of Matrix Algebra
Two Tuesdays, September 27 and October 4 | 2:00 to 3:00 pm | RSVP
Professor Alan Clayton-Matthews
A primer and review on reading matrix notation and doing matrix arithmetic: adding, subtracting, multiplying, and dividing matrices.

Professional Development Workshop: Sharpening Your Presentation Skills
Friday, October 18 | 4:00-5:30 pm |215 Shillman Hall | RSVP
Presenter TBA
This workshop focuses on developing your presentation skills, and particularly using Powerpoint, for both classroom and career use.

Professional Development Workshop: Immunity to Change
Friday, November 4 | 4:00-6:00 pm | 440 Egan Hall | RSVP
Jay Kaufman, Director, Leadership and Public Life Program; Massachusetts State Representative (D-Lexington)
This workshop explores the difficulties of effecting change. What does it mean to be a change agent? What qualities and skills of leadership help empower change? How do you identify and overcome the hidden barriers that sabotage your own efforts to change? What, in turn, does it take to empower those around you to change? This experiential workshop begins with a powerful exercise aimed at exploring the roots of our resistance to change. It concludes with the identification of specific action steps for overcoming barriers that keep you from changing and effecting change.

These workshops are open to all graduate students, faculty, and alumni. For more information, contact Associate Dean Chris Bosso at c.bosso@neu.edu.
---
The Law and Public Policy Program is part of the School of Public Policy and Urban Affairs within the College of Social Sciences and Humanities.