Rugged Liner, Inc. Awarded
"Exporter of the Year" through the
I-69 International Trade Corridor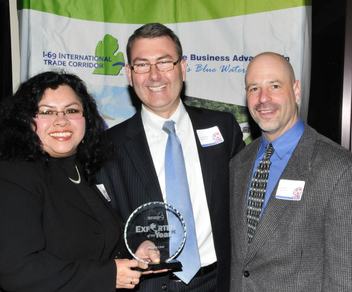 On Thursday, February 7, 2013 Rugged Liner, Inc. was honored to receive the "Exporter of the Year" Award for Shiawassee County through the I-69 International Trade Corridor.
The I-69 International Trade Corridor is a strategic commercial gateway between the Midwestern United States and Canada which has been developed to increase exports from Michigan. Participating counties include Shiawassee, Genesee, Lapeer and St. Clair.
Rugged Liner was one of the six nominees from Shiawassee County. Other nominees included American Recycling Center, Clark Engineering Company, Crest Marine, Mid-West Bus and Woodard Furniture.
Pictured above, accepting the award on behalf of Rugged Liner (Left to Right) is Judith Nehring, Yannick Greiner and Troy Angst.
Since we started exporting in 2010 our export business has grown tremendously. this export business is now an integral part of our current future and success. This growth has been achieved with hard work and dedication from the entire Rugged Liner staff. As we continue to expand our export and domestic sales we will continue to ensure our customer's demands for quality products delivered in a timely manner remain our top priorities.