---
Emerald City Football Club News - April 2012

---
In this Issue

:
Message from Director of Coaching, Erik Oman

Coach and Player Highlights

Washington Cup

Team Highlights

Club Events

Bringing in interested players

Tryouts

Parent Meetings and Survey

Volunteer Opportunities and Club Needs

Calendar – Looking Ahead
Message from Director of Coaching, Erik Oman

Hello Emerald City FC Families;

As we head toward our 2012 tryouts and new team formations, the club is certainly growing and looking forward to an exciting 2012 - 2013 year! As I write this, we have over 45 players registered for our 'Open Training' event over the next two weeks. These are players who are new to the club and coming to check out our teams prior to tryouts in May. Our coaching staff has grown to include Leigh Cullip, the PSPL's Technical Director, a UEFA 'A', US Soccer 'A', NSCAA Premier and KNVB Licensed coach. As well we have welcomed Angel Planells and ECFC Alumni, Eric Peters and Marcelino Dumpit to our talented staff of coaches. Our Board has successfully led us through the past year with a budget model that is working and has the club in a financially sound position. Our teams have developed well over the year and several of our teams are in top positions as they head into the final weekend of the Washington Cup. We have placed two players on academy teams and most of our M93 boys have committed to college programs for the 2012 fall collegiate season.

We have been very successful over the past year, but there is still much work to do. I want to thank all of the parents who took time last week to come to parent meetings to give feedback and express their opinions, good and bad, about the past year with their children's teams. Thank you as well to all of you who filled out parent surveys for the club. This feedback is extremely valuable to us as we work to learn from our experience and continue to make improvements in our club. We have heard clearly that communication continues to be an important issue for many of our members. I again would like to thank everyone who participated in giving feedback during the past two months and everyone who has taken an active role in the club over the past year.

I would also like to thank our Board of Directors for their tremendous efforts over the past year. This has been a great board to work with and the disciplined effort that they have put in behind the scenes will help to make next year significantly more efficient and better organized than any year in recent memory for our club. Everyone who participates will see some great changes by the time of our new team formation meetings in May.

As we approach our tryouts and new team formations in May, we also are beginning the process of identifying candidates for board elections that come in June. We are a member-run 501(C)3 non-profit organization and we depend on our representative parent board for the leadership of the club. Please consider running for a position on our Board of Directors. If you are interested, please contact any board member for more information.

Two other items of note in the coming months are our College Information night education meeting on April 22 and our club fundraising poker tournament on June 2. The college information night is open to any of our members but will be geared for our high school age players and their parents in particular. The poker night fundraiser is open to all Emerald City FC parents and their guests and registration is open on the ECFC website. Look for more details on each of these events on the club website. I hope to see big groups at both events. Keep an eye on the website for a couple of other exciting announcements that are sure to come in the next few weeks and also for schedules and results for our teams in the Washington Cup...

Thank you for all of the effort and enthusiasm that has helped to grow the club in 2012! Lets keep the ball rolling as we head into this exciting time ahead! GO ECFC!

-Erik Oman
Director of Coaching
Emerald City FC

Coach Highlights
In early March, I had the exciting opportunity with a coaching tour group to spend a week observing soccer trainings and lectures from some of the most esteemed soccer clubs in Holland and Belgium: AJAX Amsterdam, the KNVB (Dutch Football Association), FC Brussels and FC Anderlecht. It was a great experience for the American coaching contingent to observe the renowned youth team trainings at AJAX.

Their training facilities were a myriad of activity as we observed teams from U10 to U19. It was clear why, for being a smaller club (compared to Barcelona and Manchester United) they have been able to produce such dynamic and wonderful players (the list is long) who have played major roles for AJAX and then with several clubs worldwide not to mention the Dutch national teams.

With Johan Cruyff's philosophy evident (he went from AJAX to Barcelona to lay groundwork for their current successes and is not back at AJAX), the coaching staff stressed the importance of technique work through ball mastery for the U10-U16 players. The U16 and older still found technical training imperative while tactics were now easier to implement.

By providing their players with effective, development-oriented training sessions, these players feared nobody. Why? Because their philosophy was clear to the players: "Have no limitations - don't worry about making mistakes while trying new skills." In this manner they created the mentality that they can play under any pressures the game throws at them.

Excitedly, with good notes in hand, I have brought back a list of ideals which our Emerald City coaches can utilize within their trainings from the 'Development' teams (U8-10) to our oldest teams at U18. Keep an eye on the things the ECFC kids will be trying on the field in the months to come! Feel free to drop me a line with any questions about the trip.

- Matthew Olson, Assistance Coaching Director – mattygk1@yahoo.com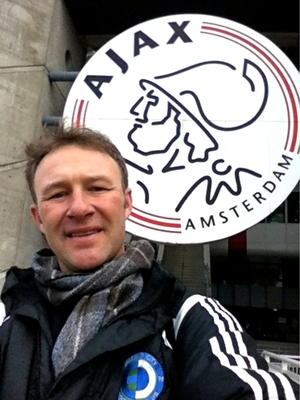 Player Highlights
It is always exciting when players from ECFC move on to challenge themselves. We have two players from Bobby Howe's M95 team that will be pursuing higher levels of competition. Congratulations to Peace Brandon as he continues his soccer career with the Sounders Academy. He had been with ECFC since he was 9 and has been coached by Aaron Hyde, Jon Matsushita, Tommy Jenkins and Bobby Howe. Congratulations also to Ibrahima Drame for being selected for the Crossfire Academy. He has been with ECFC for 3+ years and has been coached by Matthew Olson and Bobby Howe. We wish both of them success in their future. And, we are thankful for the great coaching staff and player development philosophy we have at ECFC. Please see the web site for more of the story – emeraldcityfc.org.

Washington Cup
Emerald City had 10 teams participate in the Washington Cup preliminaries the first weekend of April. Eight of the teams will advance to the semi-finals. Go ECFC!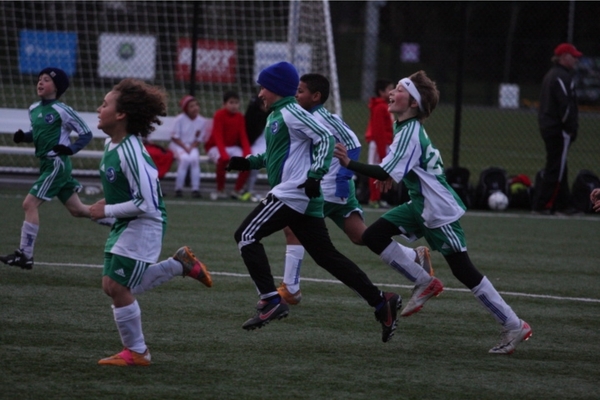 M00 White score at WA Cup

Team Highlights – M99 Green on a Trip to Spain
This summer, from June 29-July 7, the Emerald City FC M99 Green team coached by Matthew Olson and Alex Jessup will embark on a soccer adventure of a lifetime to Spain, home of the World Cup Champions! While in Spain, the team will play in the Copa Catalunya tournament which takes place near Barcelona and will feature clubs from all over the world representing more than 20 countries. Players will have the opportunity to interact with other players from all over the globe and play against teams of different styles of play and learn about different cultures as well. The team will also tour the Nou Camp stadium, home of FC Barcelona and Lionel Mess, as well as other famous sights in the Barcelona area. The tour is being organized through Premier International Tours. We'd love to give more ECFC teams this experience. More information about international soccer travel Info can be found on their website at www.premierinterantionaltours.com.
The M99 team is fundraising for their trip. If purchasing goods through Amazon.com the team receives a percentage. To support, please go through the team website http://ecfcm99.shutterfly.com/# and go to Spain Fundraising. Thank you,the M99 team.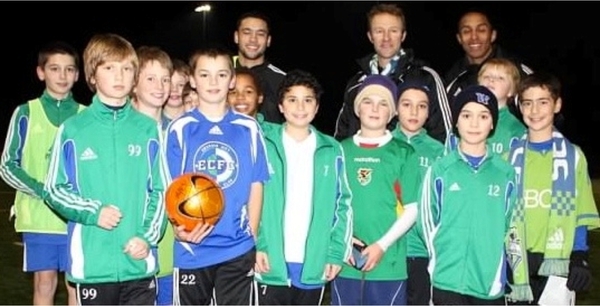 Club Events
College Night – April 22nd, 5:45pm to 7:00pm – at Mirabella, 116 Fairview Ave N., downtown. FRESHMEN, SOPHOMORES, JUNIORS, SENIORS and all others wanting to learn more about the college application process, make sure to come to this event! Director of Coaching, Erik Oman, will be leading a discussion to help you demystify the college selection process. Come and learn about the things you should be doing to ready yourselves for the next level. Now is the time to get started! (Free street parking available; main entrance and then elevator to 10th floor.)
The Emerald City FC Poker Shootout is June 2nd. We will distribute information about the event in the near future, but in the meantime, please continue to send us your contributions for prizes and raffles. This evening will be a social and fundraising event to "kick-off" the new season. Come meet fellow members and support the Club! Proceeds benefit the ECFC Financial Aid Fund.
Club Awards Event is planned for Sunday, May 6th. Mark your calendar to reserve the date for awards and picnic. More details to come.
Development Tournament Team –

U9 and U10 players may sign up for a four week tournament training session. There will be two trainings per week with culminating with a tournament on June 15-17th.

Trainings Begin May 21st (for girls) and May 22nd (for boys)

.
Residence Camp 2012 – Players U13 and up are invited to join other Club players at the annual residence camp at Misty Acres. The boy's camp will be held August 12 to 15 and the girls will have camp August 15 to 18. Mark your calendars now. We'll have registrations starting mid-May. More information coming in the May newsletter.
Summer Day Camps – Day camps for ages U8 to U12 will be held June 25-28 and July 16-19. Mark your calendars now. Registration will open soon. More details to come.

Bringing in interested players
ECFC is using Open Training sessions to bring interested players to the Club. These dates were chosen specifically because they were over spring breaks – weeks of April 9th and April 16th. Please see the web site for more details – emeraldcityfc.org. Bring your friends to practice.

Tryouts
Please see the ECFC web site for dates and locations of the ECFC tryouts – emeraldcityfc.org.


Parent Meetings and Survey
Thanks to all the parents that came out for the parent meetings. We appreciate your time and input. The Board, along with the Director of Coaching, will take into consideration your feedback, along with survey results, for planning improvements in the coming season. We will be communicating with about specific actions to make improvements.

The survey results showed that there is a need to clarify where funds go at the Club. ECFC has a very lean budget with the bulk of the funds going to coach salaries, fields, referees, league costs, and other direct costs associated with the functioning of the club. Just 5% of the budget goes toward administrative needs. In addition, ECFC has always supported players who are not able to afford player fees by allocating a portion of the budget toward financial aid.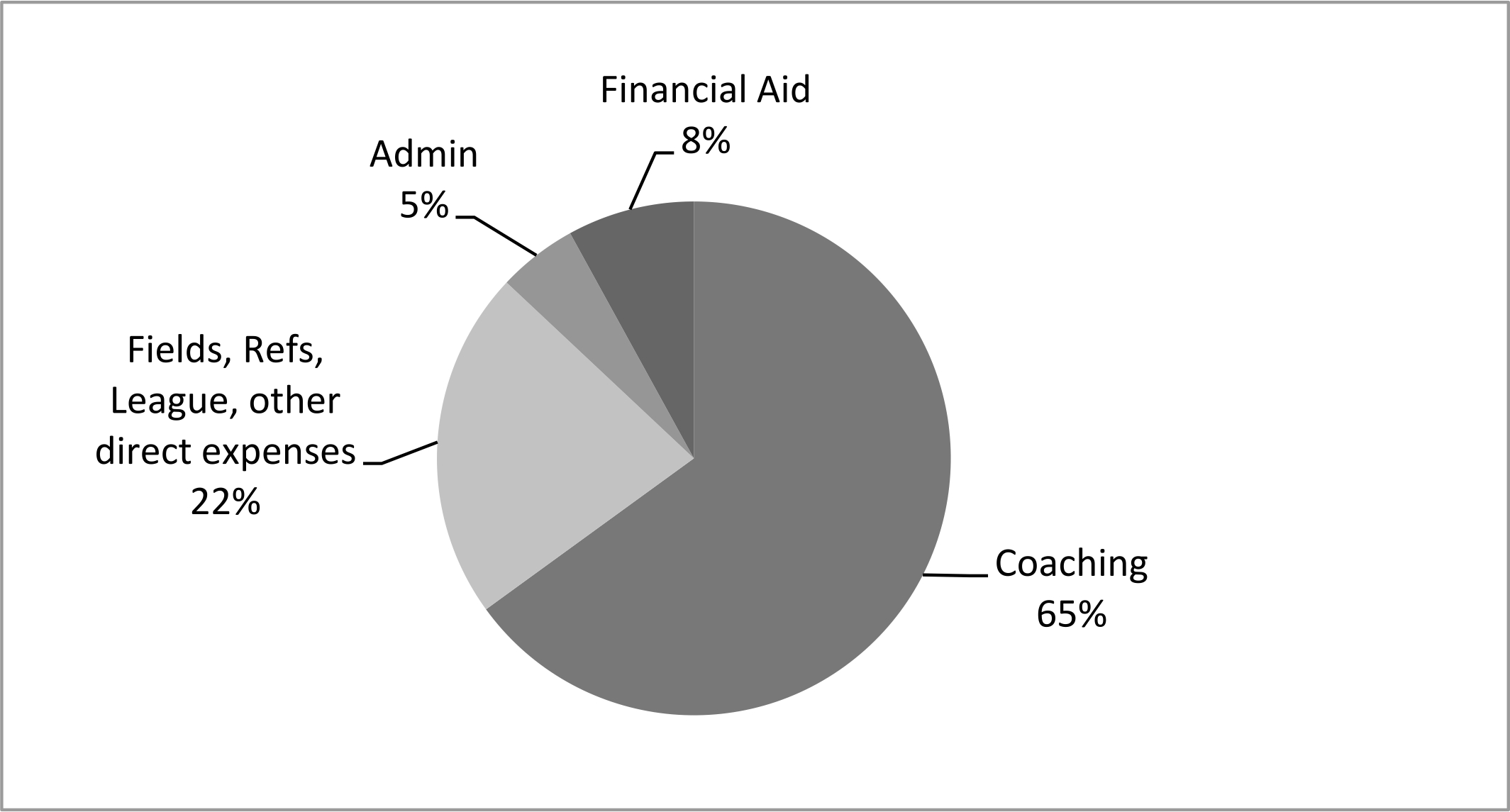 2011/12 ECFC Expenses
Volunteer Opportunities and Club Needs
Assist with Poker Night Fundraising Event - with procuring contributions, or with handling raffles or registration the evening of the event. Please contact Dan at info@emeraldcityfc.org
Would you like to help improve the ECFC News? We could use your assistance. Please contact Jody at secretary@emeraldcityfc.org
Board Elections – It is important to remember that ECFC is a volunteer run organization that relies on you, the members, to make it run well. Each year in June, board elections are held to replace the board members whose two-year terms are expiring. We encourage all interested members to consider taking on a board position to help us guide the club. Some board positions have designated roles and some are "at large" board positions for which responsibilities will be designated by the board itself upon its first meeting. This year, the open board positions are Treasurer, VP Membership (voted on every year), and two "at large" board members. Read more at emeraldcityfc.org.
Specific Club-Wide Volunteer Roles – The board will be recruiting for club-wide volunteer roles at the team formation meetings. If you are not interested in being a member of the board, we have plenty of opportunities to help with Club-wide events and operational support. We'll have more details on each of these roles at the formation meetings. Here is a glimpse at some of the jobs that we need help with in the coming season:

Turkey Shoot Coordinator

Fundraising Event Coordinator

Marketing Events Coordinator

Marketing Materials Coordinator

Uniforms Coordinator

Event Registrations in Korrio

Residence Camp Coordinator

Team Fundraising Coordinator
If any of these interest you, please contact one of the Board members listed at the end of the Newsletter. We'll have more for you to look through at the formation meetings.

ECFC Coaches and Board thank the parents for their support.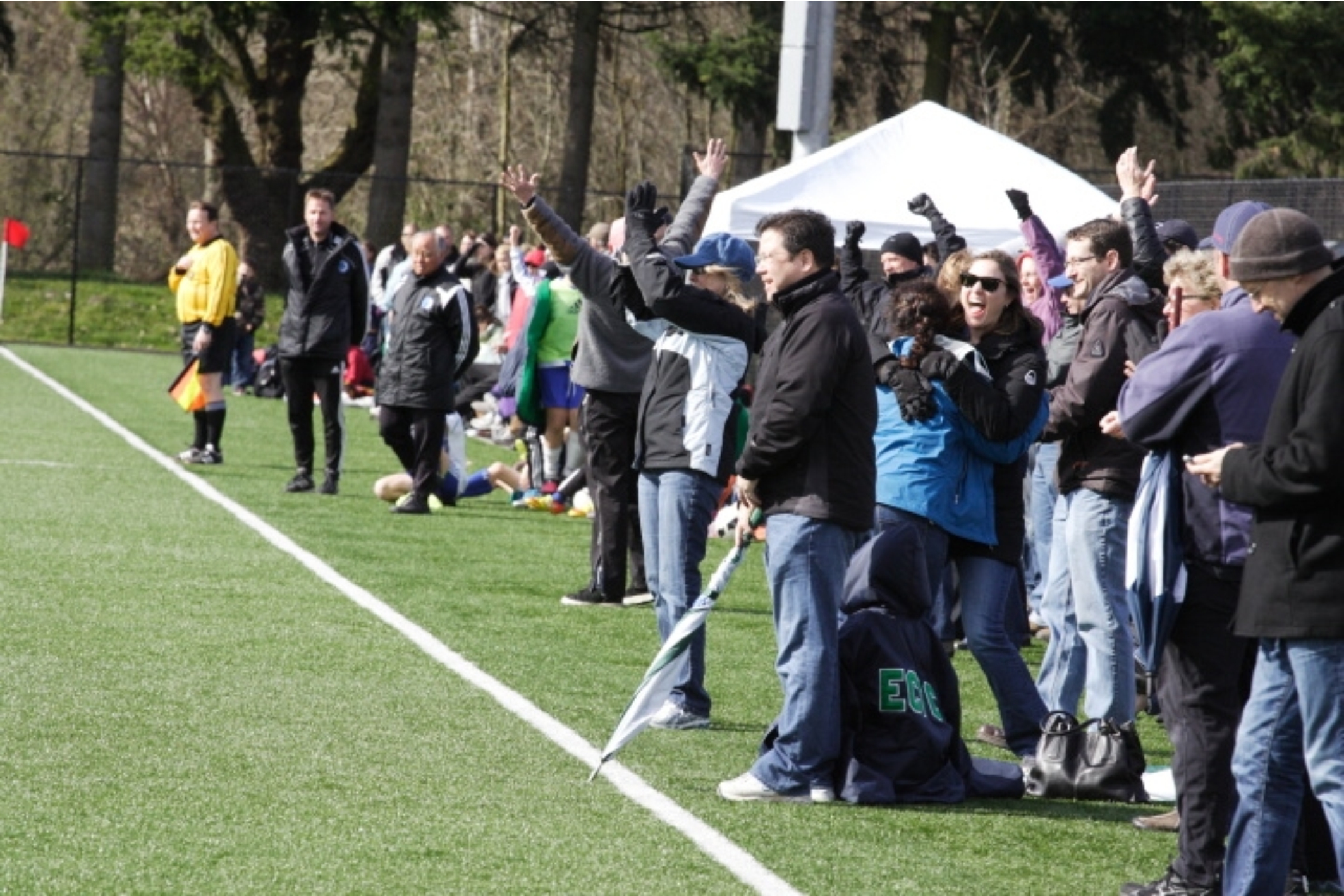 F99 parents after a score at WA Cup!
Calendar – Looking Ahead
April 9 to 20

Open Training – have interested players register on Korrio; invite friends to practice

April 13 and 20

Friday Play Days for U8 and up – held at Ingraham, 5:30 to 7:00
Bring friends

April 22nd

U18 Formation Meeting – 5:00 to 5:45
College Night – 5:45 to 7:00
Both of these will be held at Mirabella, 116 Fairview Ave N., downtown
April 27th to 29th

Washington Cup

April 30th and May 1st

U11 and U12 Tryouts – see emeralcityfc.org for times and locations

May 6th

Awards Event – watch for more details on this

May 7th

U11 and U12 Formation Meeting

May 8th and 9th

U13, U14 and U15 Tryouts – see emeralcityfc.org for times and locations

May 13th

Board Meeting – 7:00 to 9:00 at Arena Sports

May 14th

U13, U14 and U15 Formation Meeting

May 15th and 16th

U16 to U18 girls tryouts – see emeraldcityfc.org for times and locations

May 21st

U16 to U18 girls Formation Meeting

May 21st and 22nd

Start of U9 and U10 Tournament Team – registration open soon

June 2nd

Poker Night Fundraising Event

June 6th

Board nominations due – for board of directors as well as player reps

June 8th to 12th

Board Elections – you will receive an e-mail ballot

June 17th
Board Meeting and Annual General Meeting – 7:00 to 9:00 at Arena
Announce board members

June 25 to 28

Day Camp – registration will be open soon

July 16 to 19

Day Camp – registration will be open soon

August 12th to 18th

Misty Acres Residence Camp for Members U13 and up – registration will be open in May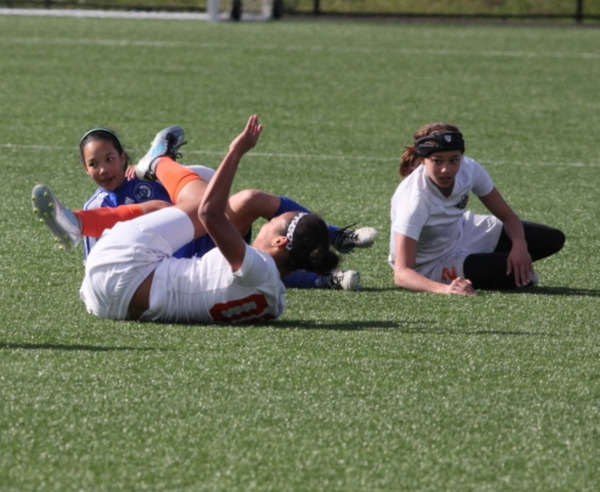 It took two of them to take her down, and she's still smiling.

Emerald City Football Club Board of Directors
President – Jim Lyle – president@emeraldcityfc.org
Executive Vice President – Steve Tanaka – execvp@emeraldcityfc.org
VP Membership – Jame' Vajda – vajdas@comcast.net
Secretary – Jody Bauder – secretary@emeraldcityfc.org
Treasurer – Wolf Latsch – treasurer@emeraldcityfc.org
Member at Large – Club Operations – Dan Barsher – the barshers@yahoo.com
Member at Large – Team Operations – Michael Donegan – mtdonegan@hotmail.com

Director of Coaching
Erik Oman – coacheo@gmail.com

Assistant Coaching Director
Matthew Olson – mattygk1@yahoo.com

Coaching Reps
Scott Smith – U11 to U14 – ecfcf98@emeraldcityfc.org
Jesse Winship-Freyer – U15 to U19 – imagethinks@yahoo.com

Player Reps
Taylan Tural, girls rep - tay.rocks21@gmail.com
Connor Cech, boys rep – bcech@cechsystems.com
Emerald City FC exists to develop each of our players to his or her fullest potential, competing at the highest possible level while demonstrating exemplary teamwork, sportsmanship, and a passion for the game.

emeraldcityfc.org
---
---
Emerald City
Po Box 85505
Seattle, Washington 98145
US


Read the VerticalResponse marketing policy.