Happy New Year!
Registration is open for the
14th annual Ride for Missing Children
Friday, May 16, 2014.

TEAMS
Riding with a group? Register as a team and join our fundraising competition! Top Team will win a great prize from NCMEC!
CAPTAINS
A Captain must go to our registration page and create a team

Once the captain has created the team name and has registered, they must notify each member of their team to come into Active and register as a part of their team.
MEMBERS
Each member who is notified that their team has been created can then come into the main registration page and select their team from the drop down menu and complete their registration.
---
Why Ride?
"We ride to raise awareness for the injustices that are committed against our children. We ride as a community and as a family to make a difference. We ride to enjoy the camaraderie of friends new and old. We ride no matter how hot, how cold, how rainy, snowy, hilly or flat - we ride together as a family. We learn quickly that no matter how hard it is for us physically, we persevere for those families among us that have suffered from not knowing where their children are. We ride for those families who need us and who gain strength from us. We ride to raise awareness and show support for those families whose children are or have been in harm's way. We become an extension of their families, and along the way, they become an extension of ours."

---
NEW Venue
We are currently working on an east side Ride Route from Total Sports Experience in East Rochester (435 West Commercial Street). This will enable us to reach many more schools on the east side. More information on the Route and Schools Stops coming soon!

---
Rider Pledge $300
($250 if you recruit a new rider, $50 reciprocal rider).
Register now and start your fundraising early! It's easy on
Active.com.
Training Rides (Orientation/Safety)

Orientation rides will begin in April. New Riders are required to participate in at least 2 of these rides. The purpose of these rides is to learn how to ride safely in a group. Endurance training should be done on your own as well.

Volunteer to help!
Contact Martha Tuke at
mtuke@ncmec.org
.
---
Facebook
The Ride has a Fan Page:
---
For more information on our Ride for Missing Children, please contact Kathy Aspenleiter at
kaspenleiter@ncmec.org
or 585-242-0900 ext. 3328.
---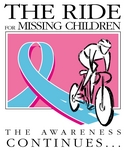 ---
Registration begins at 6:45am
Riders depart at 8:00am
Riders stop at 5-6 schools for rest stop, refreshments and educational programs with children

Riders return to TSE at 5:45pm
6:00pm Closing Ceremony/Dinner

2014 Sponsors
We appreciate your support!


I
n Kind Sponsors
---
How can you help the Ride?
Do you know a business that would be willing to donate any service/goods for the

Ride

?
Is there a business that you know that might want to become a sponsor of the

Ride

and advertise their business?
Do you w

a

nt to become more involved with the

Ride

? Join the planning committee!
---
NCMEC/NY's mission

is to help prevent child abduction and sexual exploitation; help find missing children; and assist victims of abduction and sexual exploitations, their families, and the professionals who serve them.
Did you know?
Every day in the US, 2,200 children are reported missing.

Approximately 3,300 children are reported missing annually in Western New York.

1 in 7 children ages 10-17 are sexually solicited online.

1 in 5 girls and 1 in 10 boys will be sexually victimized before age 18.

NCMEC's recovery rate is 96.8%, up from 62% in 1990.
---
2014 Ride Dates
Mohawk Valley - May 16
Buffalo - May 30
30th Anniversary -
Aug. 10-12
Capital District - Sept. 19
Syracuse - Sept. 26

---

275 Lake Avenue
Rochester, NY 14608
(585)242-0900
www.missingkids.com