Up, up and away! A great spring hike at Lutsen
It's Memorial Day weekend, the unofficial start of summer! The resorts have dusted off their Adirondack chairs and trail crews have cleared away winter's fallen trees.
LUTSEN GONDOLA HIKE ON MOOSE MOUNTAIN
Free trail guide download for Best North Shore readers
The Lutsen Gondola Hike combines adventure, scenery and a certain European flair. Trail highlights include great viewpoints, extensive maple forests full of spring flowers, the roaring Poplar River, and a fun, rugged ramble along the cliff edge of Moose Mountain. Plus, it's on the Superior Hiking Trail, so the route is well-marked and well-maintained. Why not get out and enjoy Moose Mountain this weekend?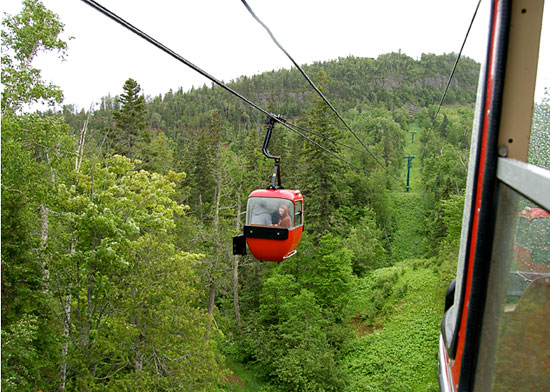 Hike summary.
The 4.2 mile hike starts with an exciting ride on Lutsen's Mountain Tram to the crest of Moose Mountain (pictured above). The tram runs Saturday, Sunday, and Monday this Memorial Day weekend. Tickets to the top are $11.50 for adults, $7.50 for children ages 7-12 and $9.50 for senior 65 and up. The tram begins running at 10am.

At the top of Moose Mountain, stop in the Summit Chalet for the best Lake Superior views of the day, and to enjoy a hot or cold beverage before hitting the trail. A complete guide to this trail is included in the sample chapter download below from
Hiking the North Shore, by Andrew Slade.
Download the trail guide to the Lutsen Gondola Hike in PDF format (it'll print perfectly to your 8.5 x 11" paper). If you have trouble downloading, email me and I'll send the file directly to you.

Learn more about Hiking the North Shore: 50 fabulous day hikes in Minnesota's Lake Superior region.
---
Follow me on Twitter!
For up-to-the minute North Shore news and conditions, follow me @BestNorthShore.
More trail tips on my blog!
Read a review on the best new hiking shoes for your North Shore treks from our friends at UpNorthica.
There and Back Books | Publishers of great guidebooks | Read. Go. Discover. | 218-727-3383