ENACT is excited to announce that we have begun programming through our comprehensive long-term Dropout Prevention Program for the eighth year in a row. We are especially excited to bring our program to a brand new partner, thanks to additional support from the City Council. Dropout Prevention Programs are well underway in 3 schools for the 2014-2015 school year including:

Academy for Personal Leadership & Excellence/M.S. 363, Bronx

Khalil Gibran International Academy, Brooklyn

The Urban Assembly Institute for New Technologies, Harlem

Since 2007, ENACT has served between three and five schools each year with a comprehensive program that combines the ENACT drama-based method for a targeted cohort of students with full-time on-site staff, trained to intervene in the most serious circumstances. These staff members are embedded into the school community by participating on leadership and behavior intervention teams at each site, providing professional development to classroom teachers, and reaching out to parents regularly.

Many thanks to the NYC Council for funding these programs through its Dropout Prevention and Intervention Initiative and to the NYC Department of Education for its ongoing partnership. Back to Top

---

Perspectives from an ENACT Social Worker
Kitcheal Prince, LMSW

I have been working as a Social Worker with ENACT for approximately 3 years. I'm currently the Site Director for the Dropout Prevention Program at The Urban Assembly Institute for New Technologies Middle School in Harlem. When I started out at ENACT, I was the Site Director at The High School for Legal Studies, located in Brooklyn.

One of the main reasons I became a Social Worker is to offer support for at-risk youth in an educational setting, and to provide an outlet to help them overcome, or work on overcoming, obstacles that prevent them from being successful. Since I've been working with the same population for several years, and with the work ENACT does, I've seen students participate in Drama Therapy, where they get to practice some of the strategies or skills we work on individually.

Working in a High School, and now a Middle School, I see students experiencing many different issues that can prevent them from being focused in school. Challenges that both age groups share include peer pressure, low self- esteem/ low self-confidence, academic pressure due to state exams, lack of motivation, and low parental engagement, which can be a result of living in single-parent homes or living with working parents. Although both schools encounter some of the same problems, there are challenges that are dominant in one setting that may be a minor issue in the other. For instance, while working in the high school some of the main challenges were teen pregnancy, drug use, and balancing school with other work. Now working in a middle school, many students are dealing with bullying and lack of self-management.

ENACT helps address these concerns by providing a safe space for students. Students are able to work in groups, where they can see that some of their peers also experience the same the challenges they do. In addition, students work individually with a Social Worker, to focus on setting specific goals and strategies for overcoming those obstacles. One unique aspect of the group work at ENACT is the opportunity for students to see the teaching artists create scenes on different issues they might be able to relate to, without feeling like they are the focal point of the scene. Students then have the opportunity to work one on one with me, as the Social Worker, to discuss any emotional connection based on the scene work, or to discuss overall challenges they experience as students, that prevent them from attending school or passing their classes.

While working at the High school for Legal studies, there was a student who started out the school year with a 10th grade official class even though it was her 4th year in the school. In the beginning of the school year, she was very unhappy to know that she may not graduate with her friends. We met early in the year to review her transcript and discuss steps she could take to assure she graduated by August. She was very committed to graduating as soon as possible, so she met with her guidance counselor to request additional classes after school, on Saturdays, and even during her lunch period. Throughout the year, this student met with ENACT to set goals and create strategies for achieving them. Although she experienced setbacks in some classes at times, she remained focused on achieving her goal of graduating by August. At the end of the school year, with the support of ENACT staff and an elective credit from the ENACT after school program, she was able to accumulate enough class credits, and passed all of her regents exams to graduate in June with her classmates. Experiences like this make me aware that although some efforts may take years, with continual support and encouragement, we can help students understand what they are capable of achieving. Back to Top

---

ENACT Founder and President, Diana Feldman, recently had the honor of guest lecturing for Drama Therapy students at NYU.

Diana reports: "What a joy it was to teach an ENACT Method training at my old alma mater, the NYU Drama Therapy program. We did scenes about the stresses of being a graduate student in New York City. Students in the program were from all over the world and will be going back to countries like Israel and India to build their own Drama Therapy programs. I answered lots of questions about Drama Therapy in the schools and got to reflect on my own 25 year journey! "

Dr. Robert Landy, renowned professor of Educational Theatre and Applied Psychology and Director of the Drama Therapy Program at NYU was also pleased. Following the lecture, Dr. Landy stated: "Thank you so much for a wonderful class. You gave us all so much substance and a way into the complicated marriage of education and therapy. I loved working on a piece… Our class discussion following your presentation was very good and gave me a chance to clarify my thoughts on exposing too much too soon."

In addition to her guest lecturing engagement, Diana recently presented at Move This World's 5th Annual Global Summit, and at the Annual Conference on Advancing School Mental Health, hosted by University of Maryland. This month she will also present at the 2014 North American Drama Therapy Association's Annual Conference and the Expressive Therapies Summit. Back to Top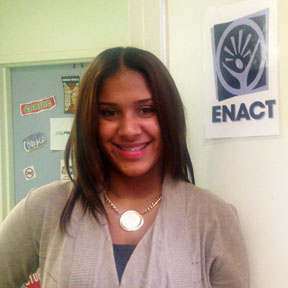 Name: Yermarin

Age: 14

School: MS 363

Grade: 8th

Amount of Time in ENACT program: 3 years.

What do you like most about ENACT? We learn how to communicate and be respectful to others.

What is fun for you about ENACT? We act, play games, and have fun.

Do you think ENACT has changed anything about you? Before I feared acting in front of people. Now I feel confident.

How? Letting me replay the acting scenes helps me feel like I can do anything.

Have your grades improved? Yes.

Why do you want ENACT in your school? Because I like what they do with helping us be better people, and learn things about life.

Have the ENACT staff helped you in any way? Yes, if I need someone to talk to they are always there. They help me to be helpful to others.

Has ENACT changed the way you think about situations at home or in school at all? They help me when I get mad to relax so that I don't react in a bad way. I do this in school big time and at home.
Back to Top
---
Welcome Aboard

This month, we are proud to welcome Patricia Schaefer to ENACT. Patricia will work with the team to develop and execute a new fundraising and branding strategy for the organization, which will include an outreach campaign to individual donors and volunteer leadership.

Ms. Schaefer brings to ENACT extensive experience in development and philanthropy, having worked most recently with the Cooke Center for Learning and Development, CCS Fundraising, the Rauch Foundation and other private foundations. We are grateful to have Patti on the team.
Back to Top
---
Save the Date for #Giving Tuesday: December 2nd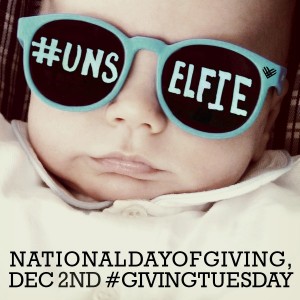 After you've stuffed your belly with Thanksgiving treats, then filled your shopping cart with goodies on Black Friday/Cyber Monday, don't forget to give to your favorite charity on Giving Tuesday (hint hint: we hope it's ENACT!)
.
For more information about the national day of giving, check out their website at givingtuesday.org. Or check them out on social media by following #givingtuesday.
Back to Top
---
Special Thanks to the following funders and partners for their generous support in the last fiscal year:

The American Eagle Outfitters Foundation
The Assurant Foundation
BJ's Charitable Foundation
BTMU Foundation, Inc.
Colgate-Palmolive Company
Countess Moira Charitable Foundation
The Marion E. Kenworthy-Sarah H. Swift Foundation
Laura B. Vogler Foundation
MCJ-Amelior Foundation
Metzger-Price Fund, Inc.
The Morrison & Foerster Foundation
The Pinkerton Foundation
Sexauer Foundation
Seth Sprague Educational & Charitable Foundation
The NYC Department of Education
The New York City Council
The United Way of New York City
NYS Assembly Member Rosenthal
Former NYC Council Speaker Quinn
NYC Council Member Chin
NYC Council Member Levin
NYC Council Member Rivera
NYC Council Member Rodriguez
NYC Council Member Rosenthal
Friends of ENACT
Back to Top