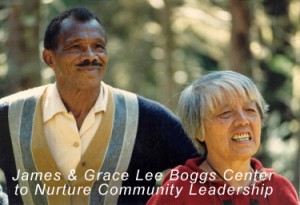 Our Mission is to nurture the transformational leadership capacities of individuals and organizations committed to creating productive, sustainable, ecologically responsible, and just communities. Through local, national and international networks of activists, artists and intellectuals, we foster new ways of living, thinking and being to face the challenges of the 21st century.


---
---
Dear Friends,
The Boggs Center, a 501 (c)(3), is asking for your donation as we near the end of a year that we believe marks a turning point in our struggle for a more
just, sustainable and joyful future.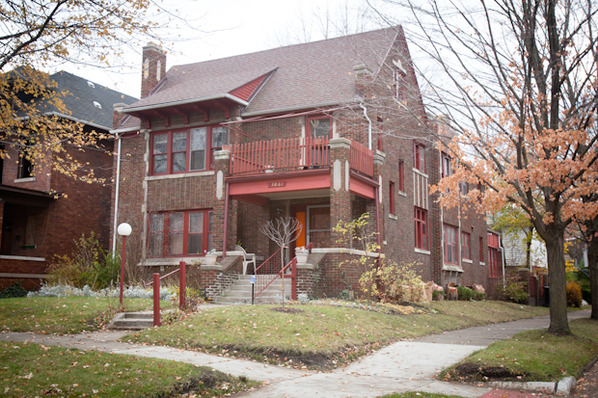 The new year will bring renewed efforts by us to develop visible, tangible expressions of our ideas. We have purchased property next to the Boggs Center to develop a Center for New Work and Culture. Working with a broad base of community organizations, religious institutions, artists and activists we believe Detroit is in the forefront of developing new ways of living.
Please support our efforts with a generous, tax-deductible donation. Here's
a message from Danny

Glover
about the importance of your support.

Make checks payable to:

Boggs Center
3061 Field St.
Detroit, MI
48214

or donate via paypal by clicking on the YELLOW DONATE button at Boggs Center.org
Thanks,
Grace, Rich,
Shea
, Ron, Kim, Scott, Steve, Larry, Shari, Barbara for the
Boggs Center

Living for Change

Disasters Can Be Liberating

By Grace Lee Boggs

As the climate crisis worsens, and more people and places in the world are devastated by hurricanes, droughts and other weather catastrophes, we need more discussion on the role that disaster can play in bringing about social transformation.

Many progressives have accepted Naomi Klein's

Shock Doctrine

narrative that disasters provide opportunities for right wing forces to take over ("disaster capitalism"). But it has been rejected as "disempowering" by anti-nuke activist and writer Rebecca Solnit in her fascinating book

A Paradise Built in Hell: The Extraordinary Communities that Arise in Disaster.

Solnit believes that disasters provide the opportunity for people to grow spiritually.

"Although disasters are terrible, tragic, grievous and not to be desired, they provide an extraordinary window into social desire and possibility and what manifests there matters elsewhere in ordinary times and in other extraordinary times."

In other words, disasters provide opportunities for Visionary Organizing.


Thinking for Ourselves

A Different Vision

By Shea Howell

This is a sacred time shrouded in sadness. This is usually a season to celebrate family ties and wishes for peace. But the holiday season was disrupted by the senseless massacre of 27 people. Twenty of them were small children.

President Obama mirrored the grief of the nation at these killings. At his press conference, the President identified as a parent, recognizing the painful loss that families face with the death of a child. Later, at a service in Newtown Connecticut he spoke movingly, offering consolation to the community.

"No single law, no set of laws can eliminate evil from the world or prevent every senseless act of violence in our society," he said. He added, "In the coming weeks I'll use whatever power this office holds" in an effort "aimed at preventing more tragedies like this."

"Because what choice do we have?" We can't accept events like this as routine. Are we really prepared to say that we're powerless in the face of such carnage? That the politics are too hard? Are we prepared to say that such violence visited on our children year after year after year is somehow the price of our freedom?"



It has been a long time since such public questions have been raised. Yet there is little sign that we as a people are willing to seriously pursue them. We fall quickly into the predictable debates of gun control laws, questions of motive and parenting, of mental illness and disturbed individuals.

But there is a deeper level of violence we continue to ignore.



---

---

Detroit Arcadia

Exploring the post-American landscape




"Nobody wants to live through a depression, and it is unfair, or at least deeply ironic, that black people in Detroit are being forced to undertake an experiment in utopian post-urbanism that appears to be uncomfortably similar to the sharecropping past their parents and grandparents sought to escape. There is no moral reason why they should do and be better than the rest of us—but there is a practical one. They have to. Detroit is where change is most urgent and therefore most viable. The rest of us will get there later, when necessity drives us too, and by that time Detroit may be the shining example we can look to, the post-industrial green city that was once the steel-gray capital of Fordist manufacturing."




---


North Dakota Study Group Annual Meeting 2013


"Reimagining Education: Learning with/in Detroit"


February 14 - 17, 2013



Roberts Riverwalk Hotel & Residence Detroit, Michigan




| | |
| --- | --- |
| | Boggs Center - 3061 Field St., Detroit, MI, 48214 - boggscenter@boggscenter.org |