Dear Friends,
You have been subscribed to receive periodic emails and other important updates from Monterey County Supervisor Jane Parker. If you like what you see, click here to forward this message to a friend. If you'd prefer not to receive future emails, you may unsubscribe using the link at the bottom.
---
Parker Begins Her Second Term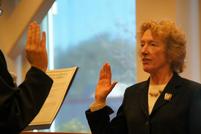 On January 8, 2013, Jane Parker was sworn in to her second term on the Monterey County Board of Supervisors.
The Honorable Justice Adrianne Grover commended Jane, saying that she had rarely seen someone so committed to good government, to taking her responsibility so seriously, and to transparent delivery of government services.
Supervisor Parker thanked the voters for their confidence in electing her to continue working on their behalf to make Monterey County government an institution worthy of our world-class status.
Jane will continue hosting public
Hot Topics
agenda review meetings on the 2nd, 3rd, and 4th Monday before Board of Supervisor Meetings at locations rotating between Seaside, Marina, and Salinas. The first Hot Topics meeting of 2013 will be held tonight. (Monday, Jan 14 from 5:30-6:30pm at Me-n-Ed's Pizza in Seaside)
---
Health Care Reform Planning Meetings
Up to 24% of District 4 residents will gain access to Medi-Cal or private insurance subsidies in 2014. In preparation for the implementation of federal health care reform, the County has commissioned a Safety Net Provider Study to assess the capacity of the safety net provider network to serve up to 60,000 County residents who were previously uninsured.
It is very important that residents who utilize the Health Care Safety Net System – and those who are currently without health insurance -- attend one of these meetings to share their experiences and concerns.
This is your chance to participate in the expansion planning process
.
The District 4 meeting will be held this Tuesday:
Tuesday, January 15
6pm - 8pm
Oldemeyer Center, 986 Hilby, Seaside
These meetings will be facilitated by researchers from the Institute for Community Collaborative Studies at CSU Monterey Bay and feedback gathered will be included in a Safety Net Assessment Report that will support the implementation of federal Health Care Reform - and the expansion of safety-net health care servi
ces - in Monterey County.

Public meetings will be held throughout the County as follows:
NORTH COUNTY - Castroville Library - Mon Jan 14 from 6pm - 8pm
PENINSULA - Oldemeyer Center - Tues Jan 15 from 6pm-8pm
SALINAS - Health Dept - Wed Jan 16 from 6pm - 8pm
BIG SUR - Big Sur Grange Hall - Mon Jan 21 from 6pm-8pm
KING CITY -St.John Baptist Church - Thur Jan 24 from 6pm-8pm
Phase I of the report is available on the Monterey County Health Department's website:
---
Implementing Health Care Reform in Monterey County
This Tuesday, January 15 at 10:30am, the Board of Supervisors will receive presentations about efforts underway to implement federal health care reform here in Monterey County.
The Health Department, Natividad Medical Center, and Department of Social Services will present information about ViaCare, Monterey Access Point, and other work being done to in preparation for the implementation of the Affordable Care Act in January 2014.
ViaCare is the name for Monterey County's Low Income Health Program (LIHP). The LIHP is one aspect of California's Bridge to Reform 1115 Medicaid Demonstration Waiver intended to provide a comprehensive health plan to low income uninsured adults. Individuals enrolled in an LIHP will transition to medi-cal in 2014. As proposed, ViaCare would enroll up to 300 Monterey County residents.
Monterey Access Point (MAP) is a program still in concept development that would simplify the process for uninsured residents to access health care services at County Clinics and Natividad Medical Center.
Staff will also provide an oral summary of preparation efforts underway to implement the Affordable Care Act and transition the approximate 20,000 Medicaid eligible residents and 40,000 Health Insurance Exchange eligible residents to health care coverage through managed care insurance products available January 1, 2014.
Discussion will focus on:
Development of seamless systems of care across all County of Monterey provided inpatient and outpatient healthcare service providers

Accept multiple new payment structures such as bundled payments, capitation, block grants, and fee for service

Planning of outreach and enrollment efforts

Establishment of eligibility and determination process

Establishment of Primary Care Medical Homes

Assessment of Provider Capacity

Development of Electronic Health Record
Read the full staff report submitted for consideration:
http://monterey.legistar.com/LegislationDetail.aspx?ID=1270105&GUID=9F0D97B5-2CB4-4612-852A-C192598F2AEB
Watch the presentation via live web streaming at:
---
State and Local Budget Community Coffee
You are invited to join State Senator Anthony Cannella, Monterey County Supervisor Jane Parker, Salinas Mayor Joe Gunter & Salinas City Councilman Steve McShane for an energizing discussion about both State and Local Budgets. Attention will be given to public safety, Economic Development & Education. Bring your questions and ideas on improving our local quality of life.
Friday January 25
8am - 9am
Villa Serra, 1320 Padre Drive, Salinas
---
Homelessness Community Meeting
Following on the heals of a well attended December Community Meeting addressing homelessness, the Oldtown Salinas Association and Salinas City Councilman Steve McShane have organized a follow up Community Meeting in the City Hall Rotunda. This meeting will continue to focus on issues associated with the Downtown Business District. Guests can expect the opportunity to revisit the issue and focus on solutions. The Oldtown Salinas Association has formed a Homelessness Committee that folks are encouraged to join. You can find out more by calling (831) 758-0725.
Thursday, January 17, 2013
5:30pm - 7:00pm
Salinas City Hall Rotunda, 200 Lincoln Ave, Salinas
---

Supervisor Jane Parker
Main Coastal Office
2616 1st Avenue
Marina CA 93933

Phone
(831) 883-7570
---
Supervisor Parker Seeks Appointees
Supervisor Parker is looking for interested persons to serve on the following commissions:

In-Home Supportive Services Advisory Council
If you are interested in a position on either commission, please send a letter of interest and resume to jane.parker@
co.monterey.ca.us
---
FACEBOOK
Join Jane on Facebook for up to the minute updates about Jane's work on the Board of Supervisors, pictures of Jane in action, and invitations to Jane's events. You can find and add her as your friend by following the link below.

---
The Mission of Monterey County is to excel at providing quality services for the benefit of all Monterey County residents while developing, maintaining, and enhancing the resources of the region.
Information about the County Strategic Plan Initiatives is posted online.
---
Hot Drinks and Hot Topics
Each week before a Board of Supervisors Meeting, Jane hosts a public meeting to review the upcoming Board agenda and listen to the thoughts and priorities of residents who attended. Meeting rotate between Seaside (2nd Monday), Marina (3rd Monday), and Salinas (4th Monday) from 5:30pm - 6:30pm.
Seaside: Me 'n Ed's Pizza, 800 Broadway
Marina:
Mountain Mike's Pizza, 266 Reservation Road
Salinas:
Portobello's,
1366 South Main St
Schedule for 2013
5:30pm - 6:30pm
JAN 14 - Seaside
JAN 21 - No Meeting
JAN 28 - Salinas
FEB 11 - Seaside
FEB 18 - No Meeting
FEB 25 - Salinas
MARCH 11 - Seaside
MARCH 18 - Marina
MARCH 25 - Salinas
APRIL 8 - Seaside
APRIL 15 - Marina
APRIL 22 - Salinas
May 13 - Seaside
MAY 20 - Marina
MAY 27 - No Meeting
June 10 - Seaside
JUNE 17 - Marina
JUNE 24 - Salinas
JULY 8 - Seaside
JULY 15 - Marina
JULY 22 - No Meeting
AUG 12 - No Meeting
AUG 19 - No Meeting
AUG 26 - Salinas
SEPT 9 - Seaside
SEPT 16 - Marina
SEPT 23 - Salinas
OCT 14 - Seaside
OCT 21 - Marina
OCT 28 - No Meeting
NOV 11 - No Meeting
NOV 18 - No Meting
NOV 25 - Salinas
DEC 9 - Seaside
DEC 16 - Marina
DEC 24 - No Meeting
---