Dear Friends,
You have been subscribed to receive periodic emails and other important updates from Monterey County Supervisor Jane Parker. If you like what you see, use the Forward to a Friend feature at the bottom of the email to share this with others who may be interested. If you'd prefer not to receive future emails, you may unsubscribe using the link at the bottom.
THE BOARD TACKLES THE GENERAL PLAN
The Board of Supervisors is in the midst of conducting public hearings on the General Plan. After two days of hearing, during which controversial subjects such as cultivation on steep slopes and water supply were debated at length, there will be a third day of hearing on September 28, 2010. Supervisor Parker has fought hard for a fair hearing process and sound policies to protect Monterey's natural resources. Please attend and express your views. Check the County website at www.co.monterey.ca.us or call Supervisor Parker's website on Friday to find out whether the General Plan is scheduled for the morning or afternoon session of the Board meeting.
COASTAL CLEAN UP EVENT THIS SATURDAY

Supervisor Jane Parker is pleased to announce that she will join with thousands of other Monterey County residents to support California Coastal Cleanup Day on Saturday, September 25th.

Everyone is invited to join Jane on Saturday from 9am - 12pm at the Marina Dunes State Beach.

California Coastal Cleanup is an international event with over 100 countries participating in cleanup efforts on a single day. In 2009, more than 80,600 volunteers worked together to collect more than 1,300,000 pounds of trash and recyclables from our beaches, lakes, and waterways.

"The Coastal Cleanup is about so much more to me than picking up trash. It reminds and inspires me to change the way I interact with our environment: To remember to bring a reusable bag to the grocery store or to bike instead of drive. This event is also about community, about coming together as neighbors to enjoy a morning together on our beautiful coastline," says Jane Parker.

For more information,
visit www.saveourshores.org or www.janeparker.org.
SEASIDE UNVEILS OBAMA WAY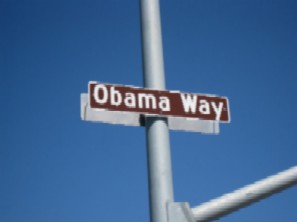 Supervisor Parker was honored to celebrate the unveiling of Obama Way signs alongside Broadway Avenue in Seaside on September 15th. The dedication of Obama Way is significant both in celebrating the election of our first African American President as well as celebrating the power of grassroots organizing that has been demonstrated by the residents of Seaside. The Seaside community worked hard to mobilize and engage voters in the 2008 presidential race and have continued to show extraordinary leadership on issues of significance.
HOT DRINKS AND HOT TOPICS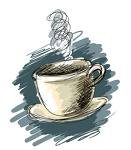 Jane is pleased to announce that Doug Smith, Professor at CSU Monterey Bay and Member of the Water Resource Agency Board, will be joining her as a special guest on September 27th at Hot Drinks and Hot Topics. Her October guests include Supervisor Lou Calcagno, Second District County Supervisor, on October 4th and Salinas Mayor Dennis Donohue on October 25th.

Supervisor Jane Parker hosts a HOT DRINKS AND HOT TOPICS every Monday evening before a Board of Supervisors meeting. In addition to reviewing interesting items from the Board agenda, she will chat about local issues, discuss your concerns, and listen to your ideas and suggestions. This regular meeting is held at The Cherry Bean Coffeehouse at 332 Main Street in Oldtown Salinas on Monday's from 5:30pm – 6:30pm.

WHERE: The Cherry Bean Coffeehouse at 332 Main Street in Salinas
WHEN: Monday prior to Board meetings from 5:30pm - 6:30pm
Upcoming Dates include: September 27, October 4, 11, 18, and 25, November 1, 8, and 29, and December 6, and 13

There will be NO agenda review on November 16 or 23, or December 20 or 27 (since there is no Board meeting the following Tuesday.)
COMMUNITY MEETING on the IMPLEMENTATION OF HEALTHCARE REFORM IN CALIFORNIA

Supervisor Jane Parker and Assemblymember Bill Monning are inviting Monterey County residents to learn more about the implementation of healthcare reform in California and share their thoughts and ideas at a Community Meeting on Sunday, October 24th.

With an uninsured rate of over 25%, Monterey County will benefit significantly from the implementation of healthcare reform. In 2014 over 23,000 County residents will become eligible for Medi-Cal and an additional 44,000 County residents will have access to subsidized coverage thru the new health insurance exchange. Supervisor Parker and Assemblymember Monning share a strong commitment to improving access to quality health care for all residents of our community and as elected representatives, Jane and Bill rely on community meetings like this one to solicit input from the people they represent.

The speakers pannel at this Community Meeting will include:
* Supervisor Jane Parker is the Chair of the Central California Alliance for Health and a member of the Board of Supervisors Health and Human Services Committee.
* Assemblymember Bill Monning is the Chair of the State Assembly Health Committee which has responsibility for leading the implementation of federal Health Care Reform in California.
* Raymond Bullick is the newly appointed Director of the Montery County Health Department.

WHAT: Community Meeting on the Implementation of Healthcare Reform in California

WHEN: Sunday, October 24th from 3pm – 5pm

WHERE: Marina Library Meeting Room, 190 Seaside Circle, Marina CA 93933

Please RSVP to Jane.Parker@co.monterey.ca.us or 883-7570.

Community Meeting on the Implementation of Health Care Reform in California
JOIN JANE ON FACEBOOK

Join Jane on Facebook for up to the minute updates about Jane's work on the Board of Supervisors, pictures of Jane in action, and invitations to Jane's events. You can find and add her as your friend by following the link below.

* * * * *
Supervisor Jane Parker welcomes direct communication with county residents. Please contact her office to share your thoughts and ideas about issues facing Monterey County.

Thank you for your interest in County Government. Working together, we can accomplish great things for our community.

Supervisor Jane Parker

Kristi Markey, Chief of Staff - markeyka@co.monterey.ca.us
Wendy Askew, Board Aide - askewwr@co.monterey.ca.us
Lori Chappell, Office Manager - chappellla@co.monterey.ca.us

Phone: (831) 883-7570
Fax: (831) 384-1839
Jane.Parker@co.monterey.ca.us
www.janeparker.org