Dear Friends,
You have been subscribed to receive periodic emails and other important updates from Monterey County Supervisor Jane Parker. If you like what you see, use the ''Forward to a Friend'' feature at the bottom of the email to share this with others who may be interested. If you''d prefer not to receive future emails, you may unsubscribe using the link at the bottom.
---

NEW LOCATION for HOT TOPICS MEETINGS
Each week before a Board of Supervisors Meeting, Jane hosts a public meeting to review the upcoming Board agenda and listen to the thoughts and priorities of residents who attended.

What: Hot Topics with Supervisor Jane Parker

New Location: Me-n-Ed's Pizza, 880 Broadway, Seaside
When: 5:30 pm – 6:30 pm on Monday's prior to weekly Board of Supervisor Meetings.
Upcoming dates in 2011 include:
February 14 and 28;
March 14, 21, and 28;
April 4, 11, and 25;
May 2, 16, and 23

Please note that there will be NO agenda review on February 7 or 21, March 7, April 18, or May 9 or 30 since there is no Board meeting the following Tuesday.
www.janeparker.org/wekkly-agenda-review
---

PUBLIC HEARING ON NEW SHOPPING CENTER
On March 29th, the Board of Supervisors are expected to conduct a public hearing on a proposed shopping center at Highway 68 and Corral de Tierra. The Planning Commission was deadlocked on whether to approve the proposed project, and it will be coming to the Board for a decision. Dozens of residents attended the Planning Commission hearing. Some opposed the project because of concerns about pumping water from overdrafted basins and traffic impacts on Highway 68. Others supported the project to provide neighborhood services.
The Board of Supervisors' hearing is tentatively scheduled for 1:30 p.m. on March 29th, at the Government Center, 168 West Alisal Street, Salinas. The public is invited to share their thoughts about this proposed project by either submitting written testimonty to the Board c/o cob@co.monterey.ca.us or by testifying during public comment at the hearing.
---

PARKER NOMINATES LUTHER HERT TO
PLANNING COMMISSION
Supervisor Parker is pleased to announce that she has nominated Luther Hert as her appointee to the Monterey County Planning Commission. "Mr. Hert is a long-term resident of Seaside with experience in government administration and an interest in land use policy as it affects the community. I am confident that he will thoughtfully consider the implications of the complex decisions that come before the Commission." In addition to his qualifications and interest, Mr. Hert's "professional, calm demeanor will contribute to a respectful exchange of diverse views on land use issues."
Mr. Hert's appointment will be on the appointment list for approval by the Board of Supervisors at the March 1, 2011 regular meeting.
---
AFRICAN AMERICAN HISTORY MONTH
Helen Rucker accepted on February 15th a resolution from the Monterey County Board of Supervisors proclaiming February 2011 as "African American History Month" in Monterey County.
A video of Mrs. Rucker's acceptance speech is posted online at: www.janeparker.org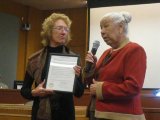 * * * * *
Supervisor Jane Parker welcomes direct communication with county residents. Please contact her office to share your thoughts and ideas about issues facing Monterey County.

Thank you for your interest in County Government. Working together, we can accomplish great things for our community.



Kristi Markey, Chief of Staff - markeyka@co.monterey.ca.us
Wendy Askew, Board Aide - askewwr@co.monterey.ca.us
Lori Chappell, Office Manager - chappellla@co.monterey.ca.us

Phone: (831) 883-7570
Fax: (831) 384-1839
Jane.Parker@co.monterey.ca.us
www.janeparker.org