Supervisor Jane Parker has been officially nominated for an appointment to the California Coastal Commission by the Monterey County City Select Committee and the Santa Cruz County Board of Supervisors. Details are posted online at www.janeparker.org/coastalcommission
Jane is honored to be considered for this important appointment and excited about this potential opportunity to uphold the Coastal Commission mission to protect, conserve, restore, and enhance California coastal resources.
Following the resignation of Commissioner Mark Stone, in anticipation of his election to the California State Assembly, Speaker John Perez issued a request for nominations of Central Coast Region candidates for his consideration. The California Coastal Act process for filling Commission vacancies requires the Board of Supervisors and City Select Committees in each county to nominate one or more supervisors and one or more city council members for consideration by the Speaker. The Central Coast Region includes Monterey, Santa Cruz, and San Mateo Counties.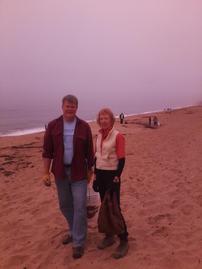 Mark Stone has endorsed Jane to fill his seat saying, As those who have worked with her will attest, Supervisor Parker clearly demonstrates a pragmatic understanding of how important it is to balance resource conservation with sustainable economic development, I have no doubt that this pragmatism, along with her passion and equanimity, will make her an extremely effective advocate for Californias 1,100 miles of magnificent coastline, and for the environmental and economic well-being of our coastal communities.
Although nominations may only be made by Boards of Supervisors and City Select Committees, individuals and organizations who care about the protection of the California Coast may also write to Speaker Perez to voice their support for nominated individuals. The Sierra Club, Oceana, Monterey Bay Central Labor Council, Resource Secretary John Laird, and Assemblymember Bill Monning are among the growing list of those who have submitted letters in support of Jane. A complete list of those who are endorsing Jane is posted online.
The Monterey County and San Mateo Board of Supervisors will be considering their nominations next Tuesday. The Santa Cruz County City Select Committee meets on October 17, and the San Mateo County City Select Committee on October 26 to make their nominations. All nominations and letters of support must be submitted to Speaker Perez no later than October 26.
Additional Information is availalbe online at:
www.coastal.ca.gov/ and www.janeparker.org/costalcommission.
All About the California Coastal Commission
The California Coastal Commission was established by voter initiative in 1972 (Proposition 20) and later made permanent by the Legislature through adoption of the California Coastal Act of 1976.
The mission of the Coastal Commission is to protect, conserve, restore, and enhance environmental and human-based resources of the California coast and ocean for environmentally sustainable and prudent use by current and future generations.
The Coastal Commission, in partnership with coastal cities and counties, plans and regulates the use of land and water in the coastal zone. Development activities, which are broadly defined by the Coastal Act to include (among others) construction of buildings, divisions of land, and activities that change the intensity of use of land or public access to coastal waters, generally require a coastal permit from either the Coastal Commission or the local government.
The Coastal Act includes specific policies that address issues such as shoreline public access and recreation, lower cost visitor accommodations, terrestrial and marine habitat protection, visual resources, landform alteration, agricultural lands, commercial fisheries, industrial uses, water quality, offshore oil and gas development, transportation, development design, power plants, ports, and public works.
The Commission is composed of twelve voting members, appointed equally (four each) by the Governor, the Senate Rules Committee, and the Speaker of the Assembly. Six of the voting commissioners are locally elected officials and six are appointed from the public at large. Three ex officio (non-voting) members represent the Resources Agency, the Business, Transportation and Housing Agency, and the State Lands Commission.
The coastal zone, which was specifically mapped by the Legislature, covers an area larger than the State of Rhode Island. On land the coastal zone varies in width from several hundred feet in highly urbanized areas up to five miles in certain rural areas, and offshore the coastal zone includes a three-mile-wide band of ocean. The coastal zone established by the Coastal Act does not include San Francisco Bay, where development is regulated by the Bay Conservation and Development Commission.
Under 1990 amendments to the federal Coastal Zone Management Act, the Commission and the The Commission carries out an extensive public education program that includes annual statewide coastal clean-up events, the "Adopt-A-Beach" program and the WHALE TAILSM license plate program. It also maintains a Coastal Resource Information Center.
Coastal Commission Meetings
The Commission holds monthly public meetings of three to five days in length in different locations throughout the state. Meetings are broadcast via live webcast from the Coastal Commission website.
If you missed it live on NPR, you can still listen to Professor Heckman's discussion on This American Life about the importance of non-cognitive skills.
Paul Tough discusses how non-cognitive skills- qualities like tenacity, resilience, impulse control- are being viewed as increasingly vital in education, and host Ira Glass speaks with economist James Heckman, who has been at the center of this research and this shift.
Doctor Nadine Burke Harris weighs in to discuss studies that show how poverty-related stress can affect brain development, and inhibit the development of non-cognitive skills. The show also features a teenager named Kewauna Lerma, who talks about her struggles with some of the skills discussed, like restraint and impulse control.
http://www.thisamericanlife.org/radio-archives/episode/474/back-to-school