Dear Friends,
You have been subscribed to receive periodic emails and other important updates from Monterey County Supervisor Jane Parker. If you like what you see, click here to forward this message to a friend. If you'd prefer not to receive future emails, you may unsubscribe using the link at the bottom.
---
Community Meeting on the County Budget
Supervisor Jane Parker and the Nonprofit Alliance of Monterey County are pleased to host Monterey County's Assistant County Administrative Officer and Budget Director Dewayne Woods for a free presentation and informal discussion about the 2014-2015 Recommended Budget. In addition to reviewing the recommended Budget, we will talk about the County Budget Process and how members of the Public can participate.
Formal Budget Hearings will be held starting June 9, 2014 at the Government Center, 168 W Alisal in Salinas.
WHAT: Community Meeting on the County of Monterey Recommended Budget for 2014-2015
WHEN: Monday June 2, 2014 from 4-6pm
WHERE: Oldemeyer Center, 986 Hilby Avenue, Seaside
Questions: 883-7570
---
Instigator of Excellence Scholarships Awarded to Nguyen and Fredrickson
Supervisor Jane Parker is pleased to announce that Michaela Fredrickson and Hoa Nguyen have been selected as recipients of the 2014 Jane Parker Instigator of Excellence Scholarship.
Created to recognize graduating seniors who are instigators of excellence in their community, the Jane Parker Instigator of Excellence Scholarship is open to all students who reside within the County of Monterey District 4 boundaries.
Hoa Nguyen is a resident of Marina, CA and graduating senior at Marina High School, planning to continue her education at UC Berkeley in pursuit of a degree in accounting. She is described as independent, determined, and a diligent student with a strong work ethic and intellectual curiosity. Hoa was presented with a ceremonial Proclamation at the May 22 Marina High School Awards Ceremony and will receive a $500 scholarship.
Michaela Fredrickson is a resident of Seaside, CA and graduating senior at Seaside High School, planning to continue her education at a four year University in the fall. She is described as having a winning combination of competence and compassion, a standout leader, and focused with the ability to blossom in difficulty. Michaela will be presented with a ceremonial Proclamation at the June 5 Seaside City Council meeting and will receive a $500 scholarship.
Additional information about these outstanding recipients as well as applications for the 2015 Jane Parker Instigator of Excellence Scholarship is posted online at www.janeparker.org/scholarship.
---
Early Childhood Development Initiative - Request for Engagement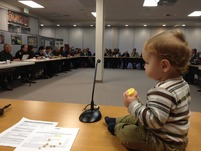 The next round of Early Childhood Development Initiative Regional (ECDI) Meetings have been announced as a Community Working Session focused on a Request for Engagement that will be released early June. The ECDI is working to improve the lives of our youngest citizens by mobilizing community efforts to improve 6 key indicators.
1) Increase the number of children reading proficiently at grade level in third grade. (Currently only 38% in Seaside.)
2) Increase the number of parents who read or show picture books to their children everyday. (Currently only 64% in Monterey County.)
3) Increase the number of children who are socially and emotionally ready for kindergarten. (Currently only 33% in Monterey County.)
4) Increase the number of licenses childcare slots. (Currently only 23% in Seaside.)
5) Increase the number of women (over the age of 25) who give birth with a high school diploma or above. (Currently only 69% in Marina.)
6) Increase the number of women who receive prenatal care in their first trimester. (Currently only 84% in Monterey/Del Rey Oaks.)
Cross-sector teams who apply to engage will receive technical assistance and capacity building support to develop action plan for organizing their community
Encourage the leaders and do-ers (which very well could be YOU) in your community to join us for this important meeting on Wednesday July 9th from 8:30am – 10:30am at General Stillwell Community Center, 4260 Gigling Road, Seaside, Ord Military Community.
A light breakfast, Spanish interpretation and some child care will be provided. Please RSVP so that we can ensure we have enough food, chairs and space for the meeting. Peninsula Registration.
You can find a flyer for distribution here: Moving Toward Action - Community Working Session.
---
Older Americans Month - Safe Today - Healthy Tomorrow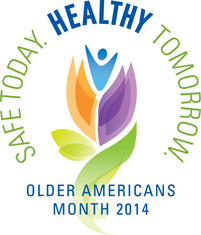 Older adults have made countless contributions and sacrifices to ensure a better life for future generations. Since 1963, communities across the country have shown their gratitude by celebrating Older Americans Month each May. This celebration recognizes older Americans for their contributions and demonstrates our nation's commitment to helping them stay healthy and active.
This year's theme for Older Americans Month is "Safe Today. Healthy Tomorrow." The theme focuses on injury prevention and safety to encourage older adults to protect themselves and remain active and independent for as long as possible.
Unintentional injuries to this population result in at least 6 million medically treated injuries and more than 30,000 deaths every year. With an emphasis on safety during Older Americans Month, we encourage older adults to learn about the variety of ways they can avoid the leading causes of injury, like falls.
While the County of Monterey provides services, support, and resources to older adults year-round, Older Americans Month offers an opportunity for us to provide specialized information and services around the important topic of injury prevention. This information will help older adults take control of their safety and live longer, healthier lives.
Contact the Monterey County Area Agency on Aging office by visiting http://www.co.monterey.ca.us/aaa/ or calling 1 1-800-510-2020.

---
Know someone who is pregnant?
Invite them to this Sunday's Meet the Doula event! It's a free community event for expecting women and couples. Meet local birth & postpartum doulas and learn about the tremendous benefits of having a doula by your side before, during, and after birth.
Bring questions or just come to listen. You'll have the opportunity to talk with several doulas and find the right one for you.

Sunday, June 1st
Marina Library Community Room (190 Seaside Cir, Marina)
Event is 1 hour in length, beginning promptly at 2:30pm.
Refreshments will be served and children are welcome.
---
Hands Across the Pacific in Marina
Experience the cultures and arts of Asia and the Pacific Islands at this free event!
Marina Library Community Room (190 Seaside Cir, Marina)
Saturday, May 31
12 pm - 4pm
Enjoy music, dance performances, story sharing and food.
---