Dear Friends,
You have been subscribed to receive periodic emails and other important updates from Monterey County Supervisor Jane Parker. If you like what you see, click here to forward this message to a friend. If you'd prefer not to receive future emails, you may unsubscribe using the link at the bottom.
---
Thank you for protecting Whispering Oaks!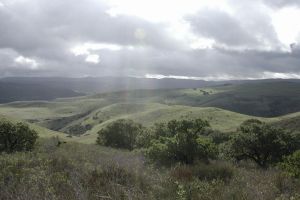 The Board of Supervisors received correspondence from over 100 people supporting my proposal to re-designate the Whispering Oaks parcel as open space, and two dozen people attended the Board meeting as well. I am grateful for the show of support, and the support for my colleagues on the Board who voted unanimously in favor of taking the next steps in this process. At the Board of Supervisors' meeting today (7/24), it is likely that the Board will adopt a Resolution of Intent to direct County staff to proceed with analyzing the impacts of protecting the site from future development, and consulting with the various entities that are involved in land use decisions in Fort Ord. Due to other priority work on the County General Plan ordinances, staff indicated that it will take at least four months and possibly a year for them to complete all the steps, which includes a hearing before the Planning Commission. I will keep you posted as this endeavor unfolds. The site provides key trail links to the back country of Fort Ord and hosts a thriving oak woodland, entitled to protection under the Base Reuse Plan.
Thanks again,

Supervisor Jane Parker
---
Designing Sustainable & Healthy Communities
Supervisor Parker and Sustainable Seaside are co-hosting a community meeting that will feature a panel discussion on environmentally sustainable and healthy communities. A panel of local experts ,including County staff and non-profit leaders, will be discussing projects and programs geared toward making Monterey County a healthier, "greener" place to live.

Topics Include:
Living, Working, and Learning in green buildings
Monterey County's Green Building Ordinance
Health Department - Health in All Policies Policy
Public Health and Community Design

The panel discussion will be preceded by an optional tour of the Chartwell School, which is a LEED-Platinum certified building, meaning it has been recognized as meeting the highest environmental standards. The tour will begin at 5:30 PM.

When: Thursday, August 2, 2012
5:30 PM Tour of Chartwell School, refreshments and informational tables by local groups.
6:00 - 8:00 PM Panel discussion and audience Q & A

Where: Chartwell School, 2511 Numa Watson Rd, Seaside
Need more information? Contact 831-883-7570
---
Breastfeeding Awareness Week 2012
World Breastfeeding Week is celebrated every year from 1 to 7 August in more than 120 countries to encourage breastfeeding and improve the health of babies around the world. Exclusive breastfeeding for at least the first six months of life is recommended by UNICEF and the World Health Organization. Breast milk provides all the nutrients newborns need for healthy development and provides important antibodies against common childhood illnesses, and significantly reduces a child's risk for obesity and chronic diseases such as diabetes and asthma.
Many organizations worldwide are working to increase the rate at which babies are breastfed, and Supervisor Parker has been actively engaged on the issue here in Monterey County. Last year, in response to a referral by Supervisor Parker, the Board of Supervisors passed a lactation accommodation policy to ensure that County employees would be provided proper facilities and adequate time for breastfeeding and pumping. The goal of the policy is to enable new mothers to continue breastfeeding when they return to work so they can maximize the nutritional benefits to their babies. (http://www.janeparker.org/breastfeeding)
Baby Moon will be hosting the Big Latch On Saturday August 4 at 10 am at 529 Central Avenue, Suite 4 B, Pacific Grove. Moms are invited to bring their nursing baby or toddler and snacks for a potluck following the breastfeeding count! (https://www.facebook.com/Babymoonmonterey)
The Monterey County 2012 Breastfeeding Awareness Walk will happen on Tuesday, August 7th from 11:00am to 1:00pm at the WIC Farmers' Market (632 E. Alisal St.in Salinas). Festivities include raffles, FREE T-shirts, activities for the kids, food demonstrations and tasting, music and more. (http://www.californiabreastfeeding.org/2012LocalWalk.html)
---
The West End Celebration!
Sand City invites you to be part of The West End Celebration to be held the weekend of August 24-26, 2012. Sand City celebrates its' diversity, opening the community to art, music, dance and great delicious favorites.

Sand City invites everyone to be part of this incredible celebration. This is a great opportunity to show and sell your work and products to thousands of Monterey County residents and visitors. Artists, food, beverage and green vendors are encouraged to apply ASAP.
Please visit the website at www.westendcelebration.com and download an application.
---

Supervisor Jane Parker
Main Coastal Office
2616 1st Avenue
Marina CA 93933

Phone
(831) 883-7570
---
Supervisor Parker Seeks Appointees
Supervisor Parker is looking for interested persons to serve on the following commission:

In-Home Support Services Commission
If you are interested in a position on either commission, please send a letter of interest and resume to jane.parker@
co.monterey.ca.us
---
FACEBOOK
Join Jane on Facebook for up to the minute updates about Jane's work on the Board of Supervisors, pictures of Jane in action, and invitations to Jane's events. You can find and add her as your friend by following the link below.

---
The Mission of Monterey County is to excel at providing quality services for the benefit of all Monterey County residents while developing, maintaining, and enhancing the resources of the region.
Information about the 2010-2011 Strategic Plan Initiatives is posted online.
---
Hot Drinks and Hot Topics
Each week before a Board of Supervisors Meeting, Jane hosts a public meeting to review the upcoming Board agenda and listen to the thoughts and priorities of residents who attended.
Seaside:
Me 'n Ed's Pizza (2nd Mon.)
Marina: Mountain Mike's Pizza (3rd Mon.)
Salinas: Portobello's (4th Mon.)
When
: 5:30 pm until 6:30 pm on Monday's prior to weekly Board of Supervisor Meetings.
Upcoming dates in 2012 include:
August
13th - No meeting
20th - No meeting
27th - Portobello's in Salinas
September
10th: Me-N-Ed's Pizza in Seaside
17th: Mountain Mike's Pizza in Marina
24th: Portobello's in Salinas
October
8th: Me-N-Ed's Pizza in Seaside
15th: Mountain Mike's Pizza in Marina
22th: Portobello's in Salinas
November
No meetings
December
10th: Me-N-Ed's Pizza in Seaside
17th: Mountain Mike's Pizza in Marina
24th: Portobello's in Salinas
---