Dear Friends,
You have been subscribed to receive periodic emails and other important updates from Monterey County Supervisor Jane Parker. If you like what you see, click here to forward this message to a friend. If you'd prefer not to receive future emails, you may unsubscribe using the link at the bottom.
---
Read to Me! Get New Books at the Marina Library Book Sale!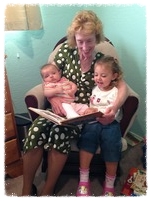 In case you are in need of a few new books - for you or a small friend -
Friends of the Marina Library
is hosting its biggest ever annual book sale this weekend on Saturday from 10am-6pm and Sunday from 10am-4pm. In addition to book sales, award winning children's musician MaryLee Sunseri will be performing on Saturday at 11am and noon, and there are rumors of face-painting as well!
Children whose parents read or show picture books to them EVERY DAY
are better prepared for school and life. Right here in the Monterey Peninsula only 64% of children benefit from this simple yet incredibly meaningful activity. Even Supervisor Jane Parker finds 10 minutes in her day to read a bedtime story to baby Stella and big sister Aria.
---
Parks Department Strategic Planning
The Monterey County Parks Department has engaged a consultant to help create a strategic plan. They are interested in your input as we gather ideas that will be helpful in this process. This survey has been designed to give park users an opportunity to contribute ideas and suggestions for how the Parks Department should approach its future. Your input is essential to this project and is appreciated.
***It has been brought to our attention that there is limited space for feedback within the survey, and we encourage you to contact the consultants directly with additional comments, ideas, and suggestions about our County Parks - contact Heain Lee of Management Partners at
408-437-5400 or
hlee@managementpartners.com
.
Parks Department Reviews Fee Schedule
Regular County Parks users may also be interested in attending and commenting at an upcoming Special Meeting of the Parks Commission where the Parks Dept Fee Schedule will be reviewed and updated. If you have an opinion about a reasonable fee for an annual use pass, or if day use vehicle entry fees should be higher on holidays, or if charging for a walk-in fee is reasonable, now is the time to voice those thoughts. Fundamental to this review of fees is ensuring that sufficient funds are available to maintain our Parks, and this meeting would be a great place to share your ideas and suggestions.
The Meeting is scheduled for October 2, 2014 at noon at the Parks Office, 855 E. Laurel Drive Building G, Salinas CA 93905. You may request a copy of the agenda and proposed fee changes by calling 755-4895 and providing your mailing address.
---
Library Expands with Branchlets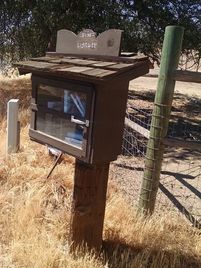 The Monterey County Free Libraries has received an $85,000 grant from the California State Library to open little "branchlets" throughout the county. Branchlets are little deposit collections that look like mail boxes or bird-houses. They work on the honor system - take a book, leave a book. They are planning to have at least 30 branchlets which will be stocked with books for all ages, on many subjects, and in English and Spanish. The branchlets will be placed in residential areas, businesses or parks. These will be monitored and maintained by volunteer stewards. Please contact County Librarian Jayanti Addleman at AddlemanJG@co.monterey.ca.us if you are able to volunteer to host, construct or maintain a little library branchlets. (((Definitely send us your pictures of these little libraries as they start popping up in the County!)))
---
Update on County Acquisition
of the
Capital One Building at Schilling Place - A message from Supervisor Jane Parker
After much consideration I voted on August 26, 2014 to support the staff recommendation to proceed with the purchase of the former Capital One Building on Schilling Place in Salinas. Even after a thoughtful review of all the relevant information, it was not an easy decision to make and ranks among the most difficult votes I've taken as your District 4 Supervisor.
I attempted, as a condition of my vote, to address some of the concerns that have been raised. Specifically, my colleagues on the Board agreed to sell the property within the next six months if the City and Business community can identify a qualified market rate buyer for the property who will bring at least 1,000 new living wage jobs to our community. As an immediate and tangible commitment to city-centered growth, I also stipulated that the County contribute to a downtown Salinas beautification fund, and that the County partner as a 50/50 funder with any City (or downtown business association) who would like to contract with the world renowned Dover Kohl Design Group for a preliminary analysis of downtown plans. At my request, Staff will be considering the possibility of keeping client serving functions like the Planning Dept at the Government Center, and will present options for limiting the potential of future County leaders to further consolidate operations at the Schilling site.
For the majority of County taxpayers, the benefits of purchasing the Capital One building are significant. The County will pay only $13 million for a property that is valued at least three times that amount. This purchase addresses County facility plans for the coming generation, immediately solving a host of facilities needs for departments, and removing uncertainties and inefficiencies around the dozens of small facilities leases currently maintained by the County.
Conservative estimates of cost savings to the County ranges from $20 million to $50 million over the next 30 years, possibly more. These are funds that will be available to provide critically needed services and make important investments in County infrastructure.
The Government Center, District Attorney, Public Defender, County Assessor/Recorder, Treasurer-Tax Collector, Clerk to the Board, and Juvenile Probation will remain located in downtown Salinas. Social Services will remain at the Quadrangle, just a few blocks from Downtown.
This proposal has brought together an impressive group of business and community leaders who are organized and now interested in working collaboratively with the City and County on economic development. I am impressed by this momentum and hopeful that it can be maintained and directed in ways that really DO support living-wage job growth and city-centered economic development. Anyone who knows me knows that I am a strong advocate of mixed-use, city-centered growth and the County remains committed to working with the City of Salinas on downtown vibrancy.
The City has proposed some options to the County of Monterey including shared office space and co-location of services, joint funding a parking garage, close collaboration on the highest and best use of many properties downtown, and a review of the Economic Development Element so that little or no agricultural land is taken out of production. I'm am thrilled to see the City putting this level of energy into investments in downtown growth instead of urban sprawl.
To me, this focus need not be contingent on the County's decision about Schilling Place, and I trust that the same voices who are advocating today for investments in downtown growth will hold both the County and City to these commitments.
---
Restoring Balance One Relationship at a Time!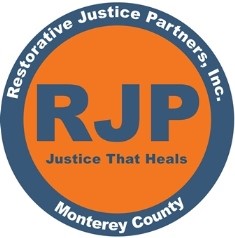 October 6-11, 2014 has been declared as Restorative Justice Week by the City Council of Marina! To celebrate
and educate members of the community are invited to attend an open house from 4:30-6:30pm at the Restorative Justice Partners, Inc. offices at 229 Reindollar Ave. in Marina.
Restorative Justice Partners is also recruiting volunteers for the Victim-Offender Reconciliation Program Mediation Training. Volunteers must be 18 years old willing to make a 1 year commitment to mediate with the program. The training provides skills necessary to conducting mediations between victims and juvenile offenders, restoring balance and peace to our community one relationship at a time. Applications are due September 26, and may be obtained by contacting Verinica Miramontes at 384-4325 or rjp.vorp@gmail.com
---