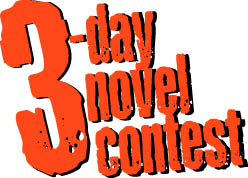 3-Day News: 2011 Stats and Upcoming Events

Entrant and submission stats from the 34th Annual International
3-Day Novel Contest, plus details of upcoming 3DN readings in
Massachusetts and Washington states.
2011 3DN Entrant Statistics
The 34th Annual 3-Day Novel Contest is many weeks past, and while hundreds of literary marathoners may have recovered from finger strain, the eye strain is only just beginning for our panel of intrepid judges. While they dive into the thousands of pages of hasty-but-inspired fiction, we present you with a few statistics from this year's event.
NUMBER OF ENTRANTS: 548
SHARE WHO SUBMITTED NOVELS: 67% (down from 71% in 2010)
SHARE OF THOSE WHO SUBMITTED ONLINE: 85%

AVERAGE WORD COUNT: 23,700
MEDIAN WORD COUNT: 32,000
ESTIMATED TOTAL WORD COUNT: 13,000,000

COUNTRIES PARTICIPATING: 13, including Canada (293), USA (234), UK (8), Australia (4) and one each from France, Germany, India, Ireland, Kuwait, Mexico, Serbia, Spain and Switzerland

Congratulations to everyone who found treasure in the 3DN creative process, whether it was in the words you put down during the event or in the ideas that came later. Our judging panel will deliberate over the submissions in the coming months, and we hope to announce their decisions in late January. After that, we'll send a fancy certificate to every brave entrant who managed to complete and submit their novel, and 3-Day Books will begin the process of adding another fine book to the contest's body of published work.

Learn more about the 3-Day Novel Contest

---
Upcoming 3-Day Novel Events
Canzine West, Vancouver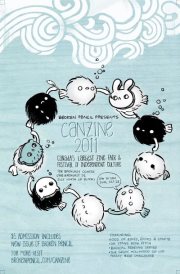 Drop by our table at the 2nd Annual celebration of independent publishing in the West. Pick up a few cool books and zines, and catch some great workshops, readings and events―including Indie Writers' Deathmatch! Presented by the good people at Broken Pencil.

Canzine West

Sunday, November 13, 1 p.m. – 7 p.m.
Ukrainian Hall, 805 Pender St. E. (map)
Event details


Terroryaki! Readings:
Massachusetts, Vashon Island, Issaquah



Jennifer K. Chung, champion of the 33rd Annual International 3-Day Novel Contest, will read from her winning novel at upcoming events in Massachusetts and Washington states. If you're in the area, drop by and listen to a piece of fine fast fiction that will make your spine tingle, your heart melt, and your stomach grumble.


MIT Science Fiction Society, Cambridge, Massachusetts
Friday, November 18, 7 p.m.
Room 4-231, MIT
77 Massachusetts Ave. (map)

Vashon Island Public Library, Vashon Island, Washington
Saturday, December 10, 3 p.m.
17210 Vashon Hwy. S.W. (directions)

Issaquah Public Library, Issaquah, Washington
Saturday, January 21, 2 p.m.
10 W. Sunset Way (directions)



---
Upcoming in our next newsletter: More entrant success stories! (Have your own good news about a 3DN-born manuscript? Tell us about it.)
---
Terroryaki!

in the Press





"An engaging tale about a Taiwanese-American girl who works part-time at a teriyaki restaurant and blogs about her favorite Seattle teriyaki joints.

Terroryaki!

is as creepy as it is playful, and an easy read about family and food." 
—

Seattle Weekly



"Creepy mystery? Bizarre romance? Hilarious family dysfunction?

Terroryaki!

has it all in perfect portions, all against the backdrop of the Seattle food scene. At only 122 pages, this is a quick, fun read that will definitely stir up some cravings for your favorite comfort food by the time you've finished." 
—45th Parallel book blog



The Big Idea: Jennifer K. Chung discusses the creative process that led to her book on

John Scalzi's book blog.


Get your copy today!





---



Contact 3DN
The International 3-Day Novel Contest
PO Box 2106, Station Terminal
Vancouver, BC, V6B 3T5 CANADA