Vol. 1 Issue 2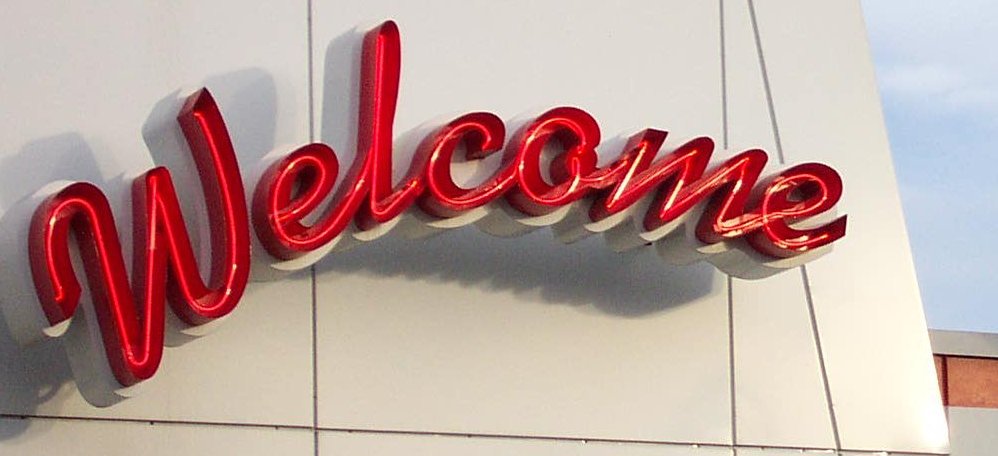 Welcome to the second edition of our PLP Newletter.

We want this to be a community newsletter though and are counting on you sharing evidence of change in your professional learning teams, schools, and communities.

Let's learn together and make the principled changes needed to help schools remain relevant in the lives of the students we serve.
- Sheryl Nussbaum-Beach & Will Richardson, PLP Founders
---
In This Issue
Communities in Action
---
---
**All events are listed in Eastern Standard Time. Click here for an up-to-date listing of events.
PLP Informational Sessions
Fri. June 12 - 10:00 a.m.
Mon. June 15 - 3:00 p.m.
---
A big thank-you to all of our 21st century fellows that shared their expertise on Web 2.0 tools through the fellow tool series!
If you missed any of these great sessions, we've listed the archives for each of the recorded sessions. The links will take you to the Elluminate archives and a wealth of information about various Web 2.0 tools, such as Google Earth, Facebook, blogs, wikis, and even Second Life.
Moderating Elluminate Live! with Sheryl Nussbaum-Beach
Ever wonder what it's like to be the wizard behind the curtain? This session will give you the basics of playing moderator in Elluminate Live!, a real-time, virtual classroom. Listen to the archives of these sessions here and here.

Blogging: Possibilities and Practice with Julia Osteen
This session will explore examples of blogs used for professional growth and classroom instruction. We will identify characteristics of effective blog posts and comments and discuss pros and cons of specific blogging tools.Listen to the archive of this session here.
Here are her PPT slides

Using Google Earth to Explore, Share and Collaborate with Thomas Cooper
Google Earth can be integrated into almost any discipline. Students can use the tool to explore natural features, historical monuments and characteristics of cities. The greatest power of this tool lies in its ability to promote inquiry-based research and collaborative action.The first session deals with collaboration in Google Earth and the second discusses creating placemarks. Listen to the archive of the Feb.9 session here. Listen to the archive of March 23 session here.
Moodle Magic: Make It Happen with Laurie Korte
Online learning is being used to increase flexibility and communication within existing courses and to enable courses that could never exist before. Moodle has been implemented for users at all age levels and is designed to help educators create online courses with opportunities for rich interaction. It is a learning management system that lets you provide documents, graded assignments, quizzes, discussion forums and more. In this session, you will learn some tips and tricks to using Moodle to expand your classroom's virtual learning environment.
Listen to the archives of these sessions here and here.

Glogster Basics with Robin Beaver
Learn the basics of this cool tool, which allows users to create virtual "posters." Elements include hyperlinks, images, text, sound and video files. A quick sample can be viewed here. Listen to the archive of this session here.

Twitter for Teachers with Alex Ragone
You've probably heard about Twitter hundreds of times by now. If you're still scratching your head and saying "I don't get Twitter," this is the session for you. Listen to the archive of this session here

WordPress MU As Your Website with Chris Brown
Wordpress MU, the multi-user, open-source platform that is used by Harvard University among other institutions, has enabled teachers to easily post assignments, information for parents and media using the power of read/write technology. We will show how teachers are using this to begin blogging and taking initial steps of interacting online with students, parents and the community. Listen to the archive of this session here.

Facebook: Why should teachers and administrators consider joining? with Larry Kahn
Most of our students are frequent users of this software. This session will present an introduction to Facebook and answer the question why teachers and administrators should use it. Listen to the archive of this session here.

Virtual Worlds in Education with Kevin Jarrett, Dean Groom and Craig Anderson
Virtual worlds have become increasingly popular in recent years as recreational as well as learning environments. Children worldwide are flocking to sites like Club Penguin and Webkinz while adults are exploring Second Life/OpenSim, World of Warcraft and others. Research giant Gartner predicted in 2007 that by 2011, 80% of active internet users will have a presence in some virutal world by 2011. This session provides a high-level overview of how these virtual environments are being used as learning tools and what educators need to know about them to decide if and how they should be utilized in the classroom or for personal professional development. Listen to the archive of the April 3rd session here.

---
Based on a recent survey of the PLP community, we've updated our FAQ's.
---
Quotes from the Cohorts
"I didn't realize how far along we'd come until the end. My whole life has changed and this whole new world has opened up to me."
- Melanie Hutchinson, International Cohort
"It's to the point where I don't realize I'm using it in my lessons with students. It's not an add-on, it's just a part of what we do."
- Jennifer Clark Evans, International Cohort
"I see PLP as a professional development experience by way of students. The kids are enriching the PLP experience in surprising ways."
- Kay McNulty, New Jersey Cohort
---
Subscribe to the Newsletter
If you haven't subscribed to our newsletter, you can do so through the PLP Web site.
Finding Funding

By Mary Worrell
Money is always an issue for schools - there's never enough - and during this recession pennies are being counted even more closely. Professional development is often one of the first things to go during budget cuts, but extra money is available if you just know where to look. And the funds aren't just for public institutions.

One avenue is through Title II Part D funds, also known as the Enhancing Education Through Technology Act of 2001, for which private schools are also eligible. The goals of the act are clear - to improve academic achievement through the use of technology, as well as:
(A) To assist every student in crossing the digital divide by ensuring that every student is technologically literate by the time the student finishes the eighth grade, regardless of the student's race, ethnicity, gender, family income, geographic location, or disability.
(B) To encourage the effective integration of technology resources and systems with teacher training and curriculum development to establish research-based instructional methods that can be widely implemented as best practices by State educational agencies and local educational agencies.
One of the act's purposes is to enhance ongoing professional development. If you're interested in joining a PLP cohort next year, these funds would apply. Visit the Department of Education for more information about these funds.
Everyone is looking to get a piece of the economic stimulus package, known formally as the American Recovery and Reinvestment Act (ARRA). According to the National Staff Development Council, "the U.S. Department of Education is emphasizing improvements in teacher effectiveness and equitable distribution of qualified teachers as well as providing support for the nation's lowest performing schools." This means the stimulus dollars have the potential to impact the "reach and quality of professional learning for all educators," according to the NSDC.

The Special Edition of TQ Research and Policy Update published in March discussed the challenges of finding quality and beneficial professional development opportunities for teachers. The update outlined the characteristics of quality states should consider when analyzing professional development opportunities, saying the development should be:
- Intensive and ongoing
- Job embedded
- Job relevant
- Linked to school and mission
The report went on to say, "States should work to analyze the policies and requirements in place for professional development and the processes by which they determine what professional development to offer and whether it has the characteristics listed above."

The work we are doing through Powerful Learning Practice meets these requirements and its standards are closely aligned with NSDC standards. If you are looking for a strategic way to spend your PD dollars, this may be a way that not only meets the National Staff Development Council's criteria for best practice, but is also grounded in Teacher Quality research and results in transformational change.
PLP 2009-2010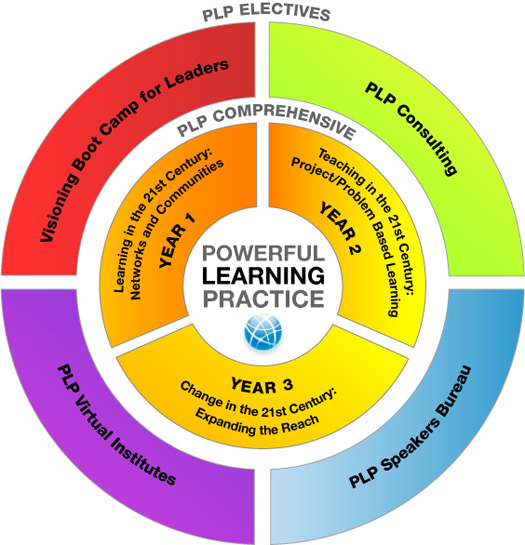 The Web is changing the world. It's also changing learning.

We're excited about that.

It's not the social technologies or the tools of the Web that excite us. It's the connections, the networks and communities that we can create around our passions. Communities of learning that exist outside of traditional time and place, which look very different from the schools we attended as children.

The connections and opportunities we can build with the new emerging medias are the key. That's where powerful learning resides.

We are recruiting schools to join cohorts for our 2009-2010 year. The deadline of August 1st to form or join a cohort is fast-approaching. We have independent and public cohorts in the works in the following areas for the next year: Philadelphia, Minnesota/Wisconsin, Michigan, Ohio, Ontario, Australia, Houston and Colorado.

If you're interested in joining a cohort, the first step is to attend an information session. We have a number of important, virtual information sessions taking place in Elluminate in the coming weeks. If you are interested in attending a session, please contact PLP Program Admin Mary Worrell (mary@plpnetwork.com).

For more information, contact us and visit our Web site.
Visioning Boot Camp for Leaders
PLP's exclusive Web 2.0 Visioning Bootcamp for Educational Leaders only has a few spots left. The event is being held next month in Philadelphia July 15-17 and is an intensive, small-group, three-day workshop for school leaders who want to understand how 21st Century technologies are challenging curriculum and pedagogy and providing economical new ways for learning.
Read more about the boot camp and apply to attend here.
Welcome, Robin Ellis!
Powerful Learning Practice is proud to announce the newest addition to its team. Robin Ellis, a former cohort community leader and PLP Fellow, is joining PLP full-time to serve as its Director of Community Development. She will use her vast expertise and enthusiasm for online learning to enrich the PLP family.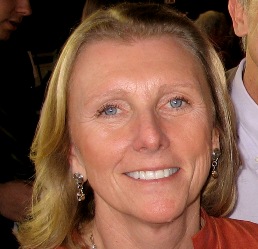 As Director of Community Development Robin will oversee community leaders, assist in recruitment and organization of new cohorts, and work with the design and implementation of future PLP developments.
Robin Ellis previously worked as Instructional Technology Specialist in the Quakertown Community School District in Quakertown, PA. She was the Classroom for the Future coach, facilitating staff development for teachers who chose to participate in a statewide initiative focused on moving classroom practices toward 21st century learning environments. She designed and facilitated professional development opportunities for district faculty and is also a co-facilitator of OpenPD, an online professional development opportunity available to anyone interested in learning about Web 2.0 tools and their use in education. She blogs at Connecting Through Conversations.
PLP at the Graduate Level
Powerful Learning Practice is pleased to announce that participants in our PLP cohorts will now be eligible to earn graduate credit for their experience through the University of Wisconsin-Oshkosh. In addition, the PLP curriculum will be the cornerstone for an online Masters of Science in Curriculum and Instruction degree from the School of Education under the title "Teaching and Learning in the 21st Century".

The university will award four graduate credits for the year-long cohort work. Coursework for the Masters degree includes electives in research, assessment, and technology integration as well as advanced participation in Year 2 PLP.
More information about this great development within PLP will be available on our Web site soon.
Communities in Action
A strong sense of community develops in each PLP cohort over the course of the year. Read on for reflections on the PLP experience and the culminating events for each cohort. Within the articles you will find valuable links to the projects each team developed that can give you ideas about how to implement 21st century learning in your schools and classrooms.
Archdiocese of Philadelphia
Teams spreading wings, growing
I've never seen so many staff members talking so much. When technology first rolled around there were a great many concerns (actually, there still are many people who are concerned) about it getting in the way of actual face-to-face interactions. In the Archdiocese of Philadelphia cohort, we've seen the opposite happening; many schools are beginning to grow wings and venture out into their own conversations. As the time spent on projects grows into a frenzy, the time spent incubating inside of the cohort has been well spent and many lessons have been learned.
Read more here.
Full participation enhanced cohort
By Mary Worrell
The teams from the Archdiocese of Philadelphia cohort gathered to celebrate at a culminating event last month and share their projects.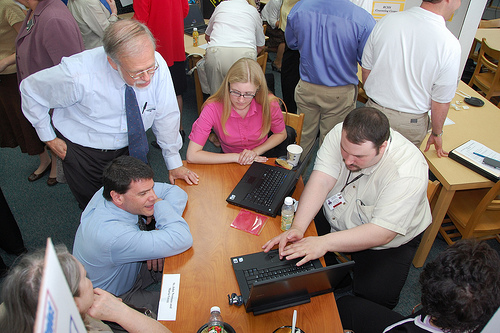 Nancy Caramanico, director of technology for the Archdiocese of Philadelphia Catholic Schools, said having full participation from all of the district's high schools enhanced the experience for all the teams involved.
"We have 20 high schools in our system and I was looking for something that would be able to impact the schools," she said. The district formed their own cohort and invited six people from each school, including teachers, administrators and high school technicians."We were interested in professional development that harnesses both innovative technology and sound and rigorous pedagogy.
"It was a perfect blend of important parts of the puzzle," she said. "Having every school involved allowed them to collaborate and connect with one another and share resources and best practices on a broad scale."
Read more here.
ADVIS
ADVIS teams celebrate, present projects
By Mary Worrell
The ADVIS Cohort celebrated the end of its year-long PLP experience with a culminating, face-to-face meeting hosted by Springside School in Philadelphia earlier this month. The morning of the event was organized much like a science fair with teams presenting their projects at different tables and started with an hour of project exhibition.
For many ADVIS cohort team members, this is only the second time they've met face-to-face since beginning the PLP process a year ago. But the atmosphere couldn't have been more different.
"The difference in the energy level and tone in the room relative to the first face-to-face was incredible," said Stacey Kley, director of professional development for ADVIS. "They got to know each other online and it was like old friends getting together."
Read more here.
Illinois-Ohio
Leaving the comfort zone
Often most comfortable dealing with final products—Now, collaborating within their professional learning teams, Illinois/Ohio PLPers enthusiastically approached their projects – projects that would scale the tenets of 21st century learning to their faculties and their districts – to find that it was suddenly all about process with an additional request for transparency as they designed and developed. Quite a stretch for some not yet totally comfortable with the shifts characterized by 21st century learning, teams ventured out of their comfort zones and allowed anyone with interest the privilege of a window into their thinking, their approach, their logic --contributing to collective wisdom. And in making their process- rarely linear, not perfect, sometimes changing direction-- transparent, they have left a trail where there was no path-- for others to follow or adapt, and also opened the door for those visiting their process to add value and assist them --enabling a 21st century global practice to evolve and grow more quickly.
Read more here.
Illinois-Ohio Cohort celebrates at culminating event
By Mary Worrell

Earlier this month teams from the Illinois-Ohio Cohort gathered at the Marie Murphy School is Wilmette, Ill. to celebrate the end of their year-long PLP experience with a project showcase.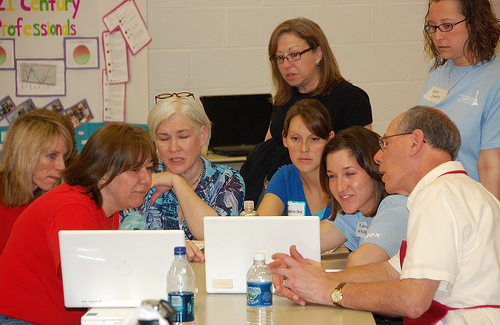 Gail Soriano from the Avoca School District 37 said the PLP experience gave her team a chance to get to know others in the district. The Avoca district hosted two PLP teams.

"It was amazing. The thing I enjoyed the most was working with people in my district from both schools," Soriano said. "A lot of times we don't have the opportunity to work with teachers in the other building and from different grade levels. It brought our district together in a way I've never seen before - we were working toward a common goal."

Kim Zimmer, from the other Avoca District team, acknowledged the importance of the collaborative aspect of the PLP experience.

"The transformation came in the conversations we've had since - it brought together teachers that might otherwise have never crossed paths," Zimmer said.
Read more here.
International Schools
Seeing Tech in a Different Light
By Mary Worrell
Jennifer Clark Evans is an English teacher at Fredericksburg Academy in Virginia and a member of the PLP International Schools Cohort. She's been teaching for 12 years. As the year-long PLP experience winded down, Evans had a chance to reflect on her personal experience and what she'd learned along the way.

"PLP has been an interesting process. I felt all along I wasn't sure what I was doing, but I've been using technology in the classroom for a while," Evans said. "It really gave me a chance to get outside support and ideas and make connections outside of my little school. That was the most advantageous part for me."
Read more here.
U.S. International Teams reflect on last year
By Mary Worrell

Members of the PLP International Cohort's U.S. teams celebrated the end to their year-long experience together with a culminating event in Fredericksburg, VA earlier this month. Even though it was the U.S. teams celebrating and presenting their projects, teams from Australia and New Zealand attended the event via the PLPLive Ustream channel. It was 11 p.m. for the Australians and 2 a.m. for the New Zealanders, but they were still on hand to support their fellow U.S. teams. The Aussie teams will have their learning showcase event in July.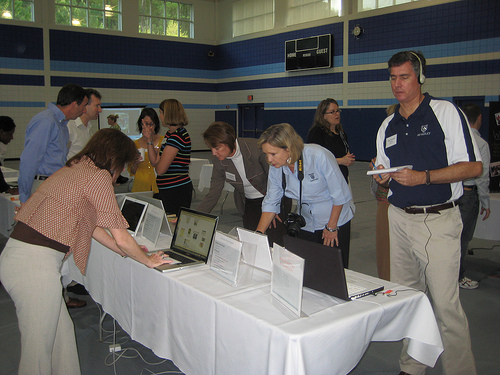 The projects presented at the event showcased the learning of participating teams over the last year. But the event was also about book-ending the PLP experience with another face-to-face event where people who had gotten to know each other online could catch up and collaborate in person.

Alex Ragone and Melanie Hutchinson said each member of the Collegiate School team in New York City got something different from the year with PLP.

"It created some really clear ideas of what we have to do and how we can get there," said Ragone, director of technology at Collegiate.

"I didn't realize how far along we'd come until the end," said Hutchinson, lower school curriculum coordinator at Collegiate. "My whole life has changed and this whole new world has opened up to me."
Read more here.
New Jersey
Chad Evans is a member of the PLP New Jersey Cohort and an 8th grade teacher at Strayer Middle School. He took some time last month to chat with PLP and reflect on the last year.
PLP: What has the PLP experience been like for you?

CE: PLP has been invigorating for me. I am in my eleventh year teaching and much of my personal professional development had been focused on content [history], as opposed to pedagogy. Being able to have ongoing conversations with colleagues about "the shift" has been a tremendously powerful and enriching experience. And as we work through our projects together, my ultimate hope for us is to be able to sustain those conversations in a broader context, whether it be in our own buildings or district wide. To me, the conversations are the most important piece of the puzzle because too often we as teachers just allow things to happen instead of initiating that change ourselves. The conversations will hopefully help teachers to feel empowered, and to build those collaborative environments where the focus is on learning and what is best for kids. This is not necessarily the fault of individual teachers, because the system tells us that there are other more important things, like budgets and bureaucracy, for example, that are realities of teaching, but if we can each examine our own practices and share those with our colleagues, that is a step in the right direction.
Read more here.
Perth Amboy Middle School Team Finds Inspiration
By Mary Worrell

Teams from the New Jersey Cohort recently highlighted their culminating project plans during a webinar meeting. One team, from Perth Amboy Middle Schools, shared that they had a project in mind and plans in the works, but suggested it lacked a true spark - something that would motivate everyone involved.

That all changed when Janet Greve, a Language Arts Teacher from McGinnis Middle School, and her students took a trip to the Holocaust Museum in Washington, D.C. in March.

"The project found us," Greve said.
Read more here.
Independent Schools Consortium
Independent teams wraps things up
By Mary Worrell

The Independent Schools Cohort celebrated the end of its PLP experience with a culminating face-to-face meeting and project showcase last month. A number of team members and leaders had a chance to reflect on the year-long experience and how they have changed, both personally and in their practices.

Stewart Crais is a PLP 21st Century Fellow and works in operations at Lausanne Collegiate School in Tennessee. The Lausanne team decided to develop a program of projects for each grade focused on teaching computer skills.

"We had a scope and sequence that was pretty detailed starting in kindergarten, but teachers didn't know exactly what they were supposed to teach in terms of computer skills," Crais said. "We landed on this idea of trying to make an easy way for teachers to understand how they're required to get those skills across to the kids."
Read more here.
Subscribe to the PLP Newsletter
You are receiving this newsletter because you subscribed through the PLP Web site.